April 24, 2009
Anne Pope our friend at Sustainable Flatbush created a great little animation. Check it out. 
Your food has issues. Find out more at the Brooklyn Food Conference, May 2, 2009.
http://sustainableflatbush.org/sendcard/sendcard.php?view=1&id=Dttz4CpepMVH
April 23, 2009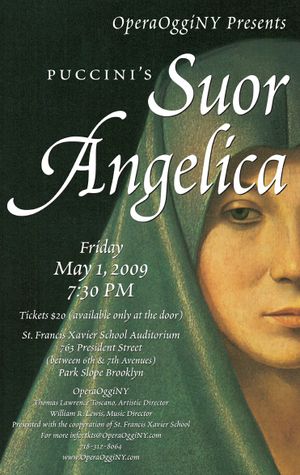 Here's a nice story about Williamsburg's OperaoggiNY and its upcoming performance of Puccini's Suor Angelica in the auditorium at St. Francis Xavier in Park Slope on May 1, at 7:30 p.m.
So how did this all come about? 
Like I said, it's a good story. And I learned about it when I got an email from a woman named Phyllis Wrynn who plays an important role in this story.
In fact, she's one of the "free impressarios" who decided to bring OperaloggiNY to the neighborhood after she was blown away by a performance in Williamsburg. Here it is in her own words:
"There is only one performance, the very reasonable tickets benefit the opera company and help the school via the rental.
April 18, 2009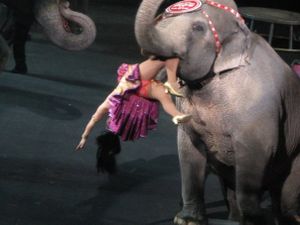 Okay. We just paid a fortune to see Ringling Brothers at Madison Square Garden and now Vin Cipolla, President of the Municipal Art Society, writes to tell me that the Ringling Brothers Circus is coming to Coney Island this summer. They don't mention any dates or a location. But I'm all ears and will continue to research it.
April 17, 2009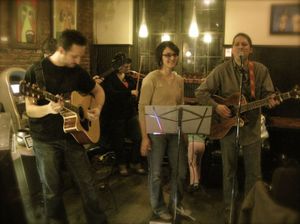 The Red Horse Café at 497 6th Avenue in Park Slope, Red Horse Café will celebrate the
planet by not serving beverages in disposable paper or plastic on Earth Day.
And there's more: On Earth Day (April 1  22 ), Red Horse Café will debut a new line of stainless steel and
ceramic mugs with the café's rocking horse logo. Guests of the café are
also encouraged to bring their own mug to the café. Guests of the busy
neighborhood café are enthusiastically supporting the growing efforts
to become more green.
In addition to recycling, composting and reducing energy
consumption, "No Paper Cup Day" is the latest effort from the
husband-and-wife owners at Red Horse Café toward reducing the café's
carbon footprint. In January 2009, the café launched an initiative
called "Bring Your Own Mug". This initiative works similar to a coat
check, in which guests bring a mug from home and leave it at the café
on a shelf behind the bar. The guest takes a number that hooks onto
their keychain and then shows the number when they return to the café.
Thus far, "Bring Your Own Mug" has been a phenomenal success and guests
have said that they feel a sense of community by having their very own
mug at the café.
Most recently, Red Horse Cafe owner Carolina Whitson, in
collaboration with the Events and Marketing Coordinator, Carolyn
Gilles, built a solar powered horse and cart at a recent Solar 1 "I ♥
PV" event in Brooklyn. Upon testing the design and functionality among
other contestants, judges determined that the solar powered horse and
cart by the Red Horse team won a blue ribbon. The winning model is on
display at the café.
Photo by Carolyn Gilles
April 17, 2009
Big news!  At Thursday's Community Board 6 transportation committee meeting, the DOT proposed the closing of the 3rd Street entrance/exit at Third Street. They also proposed the closing of the exit at 16th Street.
A project manager presented this plan (complete with Powerpoint of course) and said that planned closures help to strike "an appropriate balance between bikes/pedestrians/vehicles and will lower the amount of vehicular traffic in Prospect Park."
At Third Street the entrance area will be re-striped for bikers and pedestrians. To block traffic going in and out there will be French barricades, movable metal fences that are easily moved by emergency and maintenance crews.
When the Third Street entrance/exit closes, Grand Army Plaza will be the only way to enter the park drive. There is an entry/exit for Wollman Rink usage on the other side of the park.
April 15, 2009
I wasn't able to make it to the Community Forum about Superfund status for the Gowanus Canal last night at PS 32 but Pardon Me for Asking and Found in Brooklyn were there. Here are excerpts from their reports. Read more at their sites linked below.
April 13, 2009
Babeland, Park Slope's sex shop for women, has a little tax relief (and free vibrators) on April 15th.
1. Free Gold Digger Vibrator ($15 value)
 The first 100 people to come into any of the stores (Babeland Brooklyn-462 Bergen Street) and tell us they filed their tax returns will receive a Gold Digger vibe. On Babeland.com, the first 100 web orders on April 15, 2009, will receive a Gold Digger vibe (no minimum purchase).
  
 2. Sales Tax is on Us on April 15, 2009
 And to reward patri-erotic duty, Babeland will pick up the sales tax
on all in-store and online purchases made on April 15, 2009 (in the
form of a 10% off discount).

April 10, 2009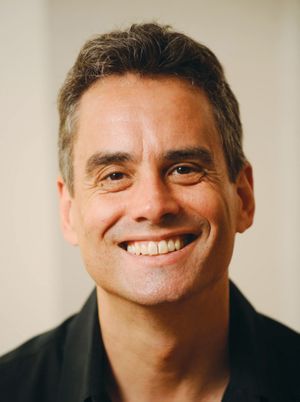 Gabriel Cohen, the Brooklyn author of Boombox and the award-winning mystery, Red Hook, has a new book just out called "Storms Can't Hurt The Sky" "about Buddhism as a path through a painful divorce.
When Cohen's marriage fell apart, he discovered
that Buddhist insights and meditation were just the thing he needed to help him deal with the anger, resentment, loss, and grief of a breakup. 
So, instead of  sitting down to write another novel, mystery or otherwise, Cohen decided to write this divorce memoir, which is also a guide to meditation. Cohen's book is actually the first book to focus on Buddhism and divorce. About the book, Publisher's Weekly wrote:

Cohen, who also coordinates the Sundays at Sunny's in Red Hook reading series, also has a new crime mystery coming out. Neptune Avenue, se in the emigré community of Brighton Beach and Crown Heights, features Jack Leightner, the Brooklyn South dectective hero of Cohen's previous book, Red Hook. 
April 8, 2009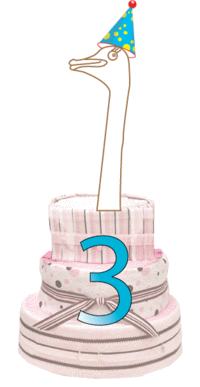 The Brooklyn Indie Market is open for its third year and they'll be open for business ever Saturday and Sunday through December starting at 11am in the red and white striped tent on Smith Street at Union Street.
So what is the Brooklyn Indie Market?
April 6, 2009
Is $2 a month really so much to ask members of Park Slope Parents to pony up for their right to participate in that incredibly valuable list serve? 
Some members seem to think so.
But what are the options? A fund-raising drive? Advertising? Do members really want to see advertising on that site? To me that sounds far more intrusive than asking for a  mere $2 a month. And a fund-raising drive is labor intensive. An auction, an event? Those kind of things take up a lot of volunteer time and don't always make as much money as you think. 
Running Park Slope Parents, an incredible resource for local parents,  takes volunteers, time and money and maybe it's not so bad to make members contribute only $2 a month or $25 per year.  I think more and more, people forget that there are people behind the scenes who deserve to be paid for their blood, sweat and tears. Improvements and maintenance costs money, too.
One member wrote in today to say that on  Yahoo, it is illegal to pay to use a yahoo group. But  someone else noted how many alternative solutions to the fee have been suggested but most of them will only involve more work on the part
of the "volunteers."
"People seem afraid of change, but realistically, with
a fee I expect we will see many things change for the better, including
updates to the website based on recommendations in the emails so the
information is not so outdated," one member wrote.
April 6, 2009
April 3, 2009
The Park Slope Civic Council really made a splash with their red laminated No Flyers signs. Turns out there's also polite sign to put in the window of a car that you are blocking. They're both available at the following locations:
Community Bookstore
143 7th Avenue between Carroll and Garfield
Lion in the Sun
232 7th Avenue near 4th Street
 
April 2, 2009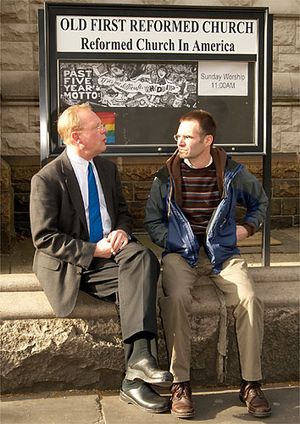 Pastor Daniel Meeter was walking through Union Square when a reporter from NY Magazine asked if he'd be willing to be interviewed for a story called "The Getaway Plan: New Yorkers' Escape  Fantasies Made Real."
They took his picture, too. Here's what he said:
"I work 24/7. I am the president of all the Reformed churches in Brooklyn, and we are having a tough time. Religious organizations are under tremendous financial stress. A lot of our volunteer organizations, like child care, caring for the sick, caring for thee poor, caring for the homeless, are under stress. I could  use an escape from all that. I am drawn to Istanbul because it's both Mulism and Christian, European and Asian. I'd like to find a version of Islam that's progressive. The other thing is the architecture, the food. I love Turkish food."
Meeter thinks he actually said: " I like the progressive version of Islam in Turkey."
Picture from Brooklyn Paper. Daniel Meeter (left) with Rabbi Andy Bachman (right).
March 24, 2009
 
"Lowboy is uncompromising, often gripping, and generally excellent."  Charles Bock, New York Times Sunday Book. 
March 24, 2009
Check out McBrooklyn for a list of jobs in Brooklyn. Anything for me there?
March 24, 2009
Bob Zuckerman, the openly gay candidate for City Council in the 39th district, was the first one to tell me that Senator Chuck Schumer came out yesterday in support of same-sex marriage. Here's Zuckerman's response to the great news. 
I was thrilled to learn that Senator Schumer now supports the right to marry for same-sex couples as well as a full repeal of the Defense of Marriage Act. As a public servant, weighing the human rights of the minority is as equally as important as weighing the desires of the majority. This certainly has been the case in gay and lesbian couples' quest for the right to marry. 

Senator Schumer is right: it is time.  It is time for New York State to put into law what our neighbors in Connecticut and Massachusetts have done, which is simply to allow same-sex couples like myself and my partner of 12 years, Grant Neumann, to have a civil marriage before our family and friends right here in our home state. It is time to allow my partner and I to share the same 700 rights that New York State grants opposite couples.  And it is time to stop the discrimination of same-sex couples who pay taxes like anyone else but are often treated like second-class citizens. 

I applaud Senator Schumer for coming around on this vitally important issue, and I urge him to use his considerable influence with New York's elected officials to ensure that the now Democraticaly-controlled State Senate pass a marriage equality law this year, so that we in New York can once again become a leader in the fight for civil rights and equality for all.
March 24, 2009
Just what you need during tough economic times: higher subway, bus, and LIRR train fares. This'll go over like news of a sick passenger on a subway train. There will also be cuts in services, as well as a freeze on certain improvement projects. 
It sounds like MTA is in big trouble—in need of a transit rescue package—and commuters are being asked (forced) to bail them out. The base subway fare in NYC would rise to $2.50 (up from $2). A 30-day MetroCard would cost $103, up from $81. 
March 23, 2009
Adult
Education is a Brooklyn-based monthly lecture series devoted to "making
useless knowledge somewhat less useless."
It's at Union Hall on April 7th at 7 p.m. Union Hall is located on Union Street just east of Fifth Avenue. The show is downstairs.
Each month is devoted to a
given theme, and several speakers address some aspect of that theme
using visual aids. Apparently, Adult Ed has been a frequent Critic's Pick in Time Out New York, while The Onion AV Club declared that "Adult Education … manages to be both informative and thoroughly entertaining."
March 23, 2009
Hepcat happened upon this information on Artnet.
The Brooklyn Museum is now offering a new kind of membership through Facebook, Flickr and Twitter. Dubbed 1stfans and priced at a mere $20 per year, the membership category "is a completely new way for visitors to connect not only with the museum but with each other."
The program, which includes special Twitter "tweets" for 1stfan members, began with with a party at a the January Target First Saturday.
Here's the word from Will Cary at the Brooklyn Museum:
What is 1stfans? a 1stfans Membership is an interactive
relationship with the Museum that will happen in the building and
online. We call it a "socially networked" Museum Membership, but what
does that mean? The word has two meanings, which is why we picked it:
it means developing face-to-face relationship with Museum staff and
other Museum Members (literal social networking), and a strong,
exclusive online relationship through social networking sites (you know
them as Facebook, Flickr, and Twitter).
What do 1stfans get? Firstly (pun intended), exclusive events at monthly Target First Saturdays,
where you'll be able to interact with other 1stfans, Museum staff, and
contemporary artists. Oh, and you can skip the ticket line for movies,
which is pretty sweet. Secondly (no pun there), we will send updates to
1stfans via Facebook, Flickr, or e-newsletter, whichever you prefer.
These will tell you what's going on at 1stfans events, give you
behind-the-scenes insight from Museum staff, and provide you with links
to other cool stuff going on in the art world. Finally, 1stfans will be
the only ones with access to the Museum's new Twitter Art Feed,
an extremely awesome way of engaging contemporary artists that Shelley
will describe in greater detail on this blog soon. All of this for a
tax-deductible $20 per-year. Not bad, right?
Who is 1stfans for? You, for one. With 1stfans, people who
enjoy the Museum on-site and online now have an appealing (and did I
mention inexpensive?) way to join the Museum as Members. If you come to
our monthly First Saturdays and want a way to learn more
about the Museum while interacting with Museum staff and making new
friends, then you'll enjoy 1stfans. If you like the Museum and have an
account on Facebook, Flickr, or Twitter, 1stfans is also for you. Not
only will we keep you updated via those sites, but we'll also provide
you with cool content and give you a shoutout when you post your own
cool stuff.
March 23, 2009
Fonda Sera sent this page from the Park Slope Neighbors newsletter regarding
traffic issues in the Slope and some solutions that are on the table. FYI: OTBKB supports these efforts and plans to sign the petition.
Dear Park Slope Neighbor,
1) Support PSN's
Traffic-Calming Campaign for Prospect Park West, 8th Avenue &
Union Street
It takes just a few seconds to add your name and make a difference.
March 19, 2009


Brooklyn Creative League offers works space to  freelancers and small business people (work space and community for independent professionals). On the top floor of a building on Carroll Street in the Gowanus/Park Slope neighborhood, it looks quite nice in photos. Here's what the founders have to say about what they're doing:
"We founded Brooklyn Creative League because we
wanted to give independent professionals, small-shop companies, and
nonprofits the tools they need to get their work done: affordable,
green, shared workspace and a community of professional colleagues.
"Before our daughter, Leigh, was born, we assumed that we'd found
professional and familial nirvana: working from home while the baby
played happily in the next room with a loving babysitter. But we soon
realized the downsides: The constant interruptions and distractions of
being at home. The aggravation of spilling spaghetti sauce on your
keyboard because your desk is in the kitchen. The hours lost because
the Internet goes down. The interminable line at the post office. And
the plain old boredom and isolation of the same four walls — day in,
day out.
"That's why we created Brooklyn Creative League.  Simply put, we wanted a cool, productive space to work in — someplace where we could meet with clients, host a conference call, and make a pitch. And we wanted to work around fun, interesting people who shared our passion for creativity, hard work, new ideas, and a good cup of coffee in the morning."
March 19, 2009
The Brooklyn House of Detention on Atlantic Avenue and Boerum Place is back in business. The business of being a jail, that is.
The New York Times reports that Justice Sylvia O. Hinds-Radix, a Brooklyn judge ruled that the city should resume sending
inmates to the Brooklyn House of Detention, which stopped housing them
overnight in 2003.
But there's more. Judge Hinds-Radix also ruled that the city's effort to double the size of the jail will require environmental and land-use
reviews.
That's a win for neighborhood groups who opposed the expansion. Read the NYT article here.
March 19, 2009

Hey, does anyone out there know the dates of the Fifth Avenue Street Fair in May, and also Seventh Heaven, the Seventh Avenue street fair, which is usually in June?
Give a holler.
.
March 19, 2009
You only have to walk down various streets in Manhattan and Brooklyn to see that store vacancy rates are high. But it seems that in Brooklyn's vacancy rates are the highest in the city. I'm bracing to see shuttered stores on Fifth and Seventh Avenue in coming months. I just hope that various local businesses can manage to ride out this recession.  Here from Crain's New York.
The recession is taking a heavy toll in shopping districts across
the city with Brooklyn hardest hit to date, according to a new study
revealing vacancy rates in retailing strips in the boroughs outside of
Manhattan.
As of this month, the vacancy rate in Brooklyn stood
at 14.1% among locally-owned stores, well above the city average of
12.1%, according to the study conducted by Rep. Anthony Weiner's
office. In Queens, where retail corridors in neighborhoods such as
Astoria and Forest Hills still draw good crowds, 12.2% of shop fronts
are vacant. Staten Island and the Bronx are fairing slightly better,
with vacancy rates of 9.7% and 9.1%, respectively.
March 18, 2009
Do you?
It's a big issue right now. To toll or not to toll. What will it mean for Brooklynites and other "outer borough" citizens? Also, is our subway system ready for more high volume rush-hour commuters?
For the Civic Council, their support is directly tied into the demand that toll monies go to the MTA for subway and bus improvements. Another tie-in: Residential Permit Parking and more Muni Meters.
Here it is in the Civic Council's own words:
March 18, 2009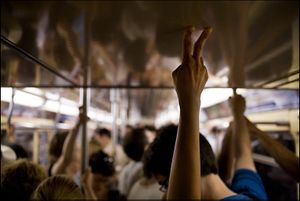 A group calling itself the Empire State Transportation Alliance – a
coalition of business, civic, labor and environmental organizations supporting
investment in transportation – and the Keep New York Moving Campaign
today released the following statement.  In it they say that it is critical that the plan address long term capital needs such as new cars. Members of this group include NYPIRG Straphangers Campaign, Transportation Alternatives, the Environmental Defense Action Fund and more. Photograph left by Travis Ruse.
Now that the New York State Assembly, Senate and Governor have put
plans on the table to bail out the transit system, the Empire State
Transporation Alliance urges all leaders to conference and arrive at a
compromise agreement in the coming days. 
It is critial that the final plan
address the long term capital needs such as new cars and buses and renovated
stations alongside the short term fixes to the operating budget which currently
call for major fare increases and service reductions.
Tough
choices have to be made and ESTA strongly maintains support for a plan that
shares the burden amongst drivers, businesses and transit riders as the most
equitable option.
Over the course of the next few days there will be much debate about
where to go from here. Ever since the MTA passed its own budget back in
December, the agency has maintained that it needs to know by March 25 if it
should pull back on its already-approved fare hike and service reduction
package. But the MTA also needs a funding source for its upcoming capital
program – a critical issue that will only worsen as the year goes on.
Further complicating matters with delaying capital-plan support is that Albany
rarely passes new taxes or funding sources in election years, like next year.
That means that the capital program and all its progress to date could come to
a standstill, along with the jobs and economic stimulus it provides.
 The plan by the Senate Democrats barely covers the MTA's operating
budget, and it fails to address the MTA's long-term capital needs, a critical
component of the funding puzzle. Lack of funding of past capital
programs, and the necessity for the MTA to borrow against future fares to
pay for things like new rail cars and buses and renovated stations, helped lead
the agency to the current crisis.
The time for political maneuvering is over.  State leaders now have to iron
out a deal to secure a source of funding not only to stave off major fare hikes
and service cuts but also to fund the upcoming program to fix and rebuild the
system.  In these tough economic times, an investment in better subways, buses
and commuter lines promotes a cleaner environment, saves people money, increases
mobility and helps keep or create the jobs hardworking New Yorkers need.
Members of the Empire State Transportation Alliance include: Regional
Plan Association, NYPIRG Straphangers Campaign, General Contractors Association
of New York, Environmental Defense Action Fund, Tri-State Transportation
Campaign, New York State Laborers', Environmental Advocates of New York, ACEC
New York, Citizens Union Foundation, Campaign for New York's Future,
Construction Industry Council of New York, Long Island Contractor's
Association, Natural Resources Defense Council, New York State Building and
Construction Trades Council, New York League of Conservation Voters, Permanent
Citizens Advisory Committee to MTA, Transportation Alternatives.
March 17, 2009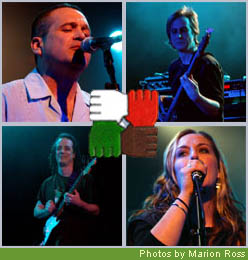 Celebrate St. Patrick's Day at Rocky Sullivan's with Seanchai and the Unity Squad featuring the former Black 47 live-wire Chris Byrne, who fronts the only Celtic-influenced
hip-hop band on either side of the Atlantic. Seanchaí (pronounced
shan-a-kee) and the Unity Squad take the stage on St. Patrick's Day night  (and every week at Rocky Sullivan's) with their mix
of hip-hop, rock, reggae, and traditional Irish music.
"I'd been hoping for a band … that might serve as a symbol of
what Irishness has become in the intense crucible of urban New York,
and as I watch and listen it turns out that's exactly what I've got."

Tuesday, March 17th

34 Van Dyke Street at Dwight Street
Celebrate St. Patrick's Day at Rocky Sullivan's with
Seanchai and the Unity Squad
Brooklyn's #1 Saint Patrick's Night Party
March 17, 2009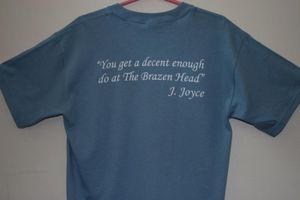 Kristin Goode of About New York: Brooklyn presents 5 Ways to Celebrate St. Patrick's Day in Brooklyn. The Brooklyn Parade was on Sunday in Park Slope. But there's always the parade in Manhattan.She mentions The Brazen Head. They sell the t-shirts with the James Joyce quote pictured left for $10. You get a decent enough do at The Brazen Head:
March 17, 2009
The blogger who goes by the moniker of Brooklyn Beat over at Deep in the Heart of Brooklyn has an interesting piece about Park Slope's Steven Berlin Johnson, who, like so many hipsters, music afficionados and techie philosophers is at SXSW in Austin, Texas this week. That's South by Southwest for those who don't know.
Brooklyn Beat also has some great photos of Salman Rushdie speaking at St. Francis College in Brooklyn Heights last week.
March 16, 2009
Lots to read over at Mindful Walker about Coney Island. Here's an excerpt from her post, Coney Island's Off-Season Vibe: