July 2, 2009
CORD (Coalition for Respectful Development) a group of concerned and active citizens in Carroll Gardens has decided that Superfund is the way to go for the clean up of the Gowanus Canal. I have to agree.
They also urge everyone to register their opnion because the public comment period ends on July 8th. Here's some info about that:
July 1, 2009
I frequently take the F-train to Coney Island to visit my friend Rose who recently had knee replacement surgery.
Currently she's staying in a rehabilitation hospital on 29th Street and Surf Avenue. Her room has a nice view of the ocean, the beach and the boardwalk.
I usually take a $2 cab from the Stillwell Avenue subway station to the hospital. But on my way home I always walk on the Boardwalk back to train.
Yesterday was an utterly blue-sky gorgeous day. Clearly I wasn't the only one who had the idea to walk on the Boardwalk. By 2 p.m. the beach was crowded and the Boardwalk was filled with walkers, bikers, and sunbathers.
There was such a strong summer at the beach vibe—amazing for an urban beach just blocks from City housing and a neighborhood in the midst of a controversial transition.
Up by 29th Street, people make quiet recreational use of the Boardwalk for jogging, walking, biking. Russian couples sit and read newspapers; the elderly take in the sun; young lovers make out; loners like me take slow, meditative steps.
The blue and white RIngling Brothers Circus Tents add a festive feeling to the Upper Boardwalk. I noticed  signs yesterday about a cafe and animal viewing area open every day until 9 p.m. Then there's Keystone Park with signs about upcoming games and the Wilco/Yo Lo Tengo concert coming up on Monday July 13th (doors open at 6 p.m.).
A large swath of the beach has been closed off for a stage and stadium seating for the 2009 Village Voice Siren Festival. This year's concert features Built to Spill, Spank Rock, The Ravonettes, Tiny Masters of Today and many more bands and will happen on Saturday, July 18, 2009 from 12:00 noon – 9:00 p.m.
As I got closer to what's left of the amusement park, the Boardwalk throbs with energy—even on a Tuesday afternoon. Radios balring Michael Jackson, girls parading around fearlessly in skimpy bikinis, boys in low cut surfer shorts, children slathered in suntan lotion.
I strolled into the area that used to be Astroland and was disgusted to see the poor excuse for an amusement park that the City (?) has put in there. There's a freak show thing as well with huge vintage looking circus posters about two headed ladies and babies. One exhibit boasts the world's largest rat. Gross: that one really freaked me out.
The new Flea By the Sea seems to be getting off the ground slowly. I've been there a couple of times and found it hugely disappointing with a scant number of vendors. Pretty pathetic. But an OTBKB had this to say. 
June 30, 2009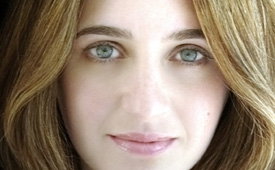 Park Slope's Simone Dinnerstein, who has won numerous awards and honors for her piano playing, will be making her New York Philharmonic debut on July 7th and 8th at 7:30 p.m. as part of the Summertime Classics series.
Be there for the music and to take pride in this native Park Sloper who now lives here with her husband and son. She recently started a music series at PS 321 and next year, I hear, there are going to be four concerts with very top
musicians; their performances are donated and all proceeds to P.S. 321.)


June 29, 2009
Single-ride bus and subway fares went up from $2 to $2.25 on Sunday. One-day MetroCards are now $8.25 (up from $7.50), 7-day cards are $27 (from $25) and monthly cards are now $89 (up from $81).
According to the NY Daily News, if you average it out, an average fare, with the pay-per-ride bonus, is up from $1.74 to $1.96.
June 27, 2009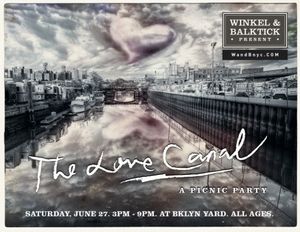 The BKLYN Yard on Saturday June 27th should be quite a spectacle. Winkel and Balktick,
the two masterminds behind the city's most outlandish underground parties, are
bringing their crazy antics to the baks of the Gowanus Canal.
In a tongue-and-cheek
celebration of the canal's toxicity, they are inviting their vast
community to descend upon BKLYN Yard… dressed up like the mutants that
must surely live in the nearby waterway.
Featuring:
Please attend dressed as an undersea love mutant, or ambassador of
humanity's remaining freak population.  Or wear nothing and get
bodypainted by friendly mutants.
ALL AGES!  Kids with parents are free!
Full cash bar.  Please, no outside booze.
3pm – 9pm
FREE before 4pm, $7 after!
FREE afterparty in secret location!
info@WandBnyc.com
June 26, 2009
An undisclosed eyewitness now says that  Brooklyn's Statue of Liberty was stolen from the front yard of Vox Pop Coffee Shot at 4:57 a.m. Monday morning. The shop is located at 1022 Corteylou Road in the Ditmas Park neighborhood.
"We're hoping it's in the neighborhood," said Debi Ryan, who runs Vox Pop a popular cafe, performance space and bookstore. "I just want the statue returned no questions asked.  Just put it back and no charges will be pressed."
June 24, 2009
Do you know the celebrity path in the Brooklyn Botanic Garden?
Since 1985, more than 160 Brooklyn notables, including Walt Whitman,
Jackie Gleason, Woody Allen, Barbra Streisand, Norman Mailer and Gil Hodges,
have had their names embedded in an 18-inch by 24-inch concrete paver and
decorated with a stylized leaf outline cast in bronze. Each paver also contains
a bronze medallion of the Brooklyn
Bridge , encircled by the
phrase, "The Greatness of Brooklyn Is Its People."
I think Paul Auster was pleased: "I've lived in Brooklyn for the
better part of my adult life and it's nice to know that this paver will
be sitting in the Botanic Garden long after I'm gone," said Auster.
Moe, Curly and Shemp Howard, also known as The Three Stooges and former borough president Howard Golden were also inducted.
June 24, 2009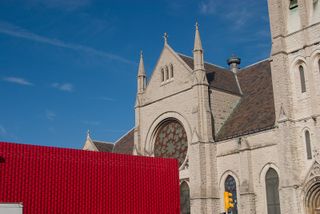 Park Slope's Old First Reformed Church will begin the restoration of its historic sanctuary with the help of 39 volunteer workers, from a sister church near Columbus, Ohio. The volunteers, 30 youth and 9 adults, from New Hope Reformed Church of Powell, Ohio arrived on Saturday, June 20, and will stay at the church for the week, where they will sleep, eat, and work, work, work on the restoration. They will also have some free time to enjoy the neighborhood.
Designed by George L. Morse, the large, gothic revival structure of Old First, was dedicated in 1891. The interior decoration is considered one of the finest examples of arts and craft design in the United States. Currently the renovation plan is to do some interior painting. Pastor Meeter with committee members, worked with local interior designer and church member, Elaine Beery, to select the colors. Ms. Beery researched historical church records, and evolved a plan to restore the walls to their original color and palette of earth related, Florentine tones. Paint hues of these exact colors still exist in historic collections by modern paint manufacturers and an exact matching has been achieved. We thank the group from Ohio for donating their time and donating the paint!
Through the Reformed Church's Project Samuel, volunteer groups work both on church renovations and in shelters, soup kitchens, and mission projects. The Ohio group's first trip to Old First was in 2005. Two groups from Illinois have helped us, one from Minnesota, one from Ontario, and a group from Wisconsin made two trips, and renovated the church's majestic thirty-foot chandelier last year.
The massive structure is offered back to the community as a spiritual sanctuary for every person, and for hospitality for the arts. The community is invited to stop by the church and watch the renovation in progress this week. Those who have already visited have been amazed at the vaulted ceiling, coffered with intricate flocked stenciling and gold fleur de lis. Among the treasured stained glass windows, are two made by the Tiffany Studios. Come see and say hello to our volunteers.
June 23, 2009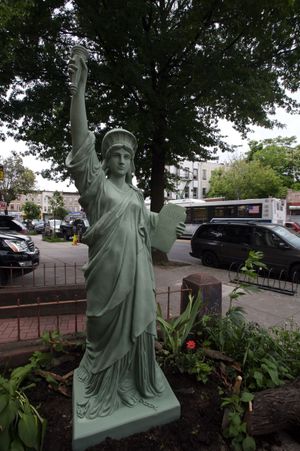 The Lady Liberty statue stolen from the Vox Pop Coffee Shop in the early morning hours of Monday morning is still missing. The police have been notified and staff and customers of the coffee shop are taking matters into their own hands by posting fliers and trying to get the word out far and wide.
The statue in question is an 8 ft replica of the Statue of Liberty, which usually stands outside Vox Pop, the popular local cafe in Ditmas Park.
Lady Liberty has been a fixture in the neighborhood for a long time. It was recently refurbished by a Ditmas Park local, who added a solar powered torch. As reported on OTBKB it was reinstalled as recently as last week.
That's what's so shocking. No one can figure out how or why anyone would take the statue. "Whoever
took it must have planned this out. It was no simple prank because she
was bolted into five foot wooden anchors, and wouldn't have fit into an
ordinary size car or van," said Debi Ryan, who runs Vox Pop.
Photo Tom Martinez
June 23, 2009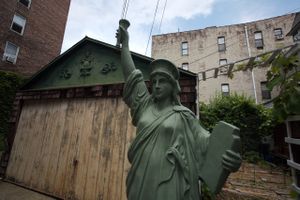 It's the big mystery of Ditmas Park today. Staff and customers of Vox Pop Coffee Shop are wondering how and why someone would steal their 8 ft tall statue of Lady Liberty.
The statue disappeared during the early morning hours of Monday morning. Debi Ryan, who runs the cafe was shocked, "Everyone was so happy that she was restored,' she said of the recently refurbished statue.
Ryan and others are in the process of creating a flyer and will paper the neighborhood in the days to come. If you know anything about the missing lady liberty please get get in touch with OTBKB (louise_crawford(at)yahoo(dot)com.
Photo Tom Martinez
June 21, 2009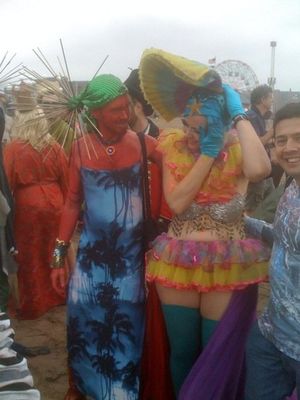 A picture from today's Mermaid Parade on Coney Island by Hugh Crawford. The rain stopped just in time for the actual parade. "At 2 p.m. it was raining cats and dogs," says Hugh Crawford. "And then it stopped. For most of the parade itself it sprinkled a little but it wasn't so  bad." Below: photo of woman with green umbrella by Tom Martinez.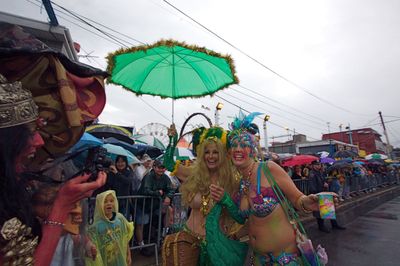 June 20, 2009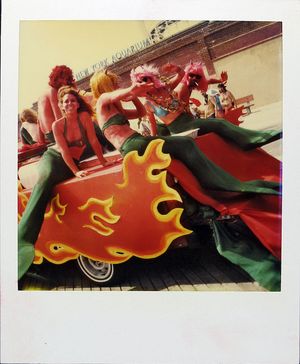 Rain or shine, the Coney Island Mermaid Parade is today. TODAY! It starts at 2 p.m. and King Neptune is Harvey Keitel and Queen Mermaid is Daphna.
Also: there's a new parade route for the Mermaid Parade this year:
–The Parade will now start at West 21st Street and Surf Avenue
–The Parade will roll east to West 10th Street
–at West 10th Street the Parade will turn south towards the boardwalk
–cars and motorized floats can park on West 10th Street
–At the Boardwalk, the marchers and push-pull floats will turn west and head towards West 15th Street
–At West 15th Street the Parade will disband
–The new route is much longer- about twice the size so wear appropriate footwear for a long walk on the pavement.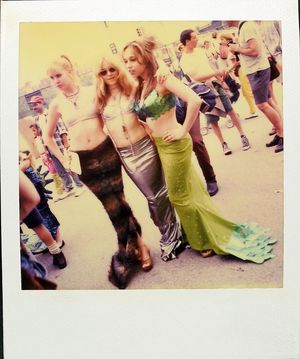 Information from Mermaid Parade Website:
Check In/Registration/Staging Area is at a new location!
PUSH PULL FLOATS AND MARCHERS will register at Surf Avenue and West 21st Street.
MOTORIZED FLOATS AND ANTIQUE CARS will register at Surf Ave. Side at West 19th and West 20th street.
The Soup Shop and Peggy O'Neill's will both sell FOOD on West 21st Street inside the staging area. There will also be WATER available for purchase.
If you plan on driving to the parade, you may purchase parking in the expanded KeySpan parking lot- conveniently located on West 22nd Street and Surf Avenue.
1992 and 1994 Photos of Mermaid Parade by Jamie Livingston
June 19, 2009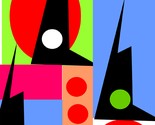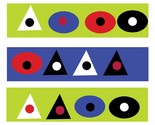 As always, Seventh Heaven is chock full of special events this year, including the Scavenger Hunt, readings by children's book authors and more local artisans than ever.
–If you are in the mood to be read to by local children's book authors
this Sunday you will be in luck. In a tent outside Community Bookstore Barbara Ensor, author of Cinderella (As If You Didn't Already Know the Story) and Thumbalina (Tiny Runaway Bride), and other authors (names to come) will be doing just that. Their names and other salient details will be posted here any minutes.
My friend Barbara Ensor will be reading at 2.30.
My friend and neighbor Bernette Rudolph, will take to the street his Sunday with her gorgeously graphic work (pictured). She writes: "The SUN WILL SHINE
!!!!! Come see me on 7th Ave. in the Slope between 2nd
&3rd street."
June 19, 2009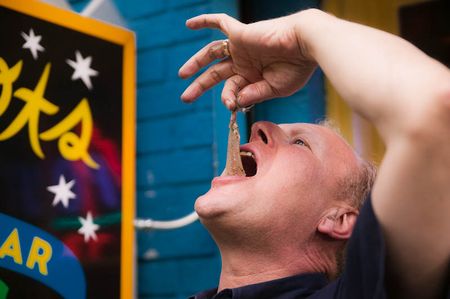 On Wednesday I had the pleasure of attending the Second Annual Herring Festival in Park Slope. Organized by Pastor Daniel Meeter of Old First Dutch Reformed Church with one of the owners of Two Boots, there was more raw herring than you've ever seen from Russ and Daughters on the Lower East Side.
"So what's the occasion?" I asked Meeter. He looked at me incredulously. "It's the celebration of the new herring," he told me.
According to Meeter, the celebration of the new herring is an old and treasured tradition in Holland. Sliding
a herring down your throat is just one way to participate in the festivities. As demonstrated by Meeter, you just pick up the little fish
by the tail and lower it into your mouth.
As Meeter explained, herring was a diet staple in the Netherlands for hundreds of years.
It was always plentiful in the North Sea and Dutch fishing boats didn't have far to go for those little fish. But the tastiest
herring were the newly matured fish caught in late spring: the green,
'new' herring.
The problem was figuring out how to preserve the new herring once the fishermen made their catch: Cleaning the fish on board ship and
salting it was the way to go.  According to an article on the About European Travel website, "as early as the 14th century
the Dutch made an important innovation. In cleaning, for the sake of
speed, they removed only the innards, and left the head, spine and
scales. But they did not remove the pancreas. Somehow they had
discovered that the pancreas contained enzymes that it continued to
secrete, even in the dead fish. These enzymes seasoned the meat, very
slowly, to render it tender and fit to eat raw."
So there you have it: the arrival of the "Hollandse Nieuwe" is a cause for joy all across Holland. And it looks like new herring is going to be an annual event here in Brooklyn, too.
Two Boots was a perfect venue for this burgeoning Park Slope tradition. Also on hand were bottles of Genever, an aged Dutch gin that is mighty good I can attest to that. "It's closer to Aquavit than regular gin," Hugh Crawford said. "Yummy stuff, though and good at cutting through the taste of herring which is quite a feat." In addition to the tasty herring treats and demonstrations of proper herring sliding techniques, friends and neighbors wandered in for a taste and spirited conversation.
See you next year!
June 16, 2009
A Blogfest for Zines. Sort of. Whatever it is I am so there.
First, do you know what a zine is? They are self-published, homemade, independent, and small publications. Sometimes they're artful, poetical, radical, cartoonical, informational. You name it. They're like blogs. On paper! And they pre-date blogs and are very independent and cool.
Okay. Now that we've clarified that: The first annual NYC Zine Fest '09 will be held June 27-28, 2009, at the Brooklyn Lyceum in Park Slope, Brooklyn. It runs from 12 – 7pm each day, and is a FREE event. NYCZineFest.org has all info and the programming schedule.

June 16, 2009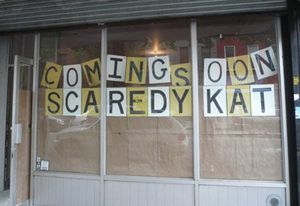 Yup. Scaredy Kat, one of the early settlers on the new Fifth Avenue is moving to larger digs right across the street at 232 Fifth Avenue, right next store to Playa
A neighborhood card & gift shop, Scaredy Kat has been the go-to card and gift shop for me since they opened in July 1999. It's definitely an OTBKB favorite and they've been on the Park Slope 100 for sure.
They have a unique aesthetic that's hard to describe: vintage meets great design. Letter press meets cool illustration. Old photos with zany captions. That sort of thing. Suffice it to say I love the place and their sense of style (and humor).
And they've got a blog called Kat's Treats, too.
June 16, 2009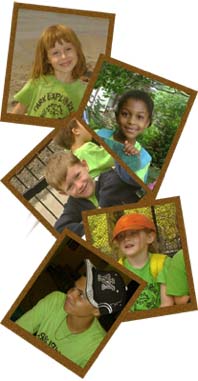 It's June 16th: Do you know where your children are spending the summer? Think about Park Explorers if you're looking for an experience that includes lots of time outside in the summer sunshine (and rain) and healthy fun all summer long (this camp really does run ALL SUMMER LONG). Different activities daily; no two days alike!
Park Explorers (PE) has been  bringing children to Prospect Park with trips in and around
the Park Slope Brooklyn area for twenty-five years! I can attest to the fact that children love the
many activities; swimming, sports, arts and crafts, hiking, singing,
dancing, chess, karate, gymnastics, exploring, running, climbing with
plenty of time left for imaginative play because my son was a camper in this program for 6 or 7 years. He loved it and made many good friends there. 
Hey, at Park Explorers he learned all his Guy Walks into a Bar jokes from an incredibly funny and smart counselor whose name escapes me at the moment. But he was a great guy.
And the camp really is fun and it's run by Chris Altman, one of the Park Slope 100, a talented woman who understands kids and has YEARS of experience running this camp.
And now the camp has even more activities than ever:
–Actors enjoy PE's intensive Exploring Theater camp.
–Athletes
can join PE's total sports program and new this year is a program that
combines dance, tumbling and circus arts, Rhythmic Gymnastics.
It is certainly true that parents enjoy Park Explorers flexible weekly schedules and extended day options. And the price is right.  Call 718-788-3620 if you're looking for something for your child this summer.
Location:        Park Slope Brooklyn
                        611 8th Avenue (corner of 6th street)
                        Basement of Saint Saviors Church
Season:          June 29 to September 4.
                        Choose the weeks that you want;
                        the weeks need not be consecutive.
June 15, 2009
Become a bunnette at Nathan's Famous Fourth of July International Hot Dog Eating Contest
June 5, 2009
This Saturday's Recession Survival Fair, a non-profit community service event meant to  assist Brooklyn and New York City residents in tackling the
challenges springing from the economic recession, is certainly a timely event.
Very timely. Figures released today show that the unemployment rate has hit 9.4% (the good news is that job losses have slowed).
Organized by Brooklyn for Barack in association with The Stuyvesant Heights Parents Association, the Fair takes place on Saturday, June 6, 11 a.m. to 4 p.m. at the Mount Lebanon Baptist Church, 230 Decatur St. (near Lewis Ave.) in Bed-Stuy, Brooklyn

So what is it?
Attendees will have
free access to important information and professional help on a range
of relevant topics, including healthcare, food and nutrition, job
search, debt and personal finance, and tenants' rights and foreclosure.


And who is it meant to serve?
Ellen Enders, one of the organizers behind the Recession Survival Fair, came up with three
hypotheticals (based on people she knows) of people the fair could
help.
June 4, 2009

Park Slope's Steven Berlin Johnson, the author of 6 books including The Invention of Air, Everything Bad is Good for You and Ghost Wars, has a story about Twitter in this week's Time Magazine. He is also the founder of outside.in, a local news web network.
How do I know? He twittered me about the article this morning.
"I've written this week's Time Cover story about how Twitter is changing the way we live and showing us the future of innovation. Buy a copy."
He followed up with this tweet:
"Here's the twist: that last tweet about the Time cover story "is" the cover of Time this week. Wrap your head around that!"
In the article he writes,
This is what I ultimately find most inspiring about the Twitter
phenomenon. We are living through the worst economic crisis in
generations, with apocalyptic headlines threatening the end of
capitalism as we know it, and yet in the middle of this chaos, the
engineers at Twitter headquarters are scrambling to keep the servers
up, application developers are releasing their latest builds, and
ordinary users are figuring out all the ingenious ways to put these
tools to use. There's a kind of resilience here that is worth savoring.
The weather reports keep announcing that the sky is falling, but here
we are — millions of us — sitting around trying to invent new ways to
talk to one another.
June 4, 2009
A woman by the name of Emily Brundige, an animation artist and blogger, is sending around an email to Park Slopers because her brother David Brundige is trying to raise funds to make
his first feature film, which takes place in Park Slope and is called "The Prospects."
This is a Park Slope story, folks. And maybe a movie worth supporting.
Filmmaker David Brundige says that he has  "infused
this movie with all that I love about Park Slope, and the story of
romance and friendship that comes with it is derived from that deformed
funny bone lodged in my heart."
Making a Park Slope film served two purposes for the filmmaker: "First, there were a hundred things
from which to draw and inform our movie; fascinating scenarios,
settings and people were abundant. The second benefit is that we knew
the streets, as it were. This meant that shooting would be easier as we
procured locations and recruited local faces to appear in the film.
Containing the movie in Park Slope meant limiting the number of
locations, and their proximity to one another assured smoother company
moves-all boons for filmaking on a budget."
According to Brundige, her brother, who grew up in Los Angeles, is an incredibly gifted screenwriter and director, and she's been watching him
make ingenious short films and videos since he was in high school. 
Here is Emily's brother David in his own words on his website.
Making a movie about this
rich area served a double purpose. First, there were a hundred things
from which to draw and inform our movie; fascinating scenarios,
settings and people were abundant. The second benefit is that we knew
the streets, as it were. This meant that shooting would be easier as we
procured locations and recruited local faces to appear in the film.
Containing the movie in Park Slope meant limiting the number of
locations, and their proximity to one another assured smoother company
moves-all boons for filmmaking on a budget.
What
has taken so long to get to this point is not the laboring over a
script, nor the fact that I moved back to L.A. a year and a half ago.
For me, it was $5M that has been dangled in front of my face over and
over again by potential investors for Kidnap the Princess, an amount
that would mean an instant rocket boost onto "the map." As phony
investors and bad deals came and went, I fell into a perpetual cycle of
finding part-time jobs that would allow me to pay rent and go to
meetings, talk to lawyers, and get investment packets together at the
drop of a hat. I managed to stay away from Top Ramen, but I did scrape
my knee on the poverty line. The last deal that fell through this March
with a top Hollywood producer was the proverbial last straw.
The
past five years have been emotionally draining on my self-confidence as
a filmmaker and on my general development into becoming the person I
want to be. Filmmaking is so tied into who I am and how I perceive
myself, that not making films has been, let's just say, hard. I don't
mean to depress you, only to help you see why making this film means so
much to me, and why it has to be filmed right now.
One
other reason for the film's urgency is that 465 13th Street, the
brownstone that we shared as friends and that Charlie has now lived in
for five years, is being sold by its owners. The next two months will
be our last chance to use it for filming, as we had always planned. It
is now or never for this film.
I have infused
this movie with all that I love about Park Slope, and the story of
romance and friendship that comes with it is derived from that deformed
funny bone lodged in my heart. I hope you'll decide the DVD is worth
your $25 and that you might help push this film over the edge by
donating more.
All money raised will go into
making the film. If we raise in excess of $25,000, the extra funding
will be used to entice a name star to appear in the film. Some hopefuls
are Sophie Okonedo, Paula Patton, and Meghan Good to play Cherise, and
Laura Linney or Patricia Clarkson to play the old man's daughter.
Thanks for reading and thanks even more for caring.
– David
June 4, 2009
Norm Elrod runs the blog, Jobless and Less, a blog for the employmentally challenged, where he writes about his current experiences with unemployment. He is also helping out with this Saturday's Recession Survival Fair in Bed-Stuy, which is being organized by Brooklyn for Barack in association with the Stuyvesant Heights Parents Association.
June 4, 2009
After years of complaints about the inadequacy of the Kensington Post Office, the US Post Office finally did something about it.
This densely populated Brooklyn neighborhood, like Park Slope (but I think their problem may be worse) has endured long lines and much exasperation about the workings of their local post office.
So today's big news: the post office at 419 Mcdonald Avenue in Kensington was recently equipped with an Automated Postal Center (APC).
Oh gosh. Is it like that automatic check out at the Key Food with a voice and everything or is more like an ATM. Hopefully the latter.
The APC is a self-service machine designed to assist customers in 85% of the possible retail transactions, including mail priority and express letters and packages as well as purchase stamps and request delivery confirmations.
Okay. That sounds very hopeful. I hope the machines are as good as they say. City Council Member Bill deBlasio's sent out this announcement:
"High foot traffic has long been a problem at the Kensington post office.  It is not uncommon for lines to reach the door, causing frustration for patrons.  The APC, it is hoped, will alleviate this pressure and allow the post office as a whole to provide efficient service to more satisfied customers."
Okay. Let's see if machines can fix the problem. 
June 3, 2009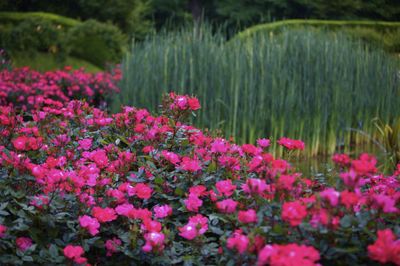 June is Rose Month at the Brooklyn Botanic Garden when the Cranford Rose Garden is in full bloom.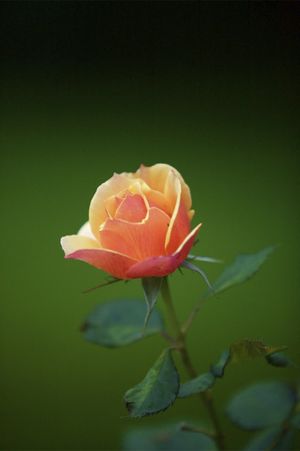 Photo by Tom Martinez
June 3, 2009
Paul Kirk, director of the film, Able Danger, wants OTBKB readers to know that his film was released on iTunes today.
 "Able Danger" is the story of Thomas Flynn, a
Brooklyn 9/11 truther (played by Adam Nee), who falls into a noir
pastiche when a mysterious Eastern European beauty (played by Elina
Lowensohn) arrives at his bookstore cafe with proof of American secret
intelligence involvement in the planning and execution of 9/11.
When
Thomas is implicated in the murder of his friend and employee, he's
forced to unravel her complex web of lies while attempting to fight his
natural attraction to her. My friend Charlie Libin was the cinematographer.
http://itunes.com/movies/abledanger
To celebrate it's release on iTunes, Able Danger is playing for the first time —in color— in front of an audience.
That's right, Able Danger is playing at VoxPop in Brooklyn — where it all began…
Tonight at 8pm if you'd care to see it with an audience.
Entrance is free and the beer is cheap.
June 2, 2009
I love the idea of this monthly series at Union Hall. I haven't made it over there yet but I plan to. Eventually.
Adult Education is a Brooklyn-based monthly lecture series devoted to making useless knowledge somewhat less useless. In June, Adult Education welcomes a panel of presenters to speak on the theme of "Urban Travel."
The line-up will include:
EDDIE JABBOUR, "Building a Better Subway Map"
Can the NYC subway map be improved? Designer Eddie Jabbour thinks so.
SUZANNE REISMAN, "Take the A Train"
Author Suzanne Reisman provides a guide to hidden treasures along the A
train's route.
MATT MURO, "The Passive-Aggressive Turd From the Suburbs"
How one man learned about the true nature of his soul after building
what he thought was a silly website:
http://www.peoplewh ositinthedisabil ityseatswhenimst andingonmycrutch es.co\
m/.
CULLY LONG, "Underground Life Drawing"
On the subway, you might see people reading, sleeping, listening to
music, or just generally zoned out. Cully Long sees models for his
sketches.
All hosted by Charles Star.
ADULT EDUCATION PRESENTS: "URBAN TRAVEL"
Tuesday, June 2, 2009 – 8 pm (doors at 7:30)
Union Hall in Park Slope
702 Union St. @ 5th Ave
$5 cover
http://adult- ed.net
May 28, 2009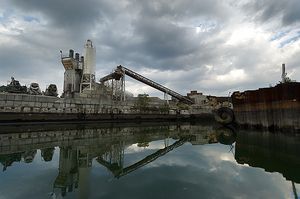 200 people gathered in the auditorium of PS 32 on Hoyt Street
in Carroll Gardens for a presentation organized by the Executive/Public Safety/Environmental Protection/Permits/Licenses Committee of Community Board 6 to hear representatives of the U.S. Environmental Protection Agency on a proposal to designate the Gowanus Canal as a Superfund site.
Also on hand were representatives from the City to discuss the City's alternative plan for the Gowanus clean-up.
Citizens. Reporters. Politicians. Candidates. Neighborhood Activists.
Bloggers. Photographers. Videographers. They were all there and there
was a buzzy, excited and anticipatory vibe in the room prior to the
program.
But once the presentation began, the audience was rapt. Richard S. Bashner, chairperson of Community Board 6, welcomed the crowd and emphasized that "This is not a public hearing. We are not taking comments from the public but we are taking questions." 
For starters, the EPA's  Angela Carpenter talked about what the EPA found in the Gowanus Canal. And trust me, it's toxic and stinky. The following contaminants were found in very high concentration all along the length of the canal:
–Polycyclic Aromatic Hydrocarbons (PAHs): up to 4.5% in the canal sediment (that's per hundreds)
–Polychlorinated Biphenyls (PCBs): up to 43 parts per million in canal sediment
–Heavy Metals ( Lead, Cadmium, Arsenic and Zinc)
–Volatile Organic Compounds
The presence of these toxic chemicals dates back to the industrial presence that existed along the Gowanus Canal, including  Manufactured Gas Plants, coal yards, cement
makers, paint and ink factories, oil factories and the city's sewer overflow that filled the Gowanus Canal for decades.
Carpenter also clued the audience into EPA-speak, numerous acronyms they use almost constantly like RPM (Remedial Project Manager), NPL (National Priorities List), HRS (Hazard Ranking System), RI(Remedial Investigation), MGP (Manufacturing Gas Plants), PRP (Possible Responsible Parties) and more. 
You gotta talk the Acronym Talk.
The EPA's Walter Mugdan, director of the Division of Environmental Planning & Protection for Region 2 was the star of the evening. With 30 years experience, he speaks knowledgeably, clearly and with humor and seriousness about a subject that is quite complex.
So what is it that has the EPA so concerned about the Gowanus Canal?
The EPA is concerned about the unbelievably high levels of contaminants in the water and the mud. But they are also very concerned because people fish in the Gowanus.
Yup. They do. And they eat the fish.
 And with all the toxins in the Canal that's NOT a good thing. Of course there are advisories in New York and New Jersey telling people to severely reduce their intake of fish.
People also kayak in the Gowanus.
"I would not choose to kayak in the Canal unless you can get into the kayak without splashing water all over yourself and I've never been able to do that," Mugdan said.
So everyone agrees: "You gotta clean the water. you gotta clean the mud," he said. And you've got to clean the upland sources because if you don't do that you're going to continue to have problems whenever it rains.
Mugdan also mentioned that the EPA, with the New York City Department of Health, would conduct a study about the health hazards of living near the Canal. This has never been done.
The question is who gets to clean the Canal?
"There are many ways of skinning the same cat and I'm a cat lover so don't take that the wrong way," Mugdan said. Indeed, what is at issue here is this: Who gets to skin this cat? And from what I learned last night there are three ways to go:
—SUPERFUND, which is paid for by responsible parties (PRPs). In this case, National Grid and those manufactured gas plants. Mugdan emphasized that in NO case is a resident homeowner a PRP and work would begin whether or not the EPA had the money from the PRPs.
According to Mugdan, the EPA is very sucessful at getting the money from PRPs because of high fines and stringent enforcements. "Most cases are settled. We get 100% compliance unless the responsible party is long out of business and bankrupt," Mugdan said. The rest is paid out of the EPA budget.
—ALTERNATIVE TO SUPERFUND is a alternative plan with no Superfund listing. But it is a process much like Superfund and is overseen by the EPA. The EPA requires that the agency that does the clean-up "sign on the dotted line and accept the threat of penalties if they don't get the job done according to the EPA's requirements."
Mugdan seemed to suggest that this option is for those who fear the Superfund stigma.
WRDA: This plan is paid for by the Federal Water Resources Development Act and would utilize the Army Corp of Engineers. It is also paid for by congressional earmarks and taxpayer money. Congress would have to decide whether this was a high priority and getting that congressional appropriation can be dicey. This approach also requires the approval of the EPA.
How Long Will It Take?
"Longer than you wish and less long than you feel," was Mugdan's reply. No matter how you slice it, this is not a quick process. Mugdan thinks the EPA is already ahead of the game because of the data collected by the Army Corps of Enginenrs. It will then take 12 months to do a Feasibility Study. The Record of Decision (or ROD) will take another year. And the actual work to clean the Canal: Mugdan said "It might be a decade. It might be less."
"It's the work that drives the time not the process," Mugdan told the crowd. "There are, however, ways to manage the process to build some efficiencies into it," he said. "But it is complicated for anyone who does the work."
Mugdan seemed to suggest that the WORDA process might take the longest "because you have to get the sufficient funds from Congress and everyone in country is in competition for that money. Congress has authority to do what it wants. Is it politically likely? No one in this room can say."
Mugdan also talked about the important role of the stakeholders, including  local residents, community groups, local businesses, and prospective developers. "Their needs need to be addressed. A Citizen Advisory Group (CAG) is a good idea, a monthly group that can assess the process." Mugdan said.
"There are sites where people agree but this ain't one of them," Mugdan added.
So what is it all going to cost?
"$300-400 million. Definitely not $100 million. Probably not $600 million," Mugdan said.
So what does the City want to do?
After Mugdan's virtuosic performance it was time for the City to talk about their approach.
For New York City, Caswell Holloway, Chief of Staff for Deputy Mayor Schyler, took the microphone. It is clear that the City, like the EPA, wants to clean the Gowanus Canal. But they don't want it listed on the National Priorities List and they want to do it in their own "alternative way."
They also want to continue the work they've been doing with the Army Corps of Engineers, who've already collected important data and have begun flushing the tunnel and dredging. 
As far as the process: it seems that the City wants is to take a Chinese
Menu Approach: a little Alternative Superfund, a little WORDA and if all else fails they'll take Superfund designation. They want to leave their options open.
"There is no rush to get on the list," he told the crowd. "We can always get on the list if this plan doesn't work." In other words: give the city a chance. You can always go to the EPA if this doesn't work," Holloway said.
Okay.
Here are the City's reasons for an Alternative Plan:
–To maximize existing investments (i.e. Public Place, Toll Bothers, planned re-zoning and work in progress by the Corps of Engineers.
–To avoid being associated with Superfund NPL (National Priorities List). "NPL makes lenders nervous and can draw resources way from the community," Holloway said.
–To not get in the way of plans for Public Place, Toll Brothers and the planned re-zoning.
–To make sure polluters pay, the City wants the polluters to be a key part of the plan. To do this, the city wants to see the voluntary engagement of responsible parties. They'll even give the PRPs a discount if they come forward voluntarily.
"The Army Corps of Engineers is tremendously excited about the Gowanus Canal. It's one of their top 8 priorities. And a voluntary process would be faster than Superfund. Superfund is compulsory and big corporations don't like to be told what to do," Holloway said.
"There is no need to rush the listing. The EPA has the ability to list it whenever they want to. If the city fais, they can list. Now is the opportunity to pursue alternative plan. And EPA doesn't lose ability to list it," Halloway told the crowd.
So how to characterize the two plans?
Superfund: The EPA knows what they're doing. They will start whether or not they have the PRP money. They understand the magnitude of the problem and they won't go away until it's done.
The City: They're already working with the Army Corps of Engineers and want to continue that partnership. They don't want to be stigmatized by a listing on the Superfund Priorities List nor do they want to delay projects that are already in progress like Toll Brothers, Public Place and the rezoning of the Gowanus area. Their's is a "give us a try" approach. It's warm and fuzzy for developers (no delay) and polluters (get a discount if you come forward). Their slogan: "There's no rush to list. You can always get a Superfund listing."
Conclusion: Even the City thinks you can always go with Superfund. So I say why don't we just start with Superfund. It's a great team. They're good to go. We won't have to wait around for earmarks or PRP money. Go for it, EPA. Get that Gowanus clean, clean, clean. However long it takes!
May 1, 2009
April 29, 2009
What a glorious day yesterday was for the press preview of the Sakura Matsuri Cherry Blossom Festival at the Brooklyn Botanic Gardens.
The press (and members of the public who happened to be in the gardens yesterday) were treated to short previews of what's to come this weekend. There was an unbelievably adorable group of pint-sized Suzuki violinists from the children's music program at Brooklyn College, parasol dancers in elaborate kimonos, a J-pop star and  taiko drumming.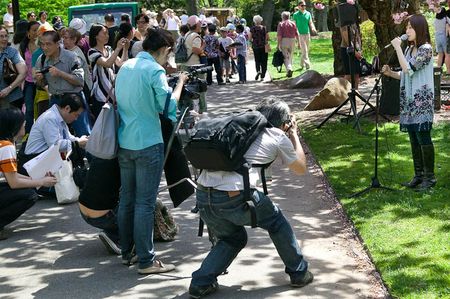 But the real stars of the event were, of course, the voluptuous blossoms of the cherry trees that as of yesterday were in close to full bloom. From the height of the stairs near the entrance of the Gardens, they looked like a tantalizing pink canopy in the distance. Up close and personal they were a sight to behold.

There is even a Japanese word for the enjoyment of these trees. Hanami is "the cultural tradition of viewing and cherishing each moment of the cherry
blossom season." The idea is very lovely, a chance to be present in the now-moment to stroll, savor and share the beauty of the blossoms.
Trouble is, the event tends to get unbelievably crowded. That's why it was such a gift  to go when it was only slightly crowded but empty by Sakura Matsuri attendance standards.
And if only they didn't make me sneeze. Yesterday the pollen count must have been through the roof and I had an allergy attack almost immediately. Advice to allergy sufferers: Bring antinhistamine with you or take in advance of this weekend's festivities.
On their website, the Brooklyn Botanic Garden calls this event New York City's "rite of spring," And I have to concur. This is the 28th year of an annual event that always makes me sneeze — and smile.
April 27, 2009
Park Slope Neighbors, a neighborhood organization "committed to the protection and enhancement of quality of life in Park Slope, Brooklyn," articulated its support of designation of the Gowanus Canal as an EPA Superfund site in their recent e-newsletter.