June 6, 2012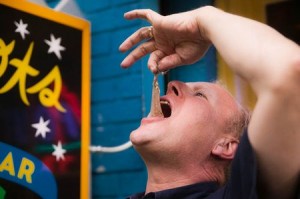 A few years ago, I had the privilege of celebrating the new herring catch with Pastor Daniel Meeter of Old First Dutch Reformed Church at Two Boots. Well, he's doing it again on June 14th.
As Meeter explained, herring was a diet staple in the Netherlands for hundreds of years. It was always plentiful in the North Sea and Dutch fishing boats didn't have far to go for those little fish. But the tastiest herring were the newly matured fish caught in late spring: the green, new herring.
The problem was figuring out how to preserve the new herring once the fishermen made their catch: Cleaning the fish on board ship and salting it was the way to go. You can read more about it here.
It's really such a fun event because Meeter eats them the way the Dutch do: he eats them whole. It's quite a sight (see picture above from 2009). And you can learn how to do it (and taste some delicious herring) on June 14th from 6-8 PM.
Herring is a really big deal in Holland, you see. Once a year, the herring in the North Sea reach their optimal condition during a four to five week season. In Holland, the start of this season is a national holiday.
A national holiday, eh. Well, in Park Slope, it seems, that tradition is being honored.
According to Meeter, "The New Catch Holland Herring is eaten by holding the whole herring by the tail and dropping it into your mouth. At Two Boots, Meeter likes to chase the herring down with ice cold Dutch Genever Gin."
Come celebrate Breuklyn's founding fathers at Two Boots Brooklyn at 6pm with our very own Gwynneth Bensen behind the bar.
March 5, 2011
March 4, 2011
If you blinked you might have missed it.  Park Slope Eatery, a deli-style restaurant on Seventh Avenue at the corner of Fifth Street, is closing. They were in the space vacated by the enormously successful La Bagel Delight, which moved two blocks south.
In case you missed it, PS Eatery had steam table fare, breakfast in the morning, bagels, deli sandwiches, salads with your choice of toppings, rotisserie chicken, daily entrees, mashed potatoes, mac and cheese and the like.
I got wind of the fact that their business was terrible a few months ago. Apparently it was owned by a group of investors and many of them walked away quite early on. Some of the remaining investors tried to keep it going.
Look, they had a decent location, decent food (basics, nothing fancy) and nice people working there –  but no atmosphere or character at all.
No surprise.
March 4, 2011
This is a report, not a review.
Yesterday for lunch Hepcat and I went to Cheeburger Cheeburger, the new franchise on Seventh Avenue and Third Street in Park Slope. Just open for two days, I was dying to try it. Hepcat was resistant to the bright pink interior but that wasn't a problem for me. He liked the big windows facing Seventh Avenue, which are good for taking pictures of the street.
The waiter was very friendly, very nice. He brought us our drinks in jam jars that said Cheeburger Cheeburger on them. After studying the menu for well over 10 minutes — there's a lot to look at, lots of choices, and toppings and ways that you can customize your hamburger (peanut butter?) — we ordered.
The calories are listed next to the items on the menu so I decided against the hamburger and ordered a turkey burger instead. Hepcat ordered a blue cheeseburger with onions.
While we waited some of the staff presented a customer with a cloth sculpture of a cheeseburger because he finished a One Pounder, their 20 ounce burger. In the menu it says, "If you can finish this monster, we'll take a picture of you and put it on the wall with the other Wall of Famers."
You've been warned: if you ever eat one of those the staff will come out and embarrass you.
While we waited Hepcat wondered about the music, all fifties, sixties and seventies.
"It sounds like everything is speeded up. It's weird."
"The place has a real American Graffiti vibe," I said.
We then tried to remember all the restaurants that have been in that spot. Rex, Nam, Miracle Grill…many escape my memory.
We waited for our food for quite awhile. Hepcat noticed a neon sign that said Same Day Service and kept joking about it.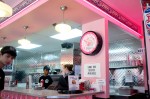 "It says same day service…"
Our burgers arrived in those plastic baskets they used to have at diners. My turkey burger was very tasty. Hepcat seemed to enjoy his blue cheese burger.
Chee Chee seems to be attracting a big lunchtime crowd. Doctors and nurses from Methodist Hospital were definitely in attendance.
We'll be going back to try other items on the menu for sure.
February 26, 2011
No picture yet. But reports from various friends do not bode well for the nabe opinion of their new, "garish" sign.
I saw the Cheeburger Cheeburger sign and it's not so bad. Sure, it's big with a red background and white letters. And I saw inside the place, too. Very retro. The walls are painted pink with 1950′s style diner tables and chairs. There are neon signs on the walls. The counter looks fun. All very Grease, like the waitresses should be wearing poodle skirts and singing, "Summer loving had me a blast."
I think kids, especially teenagers, are going to like it.
February 19, 2011
Scalino, a well-regarded Italian eatery on Seventh Avenue and 10th Street, was seized by the New York State Department of Taxation  According to Park Slope Patch, they received four separate warrants for unpaid taxes.
The largest of the warrants is for $112,840 and it dates back to 2008, a year after the restaurant opened. No wonder the prices were so good. They weren't paying taxes!
The owner told Patch and locals that he's just sorting things out with New York State. Apparently, he reopened the restaurant last night. If he can't pay the taxes they can seize the restaurant's chairs, tables, kitchen equipment and other property.
Better get a payment plan, Scalino. New York  State is very nasty. The Feds are warm and fuzzy compared to them. They can lien all over you and it isn't pretty.
February 17, 2011
This week on Here's Park Slope, there's an interview with a bartender at the South Slope bar, Timboos, located on Fifth Avenue and 11th Street. Now that's a place that's been in the neighborhood forever. A friend of mine who grew up on Fifth Avenue in the fifties and sixties used to tell me about that place. Great stories.
Here's Park Slope's Dan runs a great series called Know Your Bartender and he does great interviews. In fact he interviewed me for an upcoming piece on his blog (know your bloggers?). Here's an excerpt from his interview with bartender Betty Collins.
When it comes to South Slope bars, there are two categories: those that draw a younger crowd and those that cater to a slightly older demographic. For the former category, Ellis Bar and Black Horse Tavern come to mind. Bars in the latter category also share the trait of having been in the neighborhood the longest, though, and they include Smith's, Jackie's Fifth Amendment, and Timboo's. These old-school bars open earlier, stay open later, draw a fiercely loyal clientele, and are throwbacks to an earlier Brooklyn.
February 9, 2011
Egytptian cake: A Cake Bakes in Brooklyn
Oeufs la cocotte: 2 Cooks in the Kitchen
Valentine's Day cookies: Eating the Beats
Chicken parmy: Learning as I Chop
Developing Mile End wholesale brand: Eater
Review of Mile End: NY Times
February 9, 2011
2 Minutes to Dinner provides a behind-the-scenes look at Park Slope's acclaimed Al Di La. In the blog post, Chef Anna Klinger reveals the secrets behind the restaurant's delicious Anchovy Vinaigrette. 2 Minutes to Dinner is designed to help the home cook "put high quality dishes on the table in minutes, without shortcuts or convenience foods, all while encouraging frugality and improvisation."
Given Al Di La's reputation for doing no wrong–ask anyone who eats out in my neighborhood–it's funny that Anna Klinger, its chef/co-owner, would caution that her Anchovy Vinaigrette might be too simple for a Behind the Scenes entry.  It is, in fact, a perfect example of a basic, versatile, but hardly understated pantry item that we like to champion at Purple Kale Kitchenworks.  And, of course, it is Anna's unflashy but keenly finessed cooking that keeps Al Di La's Italian food on point.
February 7, 2011
It's there for all to see: PS Brooklyn, the cute name (and double entrendre) of the new restaurant in what was the Bussaco space on Union Street between 6th and 7th Avenues in Park Slope, is etched on the door.
The new eatery will serve American comfort fare like burgers, pizza and that sort of thing. According to Brownstoner, a pizza oven has been installed.
The challenge of that location is that it's off the Avenue. That said, Union Street is a major "side" street and there's loads of pedestrian traffic because of all the stores over there including, Food Co-op, Ellie Herman, yoga classes, and, of course, the Tea Lounge.
Quite a few good restaurants have occupied that space  (Lentos, Bussaco, and others) and it's a lovely, large interior space.
The PS Brooklyn decor space looks very attractive. Bright white walls with  blue accents, nice light fixtures, black tables and chairs. PS Brooklyn  is set to open on Friday. See you there.
January 31, 2011
Freddy's Bar is rising from the ashes.
The bar, which was demolished to make way for the Atlantic Yards project and was a central meeting place in the battle against eminent domain abuse, is set to reopen on Friday, February 4th.
Clear your calendar, folks. This is going to be a raucous good time. The fun starts at 5PM and the bar will stay open until 4AM! The new owners want you to know that the entire bar has been created almost exclusively out of re-cycled, found or hand made objects, with next to nothing being purchased "New,"
"The creation of this bar is owed to the hard work of the new owners (all previous staff members), and especially to the generous efforts of other staff members and many a bar regular, who all pitched in," the new owners write in a press release.
The new Freddy's, located in the South Park Slope at 5th Ave between 17th and 18th Street, is just one block from the Prospect stop on the R train, and 8 blocks from the 4th Ave and 9th Street stop on multiple trains.
Many items from the old Freddy's have been transported to the new,  including the original prohibition era red mahogany bar and the old booths and tables. The "Chains of Justice" will still grace the bar as a reminder of their  fight against eminent domain abuse and the power of the community bond.
Also on display: The video art of Donald O'Finn will still be prominently featured. According to the press release, "the decor is unique and vibrant, a mixture of old and new, antique Hollywood Regency chandeliers, steam punk accents, vintage wallpaper as well as handmade erotic wall-paper and permanent art installations from local art stars like Nancy Drew and Steve Pauley. The stamp of co-owner/artist Donald O'Finn is evident almost everywhere you look, from the fish tank sunk into a wall with giant albino frogs to the barn wood wall constructions and oversized gothic frame mounted to a flatscreen TV."
They've got lots planned for the opening. Les Sans Culottes are the headliners and they will go on at midnight. Opening acts include Apple recording artist Brute Force and eclectic world roots band The Magpie kicking things off.
Also on display, an exhibition of glitter and flock paintings by NYC artist Nancy Drew.
January 28, 2011
There's a really interesting new cafe in the neighborhood. And it opens today.
On their blog, the folks at Crop to Cup say that they've been "sandblasting, knocking down walls, building, sanding, painting, sealing, plumbing, electrical-ing (?) for about 3 months now.  So what do we have to show for it?  An awesome cafe for y'all, if we may say so ourselves."
The brand new Crop to Cup Cafe, which serves family farmed coffee from Uganda and Burundi, opened today (Friday) at 7:30 AM and they're selling the coffee for half price. They've also convinced Four and Twenty Blackbirds to make baked goods for them, making Crop to Cup Four and Twenty's first wholesale client.
What is Crop to Cup?
Crop to Cup is an espresso bar, a pourover/brew bar (choose between Hario, Clever, Beehouse or French Press). The location also houses C2C's importing operations, their wholesale operations, a garden (all hail Spring) and baked goods from our neighbors at Four & Twenty Blackbirds who are right down the street.
The location is 541A Third Avenue in Brooklyn, not far from the G/R/F stop at 4th Ave/9th St. Right next to Lowlands Bar.
January 26, 2011
Superbowl special: turkey chili: A Kitchen in Brooklyn
Hot cross buns…in January?: A Cakes Bakes in Brooklyn
Simple winter breakfast pleasures: 2 Cooks in the Kitchen
Mable's Smokehouse & Banquet Hall: NY Times
Upcoming restaurant events: All About Fifth
January 24, 2011
Since December I've been taking IntenSati at at Ellie Herman's 4th Street Annex (Wednesdays at 7:15, Friday at 6:45AM and Saturday at 2:30PM).
I am now, officially, really hooked. Taught by Chantall Brachmann-Scott, it's one hell of a workout and worth its weight in therapy. I mean, I walk out of there feeling like a million bucks. $20 bucks a class – no problem.
IntenSati is a fairly new exercise method that combines yoga, martial arts, aerobics and new-age affirmations. A high-energy cardio workout created by Patricia Moreno, author of "The intenSati Method, 7 Principles to Thinner Peace," the technique is based on "mindfulness, positive psychology and the law of attraction."
The vocal affirmations required of the participants, is, in my experience, what gives intenSati its added kick.
A year ago, Chantall Brachman-Scott, a popular local Pilates instructor at Ellie Herman, completed the intenSati leader training with its founder and decided to bring this body sculpting workout and method of creating awareness and intention to Park Slope.
The music, a key element of the experience, included vintage hits like Queen's, "We are the Champions" and Olivia Newton John's "Xanadu" with more contemporary sounds from the South African inflected soundtrack of "Invictus."
"I like bringing awareness to my clients, students," Brachmann-Scott told me.  "Awareness of how wonderful our bodies are, how they function and that we can truly be in control of this body physically and mentally."
Every month the routine changes. January's was called Champion and it consisted of a kick-boxing inspired routine. We shout out phrases like:  "Yes, this I must achieve. And I will not rest until I succeed" as we jump kick dance and sweat. Lots of sweat. February's will be based on the serenity prayer ( I can't wait).
About the affirmations, apparently that turns people off when they hear about it but it actually helps you remember the routines and helps with the breathing. So bite the bullet folks and come on down.
Weight Watchers: I've been doing Weight Watchers since just after Thanksgiving and going to meetings at the Montauk Club on Sundays at 9AM and 10:30AM.
So far I'm 5 pounds down. Yay me.
Melanie, the leader, is one of the most empathic, friendly, smart and FUNNY leaders I've ever had at Weight Watchers. She is seriously gifted at public speaking, teaching the program to newcomers, and keeping the crowd motivated to keep going. The day I restarted Weight Watchers was the day they switched to the new points plus system, which is a much improved approach to weight loss with a long list of healthy, fresh power foods that are encouraged over all. I have NEVER heard Melanie even mention the Weight Watchers frozen and packaged products (though they do sell some interesting WW snacks at the meetings).
Melanie lost something like 65 pounds on the program but it's hard to imagine her with all that weight. But that's the point. She continues on the program to maintain her weight loss and to inspire others.
And boy does she inspire me. Yay Melanie.
Melanie and Chantall: It's a power punch.
January 24, 2011
Bagel Market, on Seventh Avenue near Union Street in Park Slope, first. They really know what they're doing over there and their instant popularity is a testament to that. The service is friendly and fast. The bagels are good—though not as good as La Bagel Delight IMHO. I've had the corned beef on rye, the egg whites and cheese on a roll, a biali with cream cheese and coffees and it's all good.
I love to sit in there. I think it has a cozy atmosphere with its nice lighting and brick walls, and nice tables by the windows (windows on Seventh).
I find myself going in a lot and knowing that the service will be fast and the quality high. What more can you ask for?My only complaint: too many strollers and sometimes there's nowhere to sit. A good problem to have—if you're the owner.
Da Nonna Rosa on Seventh between Carroll and President: I went in on Saturday to order Baked Ziti for my daughter. We've tried that dish, her favorite dish, all over the neighborhood (La Villa, Pino's, the pizza place across from Washington Park on 3rd Street) and it's good at best, serviceable at worst. I mean it's pasta, sauce and a ton of mozzarella cheese. Sometimes there's a sprig of basil thrown in for good measure.
I thought the Baked Ziti at Da Nonna Rosa was delicious and very fresh tasting. The take-out service up front was extremely friendly and fast.
I checked out the back dining room. It's got a really authentic, "we've been in the neighborhood forever" kind of look. Nothing fussy, not even that pretty. But it looks like a pleasant place to sit, especially in one of the booths. And I'm guessing the service is friendly. One of the waiters, an extremely nice, enthusiastic man, took me upstairs to see the bar/lounge and the party room.
I have to say: It's such a great space up there and a PERFECT place for a party. My sister and I were going to do our birthday party there a few years ago when it was Elementi but had to cancel. One third of the floor is a very comfortable bar/lounge area, an excellent spot for drinks and appetizers before dinner, and the other two thirds is a party space that can fit 75-100 people at tables.
The upstairs bar/lounge is open to the public when there's no party in there.
January 19, 2011
Their motto is big is better and truth be told, Cheeburger Cheeburger is a fast growing franchise with branches in New Jersey, Staten Island, Queens, as well as Pensacola, San Francisco, Los Angeles, Albuquerque, Pittsburgh, Dallas, Houston area, College Station, San Antonio, Austin, Minneapolis/St. Paul, Cleveland, Indianapolis, Lansing, Grand Rapids, Indiana, Kentucky, Georgia, North & South Carolina, Washington, Oregon, Ohio, Boston and all of Massachusetts, Vermont, New Hampshire, Maine, Connecticut…
So what is Cheeburger Cheeburger, other than a reference to the John Belushi skit on early SNL?
Well, judging by the national website, it's cheeburgers, cheeburgers and more cheeburgers. The 20-pounder is what they're famous for and if you actually finish the thing they'll take a picture of you.
Say cheese.
They'll also have a classic burger which is 5.5 ounces. You can also invent your own cheeseburger, chicken sandwich, and grilled cheese sandwich and choose from a huge list of toppings, including peanut butter, horseradish sauce, artichoke hearts, chopped olives and more.
Making it your own seems to be the thing at Cheeburger Cheeburger because they also have a make your own salad AND a make your own shake or malt with a huge list of toppings and ingredients to select.
They've been voted best burger in numerous cities so I'm guessing their burgers have something to offer. It all remains to be seen…
But the big question: do they serve coke or pepsi?
January 19, 2011
It happens every year. Struggling businesses hang in there through the holiday season and then call it quits in January. So far this year we've lost La Taqueria, Hog Mountain, Naidres in Carroll Gardens and now Willie's Dawgs, the stylish hot dog place on Fifth Avenue between 4th and 5th Streets.
I for one am sorry to hear because we loved their hot dogs, loved their decor and loved their dedication to dog adoption.
Everything about the place was creative, including the names of the hot dogs (mutt, pedigree, best in show, bird dawg, downward facing dawg with tofu), the huge mural on the wall, the dog adoption photographs, and their commitment to raising money for Sean Casey Animal Rescue.
Willie's garnered fantastic reviews from the New York Times, Time Out, Yelp, New York, where they were selected for best cheap eats.
So what gives?
Sounds like the owner, Tom Anderson, after four years just got doggone tired of running a business around here. "It was a great four-year run and it's time to move on," Anderson wrote in a statement.
January 17, 2011
Who says there isn't life after eminent domain?
Sounds like Freddy's Bar will re-open with great fanfare at their new location on Fifth Avenue  between 17th and 18th Street in the South Slope. The big date and time: February 4th at 4PM.
As part of the opening festivities, Les Sans Culottes will go on at midnight, with opening acts of Brute Force and The Magpie kicking things off. An exhibition of glitter and flock paintings by artist Nancy Drew will be on display.
Apparently, many items from the old Freddy's will decorate the new place, including the prohibition era red mahogany bar, the old booths and tables.
According to Donald O'Finn, one of the owners of the new Freddy's, "The "Chains of Justice" will still grace our bar as a reminder of our fight against eminent domain abuse and the power of the community bond."
According to a press release from O'Finn: tthere will be a vibrant mix of the old and new with steam punk accents, vintage wall paper and permanent art installations from local art stars like Nancy Drew and Steve Pauley.
The new place has been created almost exclusively out of re-cycled, found or hand made objects, with almost no new materials purchased.
January 17, 2011
I just heard that Naidres, the cafe/eatery that served delicious sandwiches, soups, treats and coffees in Carroll Gardens, is closing. The one in Park Slope, however, will remain open.
The current owner, Janice Pullcino took over both cafes from the original owner 4 years ago, Recently she had to make what she calls "a very difficult and bittersweet decision " to shut down the Carroll Gardens location, which officially closed on Wednesday, January 12th. Pullcino found that running two restaurants has bee one of the most "exhausting, endeavors in my life, yet as hard as it was, I have loved every minute of serving the Carroll Gardens community."
"I  am so grateful for all of the community support over the past few years, especially through some difficult economic times!" she writes in an email. "We hope to see our Carroll Gardens friends when you're in the Park Slope area."
January 13, 2011
Here's an excerpt from my latest column for Park Slope Patch, the new hyper-local news source for Park Slope.
Thinking of starting a new venture, a business or career? Forget the how-to-books and the idiot's guides says Park Slope vegan restaurateur, Aimee Follette.

"If I'd read one of those books that say you'll work 16-20 hours every day without a day off for a year I never would have opened Sun in Bloom," she told me recently over a delicious lunch at the sun-filled Bergen Street eatery, which she opened in January of 2010. But she's glad she did even if she has worked 16-20 hours for a year without a day off.

"It was crazy and I felt overwhelmed by this project but it has pushed me in all areas of who I am and challenged me physically, mentally and emotionally."

Sun in Bloom, Follette's labor of time—and love—is located on that groovy stretch of Bergen Street betweeen Fifth Avenue and Flatbush, that includes Babeland, Bark, Lulu Lemon and Bergen Street Comics. In the light filled space where colorful abstract paintings decorate the walls, Follette's aim is to serve "nourishing, clean and delicious food to the people of Park Slope."
January 5, 2011
How to cook collard greens: Stay at Stove Dad
Been there, baked that: A Cake Bakes in Brooklyn
December wines, a laundry list: Brooklynguy
Baking a la Francaise: 2 Cooks in the Kitchen
PS Brooklyn: Eater NY
December 29, 2010
A cold swim and hot black-eyed peas: Stay at Stove Dad
Molasses on Snow (Day) cookies: A Cake Bakes in Brooklyn
Eastern European inspired solstice feast: Two Cooks in the Kitchen
Inexpensive restaurants that stood out in 2010: NY Times
Sam Sifton's Top 10 restaurants of 2010: NY Times
Brooklyn Victory Market: NY Times
December 22, 2010
Cinnamon buns for brunch: A Kitchen in Brooklyn
Sugar cookies: A Cake Bakes in Brooklyn
This year in Sam Sifton: Eater
Quick marinated broccolli stems: Not Eating Out in NY
Anella in Williamsburg: NY Times
Great champagnes under $50: Brooklyn Guy's Wine and Food Blog
December 14, 2010
DNA Footwear the Brooklyn shoe and boot chain is going in on Seventh Avenue in place of the laundromat between 3rd and 4th Streets. I was so excited about that I had to call my daughter as soon as I saw the sign on Saturday.
Y'know, they sell Uggs. Enough said.
Into Serene Rose, Here's Park Slope reports, will go a coffee shop. I don't know if that means a diner coffee shop or a cafe. We shall see.
Also according to Here's Park Slope, there's a restaurant merger on Fifth Avenue between 11th and 12th, a real classic diner that's been there forevah is merging with Green Kitchen, which serves healthy dishes. The old diner menu will be available, too.
Best of both worlds?
December 8, 2010
Yoo hoo, Mrs. Goldberg, want some coffee cake?: A Cake Bakes in Brooklyn
Dinner at Lokal: Eat It
Desk Set Biblioball Happy Hour: 2 Cooks in the Kitchen
Signature Mac and Cheese: A Kitchen in Brooklyn
Looking for old Brooklyn? Nosh this way: NY Times
Pan-Asian Vegan on Fifth: Here's Park Slope
December 8, 2010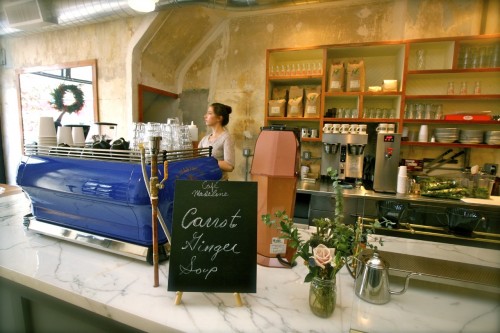 The newly opened Cafe Madeline serving coffee, tea, desserts, sandwiches and soups located at 1603 Cortelyou Road at 16th Street in Ditmas Park.
December 7, 2010
An OTBKB reader and fellow Park Sloper wrote to me yesterday about her desire to open a food establishment in the Slope. She wants to get feedback from neighbors about what they'd like to see:
"Good morning my fellow Park Slopers. I am opening a new food spot in the Slope and I wanted your opinion. I want to make a place that you will definitely want to come back to. I am looking to open up on 7th Ave (can't give you an exact location yet, but it will be below 10th Street).
"What is something that you want to see eating wise? I am doing this for you so any and all ideas are welcomed. The spot will not be a full blown restaurant, but rather a grab and go spot with some seating areas."
Note: Respond here or you can send me an email at louise_crawford(at)yahoo(dot)com and I'll get it to her.
November 24, 2010
Today I spoke with Chi Kong Liu, assistant director of web services at the American Red Cross, about the hazards of Thanksgiving and ways that you can avoid fire and other disasters on this day.
He told me that Thanksgiving is the peak day for cooking fires, 90 percent of which are caused by unattended cooking. That's why the American Red Cross came up with this list of ten tips for keeping your Thanksgiving fire-free:
1.  Stay in the kitchen when you are frying, grilling or broiling food and keep a fire extinguisher handy. If you leave the kitchen even for a short period of time, turn off the stove.
2.  If you are simmering, baking, roasting, or boiling food, check it regularly, remain in the home while food is cooking, and use a timer to remind you that you're cooking.
3.  Clean cooking surfaces on a regular basis to prevent grease buildup.
4.  Keep anything that can catch fire—potholders, wooden utensils, food wrappers, towels or curtains—away from your stove top.
5.  Make sure your sleeves are out of the way when cooking. Wear tighter fitting clothing with shorter sleeves.
6.  Have a "kid-free zone" of at least 3 feet around the stove and areas where hot food or drink is prepared or carried.
7.  Never hold a child while cooking, drinking or carrying hot foods or liquids.
8.  Turn the handles of pots and pans on the stove inward to avoid accidents.
9.  Smoke alarms save lives. Install a smoke alarm near your kitchen, on each level of your home, near sleeping areas, and inside and outside bedrooms if you sleep with doors closed. Use the test button to check it each month. Replace all batteries at least once a year.
10. If you are deep frying your turkey, before filling your fryer with oil, take into account how much the oil level will rise with the turkey in the fryer to prevent overspill. Also make sure the turkey is completely thawed in the refrigerator for 3 days. Frying a frozen turkey will splatter violently.
Visit www.nyredcross.org/fire for more fire prevention tips or take an online Turkey cooking quiz.
November 24, 2010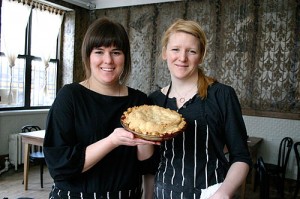 If you're not making your own pies for Thanksgiving here are a few suggestions:
Wednesday at the Farmer's Market at Grand Army Plaza (yes it's open!) Bread Alone is selling pecan, apple and pumpkin pies for $10 each! Get over there soon.
Everybody's talking about Four and Twenty Blackbirds but you better get over there before they sell out. Tuesday people lined up at 7AM. They will open at 8AM on Thanksgiving and stay open until they sell out of: Salted Caramel Apple, honeyed pumpkin, bittersweet chocolate pecan, bourbon sweet potato…yum.
Lady Bird Bakery is another great bet. Remember when it was Two Little Red Hens? Well, they still have great pies including double crust apple, apple cranberry, Fall medley, chocolate pecan, buttermilk chess…
Cousin John's will be open on Thanksgiving selling cran-pear, chocolate pudding, key lime, pecan, lemon meringue, mince meat, peach custard…
November 24, 2010
Here are five local restaurants that will be serving Thanksgiving dinner in the area. Per person charges range from $50-$75 (and kids are less). Go to the websites of these restaurants or call them for more information about reservations, rates and menus.
Rosewater will be serving butternut squash soup, rosemary charred smoked turkey breast, seared fluke, baked polenta, pumpkin and apple pie and chocolate pecan bread pudding…
Stone Park Cafe will be serving Pennsylvania natural turkey dinner – roasted breast, confit leg, pan gravy; grilled pork chop– spaghetti squash, pork belly, smoked cranberry bean ragout, pickled mustard seed; pan seared grouper – root vegetable puree, marinated greenbeans, caviar mustard beurre…
Sette Enotecha e Cucina in Park Slope will be serving first courses of pumpkin, apple puree, asparagus fondue with crispy pancetta, artichoke bottoms filled with mushrooms & fontina cheese, wood oven baked clams, spinach salad with poached pears, hazelnuts & gorgonzola cheese, papardelle alla Genovese – (Braised lamb & shaved parmesan cheese) Pansotti filled with butternut squash, goat cheese & apricots – (In a butter & fresh sage sauce), asparagus & mushroom risotto with fresh mascarpone cheese, and of course: oven roasted turkey breast with chest nut & golden raisin stuffing – (Served with sauteed spinach & honey glazed sweet potato)…
Paolo Santo will be serving autumn vegetable soup, quinoa salad, pomegrante with sunchoke and watercress, dark meat braised in Mole Poblano or white meat with traditional fixings…
Purple Yam in Ditmas Park will be serving but instead of the traditional turkey, Purple Yam will celebrate Thanksgiving with chicken slow cooked in bamboo tubes with young coconut juice (buko) and tamarind leaves as its souring agent.  Back home in the Philippines, this is an old and forgotten cooking technique which we are trying to revive.  For my birthday party in Manila this past October, we flew in Mrs. Remedios Sugon of Bacolod to show us this lost art of packing into bamboo tubes the chickens and its flavoring agents of lemongrass, onions, tomatoes, potatoes and native sour leaves known as libas and cashew leaves…
The Farm on Adderly in Ditmas Park is serving Thanksgiving but they are booked. They are taking names for a waiting list so it might be worth a try to get into this cozy, delicious restaurant.