March 27, 2013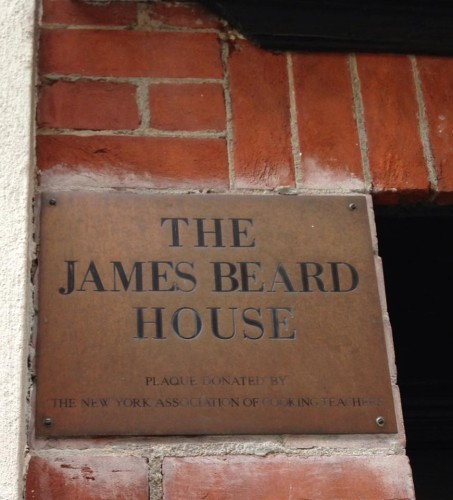 Next year in Jerusalem? Nah. I say next year at the Second Night of Passover at the James Beard House. Really. As soon as tickets go on sale next year make a point of being there.
I went last night and I am still reliving it in my head and my taste buds. Where to begin?
First, you must understand that the James Beard House was at one time James Beard's home on West 12th Street in Greenwich Village (across the street from St. Vincent's Hospital). A cookbook author and teacher, James Beard was a champion of American cuisine who helped educate and mentor generations of professional chefs and food enthusiasts.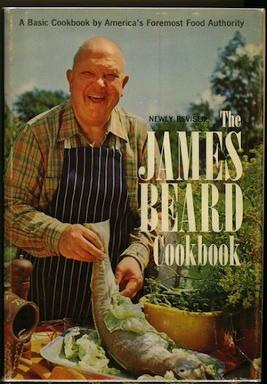 I know the name very well because I grew up with the James Beard Cookbook. It was in regular use in our house. I think I brought it with me to my first college apartment in Binghamton, New York. I remember looking up steamed brocolli.
The Beard Foundation offers a variety of events and programs designed to educate, inspire, entertain, and foster a deeper understanding of our culinary culture. There are cooking events there just about every night of the week. Their programs include educational initiatives, food industry awards, and an annual national food conference. They also maintain the historic James Beard House as a "performance space" for visiting chefs.
The house itself is a narrow, brick 4-story building with a huge kitchen, an indoor/outdoor patio and a parlor floor large enough to feed 85 people. Crowdedly. But that's half the charm as are the green walls and the huge portrait of James Beard over the mantle.
For starters, guests walked through the narrow kitchen, a chance to see all the rock star chefs at work. Yes, through the kitchen to get to the patio where we were treated to "nosherei" from Mile End Deli and The Gefilteria, including an alcoholic drink made of beet kvass tails with sweet ginger and bitter orange (with either gin or rum).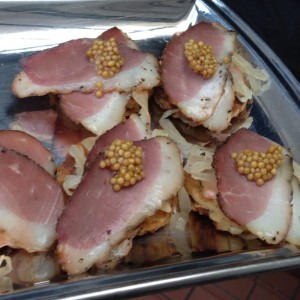 Passed nosherei included Mile End's lamb kreplach, duck patrami Monte-Cristos with spiced cured duck and Jewish-style deviled eggs.
At 6:45, Mitchell Davis, executive vice president of the James Beard Foundation welcomed everyone and Billy Harris, a host/emcee for all kinds of benefits in New York City and Los Angeles, led the seder reading from The Bronfman Haggadah. He read about 30 minutes of the seder, leading the guests through the unison readings. No food was served and the focus was completely on the words and pictures in the book.
And then the dinner began. There were so many courses, I lost count. Fabulous gefilte fish (salmon and whitefish pike),  chicken soup with matzoh balls…
A fish course of seared Skuna Bay Craft Rasied Salmon, pickled salmon belly lox, beets, apples and mustard seed. And then there was Lamb Belly Confit with quinoa and Brisket Bourguignonne with Mushroom and Cippolini Onion and Jerusalem Artichoke Confit with Preserved Lemon.
The dessert was divine: a warm haroset cake by Zucker Bakery. I was so moved seeing all chefs in the kitchen and when they came into the dining room to thundersous applause (Noah Bernamoff, Jeffery Yoskowitz, James Merker, Jake Dickson and David Schuttenberg of Dickson's Farmstand Meats, Zohar Zohar and many more) and the sense of process, creativity, hard work and joy that infused the evening. We were all part of a special evening—performance art for chefs, a Jewish eating fest for the guests.
Next year in Jerusalem? Next year at the James Beard House.
December 4, 2012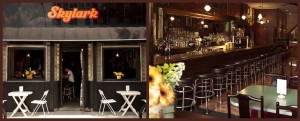 Skylark, a new bar on Fifth Avenue, now has bar food from The Good Fork, a Red Hook restaurant serving savory Asian-style bistro food that was devatstated during Sandy.
When Timboo's, a bar open since the middle of the last century, went out of business, the owners and a bartender from Abilene's in Carroll Gardens, decided to give it a go. They renovated it to look like a frumpy 1970′s living room and it seems to have the cool neighborhood bar vibe.
November 17, 2012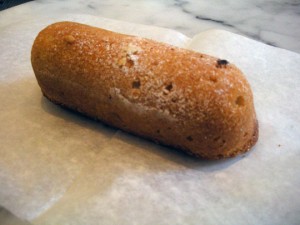 Today the New York Times reported that Hostess is closing its doors. The bankrupt company was in the midst of a strike. But the snack cake business has been declining for a very long time.
You can, however, get a sort of bespoke Twinkie at Trois Pomme, a bakery on Fifth Avenue between  Garfield and Carroll Streets in Park Slope. It'll cost you about $2.50 if I'm not mistaken. They also have a Whoopie Pie and a take on a Hostess Cupcake.
I must tell you, the Trois Pomme Twinkie is yummy. And now that Hostess is turning off its ovens, the Trois Pomme Twinkie is all we've got.
Truth be told, the Twinkie at Trois Pomme looks a lot like the original though the cake doesn't have that weird artificial yellow complexion. The  TP Twinkie is golden brown color, has a torpedo-like shape and a creamy white inside.
They taste similar but I actually haven't tasted a real Twinkie in years. The  bakery uses an almond batter that gives the cake a delicious flavor, I mean it's one awesome Twinkie knock-off but it's just different enough from the original to a be delicious and sophisticated dessert.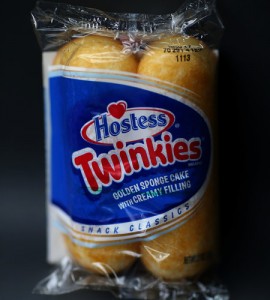 So in that way it's not like a Twinkie at all. The photograph above is from Bklyn Foodie
October 2, 2012
I'm glad to hear that Sweet Melissa Patisserie, the popular Park Slope bakery and eatery, is rethinking their weekend brunch menu. I go there often with my mother on Sunday's and I've gotten sick of their old brunch offerings.
Starting soon, they're going to have dishes like eggs Benedict. In fact, they're going to do it four different ways: the classic, Florentine style- with spinach and gruyere; The Cajun-with crabcake and roasted peppers-, and a salmon dill version.
They're also going to have French Toast made with their delicious homemade brioche and dipped in creme brulee batter, which sounds very fattening—but good.
In addition, they're adding scrambled eggs plain and with veggies, using organic eggs from owner Melissa Murphy's very own Rhode Island Red Hens.
Who knew she had hens?
Still available will be the staple items quiches, sandwiches and homemade sour cherry and toasted almond granola, which I love.
Sweet Melissa Patisserie has been in Brooklyn since 1998. They started with a lovely, romantic tea shop on Court Street, where I used to go to with a  friend for late-afternoon tea and conversation. Once they opened in Park Slope, I became a real regular. My sister and I meet there every Saturday morning for coffee, chitchat and the occasional argument (followed by a quick making up).
Their home-baked treats, scones, croissants and all the rest are, quite simply, divine.
September 26, 2012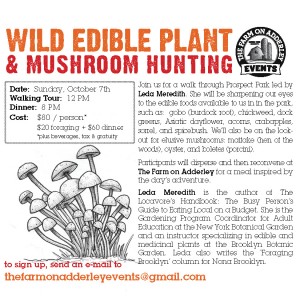 Get your hands dirty with Leda Meredith. On Sunday, October 7th, she will lead a Wild Edible Plant and Mushroom Hunt in Prospect Park showing  the edible foods (and elusive mushrooms!) that are available for succulent dining.
Participants will then disperse and reconvene at The Farm on Adderley for a meal inspired by what is found.
Leda Meredith is the author of The Locavore's Handbook, The Busy Person's Guide to Eating Local on a Budget. 
–
August 30, 2012
A brand new Terroir, a wine bar with locations in  Tribeca, the East Village, Murray Hill and the Highline, is coming to Park Slope.
Owners Marco Canora and Paul Grieco are bringing their wine bar to what was Great Lakes, a former dive bar on Fifth Avenue and Second Street. It should be open in early September. They've been working on that space for months.
This is no dive bar.
Terroir, whose slogan is "the elitest wine bar for everyone", serves food and fine wine. I couldn't find a menu but expect pig roasts, cheese and charcuterie.
August 30, 2012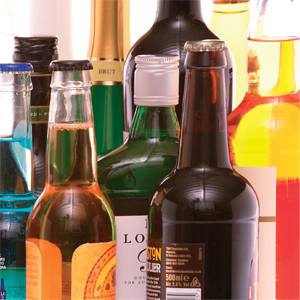 When the Barclay's Center opens next month, Levy Restaurants, its food and liquor contractor, will be allowed to sell alcohol but only until 1AM in the morning. Forest City Ratner, developer of the arena, had hoped for a 2AM cutoff.
Well that ain't gonna happen.
On Wednesday, the New York State Liquor Board voted to approve alcohol sales at Barclays Center until 1AM and no later.
The cutoff is good news for those who live in the surrounding neighborhoods who fear the noise and disruption late night drinking will bring to the area. Like everything connected with the Barclay Center, the fight over the liquor license was contentious.
More than 1000 locals residents signed a petition demanding that the cutoff time be 10PM.
Residents of north Park Slope are braced for the changes the opening of the arena will bring to that area. More than a few homeowners have put their homes on the market out of fear that the arena will change the quality of life over there.
It remains to be seen. The first show at the arena will be Jay-Z who is a part owner of the arena.
August 29, 2012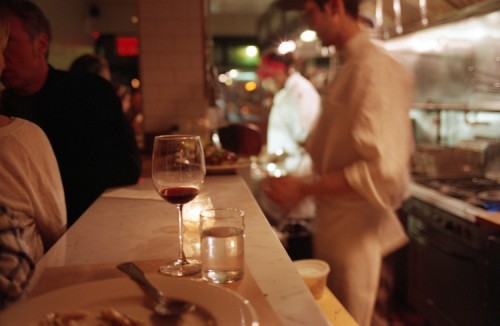 Last night, for my birthday, we went to Bar Corvo, Al Di La's sister restaurant in Crown Heights. It is slightly more casual, slightly less expensive and no less wonderful than Al Di La.
The friends we went with were concerned that it would be crowded as it usually is. They've had to wait an hour to get in there, as you'd expect from a restaurant owned by Al Di La.
Well, because it was a Tuesday night during the last week in August,  it was easy to get a table inside and out in their lovely back garden. And we parked our car right out front.
The food was fantastic. The service, by a waiter I recognized from the Fifth Avenue Al Di La, was fantastic. The experience was lovely. A really special birthday dinner. Funnily enough, it was the birthday of our waiter as well.
I ate the Confit of Duck Leg Confit with roasted peaches (yes, peaches) and it was sooooo delicious. We drank an excellent bottle (or two) of Rose. My husband had the Heritage Pork Chop with grilled greens and creamy polenta ($18). For an appetizer, we shared a Calamari Salad, which was also fabulous.
For dessert (with a candle) I ordered the Creme Freche Panna Cotta with rasberry. Yum.
Photograph from http://ruinista.com/2012/04/04/on-cheating/
August 19, 2012
Last night I ventured into Pork Slope, Top Chef Dale Talde's new classic American restaurant on its opening night and found it to be fun, friendly and inexpensive. It's so not kosher and it's so not P.C. It's actually a welcome—if  bawdy and slightly unhealthy—change from the vegan/veggie/healthy/locavore sanctimony of  many Park Slope restaurants.
Saturday night, opening night, was noisy and crowded and everyone was in a good mood. Strangers at the bar talked to each other: What do you think? Did you ever go to Aunt Susie's? We've been waiting for this to open. Do you mind moving one seat so my husband, who's waiting on line, can sit next to me?
A young woman even offered me tastes of her tater tots. Friendly!
Oh, and for the opening, you had to stand in line for twenty minutes or more to order your food.
But it was fun.
I think that was just an opening night thing. I'm guessing there will be waiter-service in the future. The man taking orders at the end of the bar was friendly and eager to explain the sandwiches like the Porky Melt, which is a pork patty with cheese on pumpernickle/rye bread.
Remember pumpernickle/rye bread?
While standing on line, the bartenders were friendly and helpful.
"Hey, can I get a drink for anyone standing on line," I heard one of the bartenders say.
"I know you left an empty drink glass on the bar. You want something else?" a friendly bartender said to me.
"How much is a PBR,?" I asked a female bartender using the acronym for Pabst Blue Ribbon.
"Three dollars," she said.
Sold.
August 17, 2012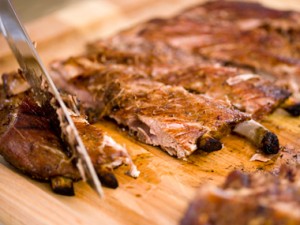 When Pork Slope officially opens on Saturday, you just might get a chance to taste what all the hype is about. Dale  Talde's new Park Slope outpost with the truly great name is more fun and folick than Talde, his elegant, delicious and somewhat pricey "Asian-American" eatery on Seventh Avenue.
With 25 beers on tap and more than 100 whiskeys, Pork Slope is ready for the Fifth Avenue crowds. And the crowds, I'm guessing, are ready for it. There's brisket to be had, as well as ribs, po' boys, pulled pork sandwiches, country ham 'n biscuits, and fried chicken.
The price point? I'm hearing that most dishes are below $15. Pork Slope is located on Fifth Avenue between Carroll Street and Garfield Place. Heck, it's in the space that used to be Aunt Suzie's, Park Slope's red sauce Italian powerhouse, co-owned by Irene LoRe, president of Park Slope Fifth Avenue BID.
August 15, 2012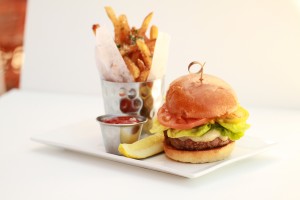 Yet another fancy burger joint in Brooklyn? Not exactly.
Prospect, a new restaurant opening in Clinton Hill not far from BAM serving New American Cuisine and artisinal burgers, will be open by early September (if not sooner).
I got a kick out of the name because one of the first nouveau Park Slope restaurants back in the day (1980s and 1990s) was called New Prospect located on Flatbush Avenue near Grand Army Plaza. They later had a take-out/gourmet shop on Seventh Avenue. New Prospect was way ahead of its time serving organic and locally grown food with a decidedly Moosewood meets the Silver Palatte vibe.
This new restaurant called Prospect, owned by two high school friends, will feature organic and locally  grown foods in what sounds like an attractive environment.
The decor will feature reclaimed wood from the Coney Island Boardwalk. The walls of the restaurant will be adorned with early 20th century photographs from the collection of Peter Cohen.
The menu by Chef Kyle McClelland will draw from local sources, including Greenpoint's Eagle Street Rooftop Farm, Brooklyn Grange, and Sunset Park's Bright Farm. The restaurant's location is 773 Fulton Street between South Portland and South Oxford.
August 13, 2012
In Sunday's Scotsman, a Scottish news website, Lee Randall, a travel journalist travels to Brooklyn and lives like a native. His father was born in Brooklyn and the reporter found plenty of things to love about the borough, including the Brooklyn Museum, the Brooklyn Botanic Garden, and Park Slope's Al Di La.
"Forget hotels and live like a native in buzzing Brooklyn, suggests Lee Randall
"Wandering around Williamsburg, the hipster capital of Brooklyn, brings to mind my late father, who was born in this borough, which was an independent town before its engulfment by New York City in the late 19th century. Dad wouldn't recognise the place. In fact, even I don't recognise it. The last time I ventured to this part of my native city was in the 1980s, when we'd joke that you needed to pack heat to get in and out alive. Now – all joking aside – I'd advise you to pack a Mac computer, a trilby, and a refined palate for artisan beer and coffee, else die of shame."
"Also notable was lunch at Al Di La Trattoria (248 Fifth Avenue; www.aldilatrattoria.com), where they offer a local, organic, sustainable take on Italian food, in a sweet little room overlooking a Park Slope corner."
August 2, 2012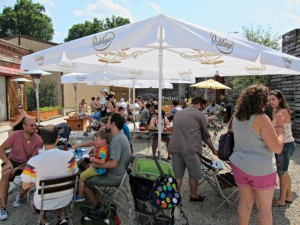 You all remember the No Stroller Manifesto at the defunct Patio Lounge on Fifth Avenue and the No Strollers policy at Union Hall. Well, Greenwood Park, a new 13,000 square foot bar in Park Slope with a huge outdoor space, decided that strollers are not only allowed they are welcome.
But do people who hang out at bars really want kids around. The City Room blog at the New York Times revisits this issue once again.
"I arrived around 6 PM with friends and showed my ID to the doorman. OH YEAH, time for a laid back and relaxing time with some frosty beverages and bar food! WRONG, welcome to Chuck-E-Cheese in South Slope," a Yelp reviewer, John H., posted on July 3.
If you're interested in the history of the Park Slope babies in bars/no strollers issue, read my essay The Park Slope Stroller Wars in Make Mine a Double: Why Women Like Us Like to Drink.
Photo from: blog.urbanedgeny.com
August 1, 2012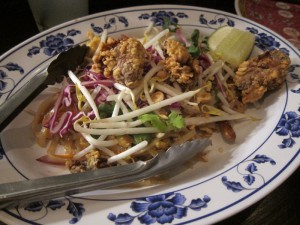 Donna Minkowitz, who lives in Park Slope, writes exceedingly well about food on her blog, which isn't surprising because she's an excellent writer and the recipient of a Lambda Literary Award for her memoir Ferocious Romance: What My Encounters with the Right Taught Me about Sex, God and Fury.
A former feature writer and columnist for the Village Voice, she has also written for the New York Times Book Review, Salon, The Nation, New York magazine and Newsday.
But food. Food seems to be a passionate subject for Minkowitz. On her blog she writes sensuously of eating a McDonald's hot apple pie as a 10-year old. "I was moved deeply by something about the burning liquid inside the pastry package, the near-searing of my lips when I took a bite, the mystery of the musky, tangy ooze cut with cinnamon. I wanted that pie in a way I have never wanted any other food. (I think I was literally in love with it.)."
Because I recently sat at the bar at Talde and enjoyed an appetizer called Pretzel Pork & Chive Dumplings, which was delicious (if a bit greasy),  I was interested in her review. Here's Minkowitz on their Bacon Pad Thai – Fried Egg, which sells for $14 at brunch. I assume it's a variation on their Crispy Oyster & Bacon Pad Thai that they serve at dinner.
…Talde was so good that it made me want to communicate minutely about every aspect of the food I could, as though it were a piece of poetry or a weird white flower growing on the moon.

Talde is an Asian-American restaurant (that's what its owners call it) in Park Slope, Brooklyn, New York. I ate the bacon pad Thai, which is an oyster-and-bacon pad Thai at dinner, and was stirred to a degree that bordered on emotion by its sour, complicated, enlivening flavors. With fat chunks of bacon, it tasted of lime, of fish funk from the great sauce called nam pla, of salt, and an almost indescribable tanginess. I wanted more fat and even more of that funky fishiness – probably the addition of oysters at dinner helps it. There were some peanuts, but I wanted more, and some more minced herbs for contrast. Even so, I loved it so much that its peculiar sour mix of flavors has stayed with me a month later. I ate the entire bowl, even though it was huge and mostly noodles.
July 30, 2012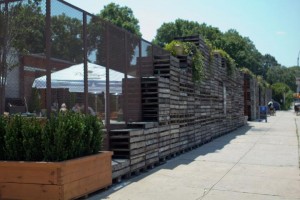 It sounds like quite the extravaganza.
Greenwood Park is a 13,000-square-foot beer garden, bar and restaurant, which opened recently at the foot of Green-Wood Cemetery (555 Seventh Avenue). Open noon until 2AM, they've got 60 tap lines, an indoor bar as well as an outdoor cargo bar, 3 bocce ball courts a menu that will be serving from noon to midnight
Quite the extravaganza.
I love the fence made of shipping containers. That's all I've seen. I might just go and take a look and get a, um, a beer. Have you been?
July 26, 2012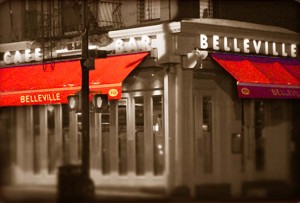 Sending some love to Here's Park Slope, who has a a story about Belleville, the once lovely and authentic French bistro on Fifth Avenue and Fifth Street, which has changed hands more than once over the years. Apparently, it closed for a couple of days recently and then repopened under new management. Here's an excerpt from HPS:
"Belleville, on the corner of Fifth Avenue and Fifth Street, would certainly be on the list (along with Moutarde and I'm sure a few others). It appears that the French bistro had a close call over the weekend, as they were closed for a couple days and re-opened with a sign on the front window saying that the restaurant is now under new management."
Walking by Thursday evening, I noticed a banner saying "Under New Management" covering up the Belleville sign. In addition, the white letters that spell Belleville above the awning have been taken down leading me to conclude that the new business will not be called Belleville. The words "cafe" and "bar" remain.
Stay tuned.
July 25, 2012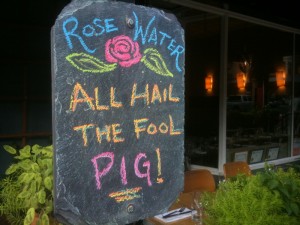 August 23 is the official date for Rosewater's annual Salute to Swine Fest!
They're firing up the Party-Que Spit and roasting a fine piggy from an upstate address over hardwood coals.
The pork will be served with cole slaw, corn on the cob, heirloom tomatoes, cold draft beer and fresh pink wine and you've got one swell porcine summer soirée. "We'll have more fun than a possum in the corn crib with the dog tied up!" is what they're saying.
Tickets go on sale Thursday, July 26th at 1pm. $78, all inclusive of beverage, tax and gratuity. Get yours quick – it's always a sellout. 718-783-3800, phone only.
July 25, 2012
Park Slope Patch has a good story today about a Tea Lounge franchise in Kuwait. Here's an excerpt:
"…you will be able to sit on a couch and drink any of their six organic-and-fair-trade-certified micro roasted coffees or 65 organic loose teas and it will not look too much different from the Brooklyn version.
"The owner of Tea Lounge, Jonathan Spiel, has put a call out to businesspeople to own their own franchise. However, Spiel's vision is more of an "unfranchise," meaning that the franchisee (or better yet, the unfranchisee) has more creative freedom in building their very own Tea Lounge."
According to Patch, a Tea Lounge franchise deal is $25,000, plus a 5-percent royalty and a 1-percent brand development fee. You need to have a net worth of $400,000 and $100,000 in liquid capital.
The initial investment to open your own Tea Lounge is between $145,750 and $346,250.
It's interesting to consider what it is that is franchisible about the Tea Lounge besides the name. What is the Tea Lounge brand exactly? What stops someone from creating their own funky cafe with old couches and lattes with heart shapes on top in the Middle East? Very interesting. Indeed. What else could be franchised around here for Kuwait, China…
July 23, 2012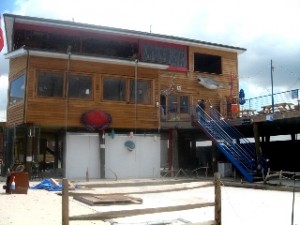 After shopping at Fairway on Saturday afternoon, I decided to sit at the bar at Brooklyn Crab in Red Hook and have a glass of wine and some lunch.
Brooklyn Crab is the latest addition to the Red Hook restaurant scene recently opened  by the folks who own Alma.
The shrimp cocktail I ordered was delicious, as was the wine. And the view. OMIGOD. From the fun bar, which feels like a shack you'd find on a magical beach somewhere, Brooklyn Crab has a fantastic view of New York Harbour, the Fairway parking lot, the Statue of Liberty, water, sun, sky…
It's very transporting. I highly recommend it for a Saturday afternoon. I'm sure the night is fun, too. But I hear it's been getting very crowded. My sister was told there was a three hour wait on a Sunday night.
Because Red Hook is hard to get to on public transportation, they offer free shuttle service to and from the Carroll St. Station of the F and G trains. Just exit the station and look for the little yellow school bus with the Brooklyn Crab logo.
July 20, 2012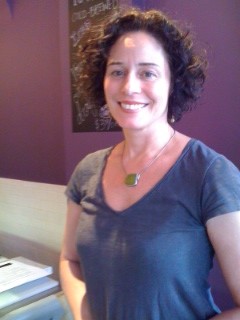 This morning walking into Forty Weight Coffee, the cafe that doubles as Sweet Wolf's restaurant, the owner said, "Someone mentioned your blog yesterday." Then he remembered that it was Alice at The Ploughman, the new cheese and gourmet food shop at 438 Seventh Avenue near 14th Street in Park Slope.
The Ploughman's Lunch is the name of a 1983 film with Jonathan Pryce and Tim Curry, but it's also a term for a cold sandwich served in British pubs with cheese, ham, pickle, apples, pickled onions, lettuce,  bread and butter.
The Ploughman offers artisan cheeses, meats, sandwiches, chocolates and beers. It is in the space that used to be Grab. Alice has revitalzied the decor of the old shop by painting it a gorgeous shade of purple. Not hippie purple but an elegant purple (see picture of Alice in front of her purple wall).
Clearly,  Alice has revitalized the shop with a foodie's selection of breads, sandwiches, condiments and items perfect for a Celebrate Brooklyn picnic.
The Ploughman features Forty Weight Coffee and also has olive oils and probably dozens of other things that are delicious and wonderful. I will most certainly be back to explore.
July 17, 2012
Peter Luger, the renowned and historic steak house in Williamsburg, Brooklyn,  was recently named the best steakhouse in the United States byUSA Today.
Marty Markowitz had this to say about this carnivore's emporium: "Now Americans across the country know what Brooklynites and New Yorker s have known all along: that Peter Luger is, hands down, the best place to eat a steak in America."
The steak house has been around since 1887. Here's a link to the  USA Today story: http://travel.usatoday.com/destinations/story/2012-07-12/The-USAs-best-steakhouse/56183522/1
July 16, 2012
about an hour ago

Pinkberry

We are pleased to learn of your interest in partnering with the one-of-a-kind brand that is Pinkberry. We will be sure to share your contact information with the marketing team for further review and follow up. Thank you.




Louise Crawford

Thanks. Advertising with a local blog would show a real commitment to the community. And Brooklyn LOVES neighborhood-invested businesses. It must go both ways.

Park Slope's Barnes & Noble got a lot of flack for not, initially, doing things in conjunction with local schools, etc. They changed their ways big-time and now are, I think, considered a part of the neighborhood when they do the gift wrap fundraisers and poetry readings for local schools. It is especially important for chains and franchises to show their love for where they are.
July 13, 2012
Forty Weight Cafe is fast becoming my favorite Park Slope cafe. What's cool is that it's also a restaurant called Sweet Wolf's and the smells from the kitchen as they prep food for lunch and dinner are positively sumptuous.
The Forty Weight/Sweet Wolf's double name thing is a tad confusing. But no biggy. The double duty of cafe by day, restaurant by afternoon and evening makes a ton of sense.
The Forty Weight cafe and wi-fi crowd has to clear out at 3:30. That is when the cafe closes AND the restaurant closes for a couple of hours to make way for the evening to prepare for the dinner crowd. Sweet Wolf reopens at 5PM with a dinner menu.
I've been here since 8:45 or so. I ordered an iced coffee and a muffin and plugged in my computer. Yes, plugged in my computer. The outlet is a lovely thing.
I met a friend for coffee and we talked and talked…Now it's lunch time and the waitress just showed me the menu. There's no pressure to stop using the space at the cafe, but the menu looks great. Vegetarian french onion soup, borscht, veggie chili, roasted cauliflower, hummus and olives, crab cake sandwich, pulled pork on brioche, shrimp with piquante sauce, BBQ pulled tempeh…
I ordered the cold borscht because I am a HUGE fan of cold borscht.
I'm eating the borscht now. It's a classic Jewish/Eastern European borscht with sour cream. Perfect summer soup. Brings me back. The soup is $7. They also have burgers for the whopping price of $18.
July 12, 2012
A representative from Team Pinkberry wrote in to OTBKB to say that there will be FREE frozen yogurt at Pinkberry during the Opening Celebration of the first Brooklyn store which happens to be in Park Slope on Seventh Avenue and Garfield Place. The festivities begin at 6PM on July 19th.
I'm not saying you're gonna get BIG free sundaes and stuff. It might just be little taster cups. Maybe a rep from Team Pinkberry can chime on in.
But you don't want to look a gift horse in the mouth.
July 10, 2012

Pinkberry has chosen Park Slope as the location of its first Brooklyn shop. An honor, I'm sure. The official opening day is July 20th. Shhhh, I  think there's going to be a grand opening event on July 19th. Keep your eyes open, there  just might be frozen yogurt coming out of those spigots.
Pinkberry isn't just a national yogurt chain, it's global with outposts in Egypt, Jordan, Kuwait, Russia, Turkey and Bahrain among others. On their website they say they originated the tart frozen yogurt that everyone serves now. They also serve smoothies, fruit parfaits, waffle cookies, cones and fruit bowls with a wide variety of toppings.
The new Park Slope location is 161  Seventh Avenue on the corner of Garfield Place. For many years, there were various Japanese restaurants in that spot. Most recently there was the Seventh Avenue Wine Bar. Upstairs is Rancho Alegre, the Mexican restaurant I've only been to once many years ago.
Nuff said.
Park Slope is becoming something of a frozen yogurt mecca. There's the very popular Culture: An American Yogurt Company on Fifth Avenue between 3rd and 4th Streets. This company, which originated in Park Slope, makes their yogurt in-house from live probiotic cultures. Toppings like key lime and blackberry pie are pretty wonderful.
There's also Yogo Monster, now a serve-it-yourself establishment on Seventh Avenue near Union Street with a "salad bar" of  fruit, nut and candy toppings. The make-it-yourself aspect is really fun and easy.
So get ready for the frozen yogurt Olympics. Pinkberry, Culture, Yogo Monster. Let's see who wins our vote.
July 6, 2012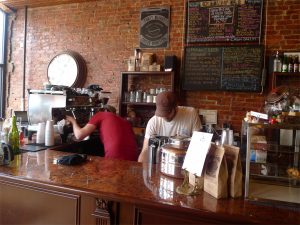 Forty Weight Coffee Roasters & Cafe is that cafe on the corner of Sixth Avenue and 12th Street. By day it's Forty Weight, by noon it's also a restaurant called Sweet Wolf's. 
Maybe you've wondered about it; maybe you've been there.
Forty Weight and Sweet Wolf's have lovely front area that has a very elegant and inviting look. High gate, brick posts, gargoyles, black metal tables and chairs. Inside it's air conditioned, there's free wifi and the coffee is good, very good. It's roasted by Forty Weight Coffee Roasters.
Here's what Forty Weight has to say on their website.
"Forty Weight Coffee Roasters is the product of many years spent daydreaming over hot cups of coffee in breakfast spots and cafes around the world. Owner/Operator Andrew Ballard built Forty Weight on his passion/skill for sourcing, roasting and drinking the finest coffees on earth. The genesis of Forty Weight Coffee Roasters was long and hard, but it led us to be the strong uncompromising company that we are today. Forty Weight Coffee Roasters is on the front lines of third wave coffee; educating, inspiring – leading the movement to evolve our industry."
Here at FW, the baristas are very nice, very conversational, fun. The place has a very neighborhoody feel. Best of all, the flat screen TV is set to Wimbledon.
I like it here.
June 27, 2012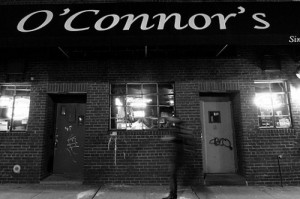 On July 11th from 8pm until closing at Freddy's Bar, you will have a chance to say a formal good bye to a Park Slope institution. It seems that there was no Last Call at O'Connor's Bar. There was only a subtle warning of an impending closure of the historic bar at 39 5th Avenue in Park Slope, Brooklyn.
But now the bar has shut its doors for "re-modeling," and it seems to be a foregone conclusion that it will never be the same.
Freddy's Bar, however, is doing the right thing, the prudent thing. They are offering O'Connor's "post mortem rectification" (that is, indeed, a mouthful).
 On July 11th, all are invited to celebrate the bar's history and retrieve that "Missed" Last Call, one last time, from O'Connor's bartenders– the proper sendoff this neighborhood institution deserves. Long-time O.C. barmen, Thomas and Matty the Kid, will grace the rails and serve patrons of both bars for this one special night.
And now a little history (not sure who wrote this amazing press release):
Since Prohibition Freddy's and O'Connor's have shared a rich history, a neighborhood, and a sense of defiance. More recently, in the 90′s, both bars waged a war on who could stay open later (Usually a tie since neither seemed to ever close.) A softball league, comprised of only the 2 Bars… Freddy's and O'Connor's. Plus, for years, particular Objects would disappear from one bar only to appear in the other, and vice verse. The legend grew such that even the NY Times covered the story. O'Connor's vs Freddy's– NY Times

Freddy's recently re-located to escape the Barclay Center, while O'Connor's weathered the passing of it's beloved and iconic patriarch Pat O'Connor in 2006, and a consequential change in ownership. The Gothamist says the bar is closed for " Evisceration," but Freddy's is offering one last round for OLD TIMES SAKE. Loyal regulars and ir-regulars who darkened the door at the now defunct bar can be served by O'Connor's bartenders for one last time. Here is the final chance for regulars, ir-regulars, and first timers to pay respect to a historic bar, a legacy and to the man Pat O'Connor himself.

The photograph is from Eater where there's an interesting piece about O'Connor's by Robert Simonson
June 22, 2012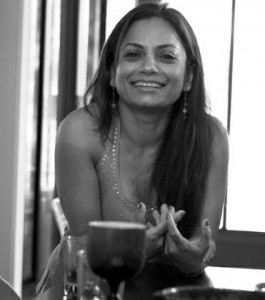 I often buy an Indian simmer sauce from this lovely woman at the Park Slope Farmer's Market (Fifth Avenue between 3rd and 5th Streets). It's so delicious and it taste great with sauteed chicken or vegetables.
She also has summer soups: Chilled Zucchini, Potato & Cilantro Soup. And of course that old stand-by: Green Mango Chutney, which is a must have at any barbeque.
This week, she will also be selling refreshing Nimboo Pani – Fresh Squeezed Indian Limeade, which sounds refreshing and delicious.
Her name is Aditi and her company is called Calcutta Kitchens. She's been selling at the Park Slope Farmer's Market for quite a few years now. Her sauces are reasonably priced and she offers tastes at her Farmer's Market table.
It seems that there's a lot more to Aditi than just selling sauces at the Market. She received an MBA and her transition from corporate career to entrepreneur was fueled by a true passion for food, cooking and entertaining. She also teaches Indian cooking.
I am such a fan that I go out of my way to pick up the sauce because it makes making dinner so easy and delicious. And she's is most definitely not paying me in money or sauce to say this.
I'm just saying.
I see that she's introducing some new products, including: Aditi's Spice Blends: Bengali Five Spice Mix for sautes, soups and stews ("all aroma and no heat!").
June 20, 2012
8. Culture
331 Fifth Ave, Park Slope
Culture's sublimely nourishing frozen yogurt—made from low-fat, hormone- and antibiotic-free milk from Upstate New York—is technically very healthy but sure to ignite many dangerously passionate addictions. With an eclectic smattering of topping choices, there might not be a limit to this love.
10. Littleneck
288 Third Ave, Gowanus
None of the seafood at Littleneck disappoints. The clams are as juicy as if they'd been lifted from the sea and placed directly into the fryer; the oyster selection is equally compelling. The sides are pitch-perfect—complexly flavored pickles, mignonette and tangy cocktail sauce. With a well-curated tap list and a charming nautical interior, Littleneck is a delightfully unsuspecting spot just off the banks of the Gowanus Canal.
Note: The L Magazine currently has The Brooklyn Food Power Rankings, a best-of of various food items.
June 20, 2012
Liena Zigara (of Park Slope Stoop) and I met for coffee at Cafe Dada. We sat for two hours in that lovely new space. Now that I've actually been there I can report that the former Ozzie's has been renovated with skill and taste.
The owners repurposed the old pharmacy cabinets, glass and signage. A nice touch was the old prescriptions sign above the kitchen area. One of the owners, whose name is Gabor, said that he'd spent the last six months in the storefront renovating and getting the space ready.
I had two iced coffees served in a tall glass. Liena had coffee, served in a pretty coffee cup. She also had a fruit salad. I took a free taste of a delicious apple streudel.
Yum.
Gabor said that the shop will soon be serving beer and wine, which I think will only enhance the offerings of this new cafe.
In case you need reminding: Dada wan an avant-garde art movement developed in Europe in the early 20th century. Think Max Ernst, Marcel Duchamp, Tristan Tzara, Andre Breton, Man Ray, Dorothea Tanning. Wouldn't it be cool to run into one of them at the Dada?
A lovely place to sit, sip, and converse with a friend on a great corner (Lincoln and Seventh Avenue).