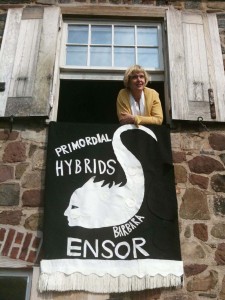 Come sip wine and savor PRIMORDIAL HYBRIDS, an exhibition of works on paper by Barbara Ensor, at The Old Stone House Gallery in Park Slope, Brooklyn.
When: Tuesday, June 7, 6-8 p.m
Where: The Old Stone House in Park Slope, Brooklyn
Creatures part human and part animal gaze out from carved frames in Primordial Hybrids, an exhibit of three dozen new silhouettes on paper by Barbara Ensor. Written below are wry comments that contextualize the works in unexpected and startling ways. "He had climbed out of the primeval muck," "She was not like the others" are just a few of the wry comments penned with enough ink splats to suggest a chaos lurking just beneath the surface.
No stranger to folkloric imagery Barbara Ensor is author of Cinderella (As If You Didn't Already Know the Story) and Thumbelina, Tiny Runaway Bride, both published by Random House Children's Books. She makes the pictures for these books, as well, cutting them out of black paper with a pair of sharp scissors in a style that is part history, part magic. "Even a child who had never heard these stories before will sense they are familiar," says Ensor, "because they echo the way it feels to be alive."
The same could be said of the hybrid creatures in this exhibit. "I immediately felt like I was looking in the mirror," says Ensor "when timidly these odd creatures began to show up in my work." At first, she admits, "I thought it was just me." Ensor speculated that maybe she identified with the creatures because of a sense of not fitting in as a result of frequent moves when she was growing up. When she began to realize how wrong she had been, "It was comical," says Ensor, " how suddenly I couldn't get away from them. I'd turn on the television and there'd be Mickey Mouse with those human hands in the white gloves or I'd glance up at a building and see a winged lion with the breasts and face of a woman staring down at me." Even the earliest cave paintings mix up humans with animal parts it turns out, "and don't forget the devil has horns," says Ensor.
The process of making the art for this solo exhibit (her third in as many years) "was like searching for something that was already there—almost like an archeological dig," says Ensor. "With the paper cut-outs I'm literally removing (with scissors) what isn't the picture, like sifting through the sand to find a skeleton.
Gallery hours are 4-6PM on Friday afternoons, or by appointment. A reception will be held on Tuesday, June 7, from 6-8PM. The show runs through June 22nd.
The Old Stone House
http://www.theoldstonehouse.org/visit/
336 Third Street
Brooklyn, NY
718-768-3195