June 6, 2011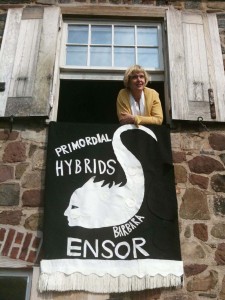 Come sip wine and savor PRIMORDIAL HYBRIDS, an exhibition of works on paper by Barbara Ensor, at The Old Stone House Gallery in Park Slope, Brooklyn.
When: Tuesday, June 7, 6-8 p.m
Where: The Old Stone House in Park Slope, Brooklyn
Creatures part human and part animal gaze out from carved frames in Primordial Hybrids, an exhibit of three dozen new silhouettes on paper by Barbara Ensor. Written below are wry comments that contextualize the works in unexpected and startling ways. "He had climbed out of the primeval muck," "She was not like the others" are just a few of the wry comments penned with enough ink splats to suggest a chaos lurking just beneath the surface.
No stranger to folkloric imagery Barbara Ensor is author of Cinderella (As If You Didn't Already Know the Story) and Thumbelina, Tiny Runaway Bride, both published by Random House Children's Books. She makes the pictures for these books, as well, cutting them out of black paper with a pair of sharp scissors in a style that is part history, part magic. "Even a child who had never heard these stories before will sense they are familiar," says Ensor, "because they echo the way it feels to be alive."
The same could be said of the hybrid creatures in this exhibit. "I immediately felt like I was looking in the mirror," says Ensor "when timidly these odd creatures began to show up in my work." At first, she admits, "I thought it was just me." Ensor speculated that maybe she identified with the creatures because of a sense of not fitting in as a result of frequent moves when she was growing up. When she began to realize how wrong she had been, "It was comical," says Ensor, " how suddenly I couldn't get away from them. I'd turn on the television and there'd be Mickey Mouse with those human hands in the white gloves or I'd glance up at a building and see a winged lion with the breasts and face of a woman staring down at me." Even the earliest cave paintings mix up humans with animal parts it turns out, "and don't forget the devil has horns," says Ensor.
The process of making the art for this solo exhibit (her third in as many years) "was like searching for something that was already there—almost like an archeological dig," says Ensor. "With the paper cut-outs I'm literally removing (with scissors) what isn't the picture, like sifting through the sand to find a skeleton.
Gallery hours are 4-6PM on Friday afternoons, or by appointment. A reception will be held on Tuesday, June 7, from 6-8PM. The show runs through June 22nd.
The Old Stone House
http://www.theoldstonehouse.org/visit/
336 Third Street
Brooklyn, NY
718-768-3195
November 24, 2009
I just got an email from Develop Don't Destroy Brooklyn that New York's high court ruled today against property owners and tenants challenged the state's use of eminent domain to seize their homes and businesses for the enrichment of developer Bruce Ratner and his Atlantic Yards project.
Indeed, it was a 6-1 decision in the Court of Appeals, where they ruled that the state agency's determination to take the plaintiffs property had a rational basis under state law.

TODAY AT 12:30 PM, the plantiffs, Develop Don't Destroy Brooklyn, members of the community, attorneys and elected officials will hold a press conference about the ruling and the fight against Atlantic Yards.
The press conference will be held in front of Freddy's Bar in Brooklyn at 485 Dean Street at the corner of 6th Avenue in Prospect Heights.
Daniel Goldstein, lead plantiff and spokesman for DDDB is not deterred.
"The fight against the Atlantic Yards project is far from over. The community has four outstanding lawsuits against the project and, meanwhile, the arena bond financing clock ticks louder and louder for Ratner. While this is a terrible day for taxpaying homeowners in New York, this is not the end of our fight to keep the government from stealing our homes and businesses," he is quoted as saying in the DDDB press release.
"Governor Paterson and Mayor Bloomberg now need to decide if they want their legacy to be the next New London—a dust bowl in the heart of Brooklyn caused by the abuse of eminent domain, because that will be the outcome if they allow the property seizures and final clearance for Ratner's unfeasible project."
Needless to say, Borough President Marty Markowitz, who vigorously supports the Ratner's Atlantic Yards Project, was pleased by the news:
"The ruling by the State Court of Appeals reinforces previous decisions supporting the numerous public benefits of the Atlantic Yards project—during these difficult economic times and into Brooklyn's bright future—including the creation of affordable housing, solid union jobs and permanent employment opportunities for Brooklynites who need work. Today's decision from our state's highest court marks what amounts to the final step in the legal process to make it happen. Finally, we will bring a national professional sports team and a world-class facility back to our borough after 52 years! Brooklyn 's shovels are, and have been, ready. So, let's pick them up and get to work!"
October 19, 2009
I loved this note today from my friend Jezra Kaye. In addition to being a longtime opponent of the Atlantic Yards Project she's a wonderful public speaking coach and speech writer.
October 19, 2009
June 25, 2009
The board of the Metropolitan Transportation Authority met yesterday and voted 10-2 to allow Forest City Ratner to stretch paments for the Atlantic Yards over 22 years. Norman Oder at Atlantic Yards Report has coverage of the hearing and a video. Here's an excerpt:
June 23, 2009
The Brooklyn Paper reports on a MTA finance committee meeting this morning, where the MTA decided give Bruce Ratner a good deal.
The Metropolitan Transportation Authority will move ahead with a
massive public bailout of the struggling Atlantic Yards project,
changing the project's financing to save developer Bruce Ratner
hundreds of millions of dollars.
The MTA's finance committee met this morning to discuss a new deal
for the developer, who had originally promised $100 million for rights
to build over the Vanderbilt railyards in Prospect Heights, but would
now pay just $20 million up front for the prime eight-acres.
The remaining $80 million would be paid out, at 6-1/2 percent
interest, over the next 22 years, said MTA Chief Financial Officer Gary
Dellaverson, who presented the package to the committee.
Ratner had originally gotten the railyard rights for less than its
MTA-appraised value because he also promised $345 million in
infrastructure improvements to the MTA facility.
Under the new deal, which is expected to be rubber-stamped by the
full MTA board on Wednesday, Ratner would make just $147 million in
railyard improvements.
June 9, 2009
In yesterday's New York Times Nicolia Ouroussoff wrote a scathing piece about Forest City Ratner's decision to change architects on the Atlantic Yards Project. Read this excerpt from Ouroussof's harsh assessment of the situation over there, which he characterizes as a "stunning bait and switch."
Whatever you may have felt about Mr. Gehry's design — too big, too
flamboyant — there is little doubt that it was thoughtful architecture.
His arena complex, in which the stadium was embedded in a matrix of
towers resembling falling shards of glass, was a striking addition to
the Brooklyn skyline; it was also a fervent effort to engage the life
of the city below.
A new design by the firm Ellerbe Becket has no
such ambitions. A colossal, spiritless box, it would fit more
comfortably in a cornfield than at one of the busiest intersections of
a vibrant metropolis. Its low-budget, no-frills design embodies the
crass, bottom-line mentality that puts personal profit above the public
good. If it is ever built, it will create a black hole in the heart of
a vital neighborhood.
But what's most offensive about the design
is the message it sends to New Yorkers. Architecture, we are being
told, is something decorative and expendable, a luxury we can afford
only in good times, or if we happen to be very rich. What's most
important is to build, no matter how thoughtless or dehumanizing the
results. It is the kind of logic that kills cities — and that has been
poisoning this one for decades.
March 17, 2009
February 23, 2009
Here's today's media alert, press release or whatever you want to call it from the folks over at Develop Don't Destroy Brooklyn:
More about this case is at: www.dddb.net/FEIS/appeal.
February 17, 2009
Check out the press release on the Develop Don't Destroy Website about Ratner's efforts to secure some federal bailout money for the ailing Atlantic Yards project. DDDB charges that this would turn Atlantic Yards into "the poster child for misuse and abuse of the recovery bill."
Read this excerpt and go to DDDB for the rest..
February 10, 2009

So Ratner is lobbying to secure some bailout money to fund the Atlantic
Yards project. Is that what you call a shovel ready project?
This idea iis inciting major conflict in the Brooklyn community.

Atlantic Yards booster, Marty Markowitz, is all over it and supportive of the idea: he wants Forest City Ratner to receive a portion of the stimulus package to get the $4 BILLION moribund project going again.
Plans to build a Nets basketball arena and something like 17 apartments and office towers were recently scaled back due to the state of the economy.
Anxious to get things back on track, Ratner and Markowitz eager for government handouts. Markowitz told NY1 yesterday:
"It has all the earmarks of exactly all
the kinds of projects that Congress is looking for and President Obama
is looking for. It will put people to work immediately and it will
benefit the community at large," Markowitz told NY 1.
Critics of the plan like Daniel Goldstein of Develop Don't Destroy Brooklyn think that federal bailout monies would be better used for affordable housing.
 Develop Don't Destroy Brooklyn sent out this email yesterday urging opponents of the plan to let their feelings be knowsn.
If you feel as outraged as we do that there is even the thought that it would
be appropriate to bail out private developer Forest City Ratner with stimulus
money, you can make your opinion known to our Congressional members. Let them
know this would be an obscene use of the federal stimulus funds, is unacceptable
and would undermine the stimulus plan. Also let them know that the provision that
prohibits stimulus funds for stadiums must explicitly include a prohibition on
arenas as well, which are equals in the boondoggle category:
November 17, 2008
Check out the new blog: Atlantic Yards Death Watch. Bruce Ratner has been talking for years about "breaking ground" on his Atlantic Yards project.
"He can talk all he wants, but we're on a deathwatch…"
August 4, 2008
On Friday nine property owners and tenants—with homes and businesses New York State wants to seize for developer Forest City Ratner's Atlantic Yards project—filed a petition with the Appellate Division of New York State Supreme Court seeking an order rejecting the Empire State Development Corporation's (ESDC) findings and determination to seize their homes and businesses by eminent domain. The case will probably go to court in January 2009. Here's the press release from Develop Don't Destroy Brooklyn:
"New York Courts have a proud history of interpreting the New York Constitution as providing greater protections for individual rights than the federal constitution. This case presents an opportunity to continue that tradition by declaring that the New York Constitution prohibits the government from seizing private homes simply to turn them over to a developer who covets them for a massive luxury condominium project," said lead attorney Matthew Brinckerhoff of Emery Celli Brinckerhoff & Abady LLP. "We are confident that the court will see this for what it is: government officials bending to the will of Bruce Ratner, allowing him to wield the power of eminent domain for his personal financial benefit."

Facing the seizure of their homes and businesses, the petitioners have alleged five claims against the ESDC— the condemning authority utilized by Forest City Ratner to take the petitioners' properties and give them to Forest City Ratner. The five claims are that the ESDC's determination to forcibly seize the properties should be rejected because:

1. It violates the public use clause contained in the Bill of Rights of the New York Constitution.
ESDC's claims of public benefit are a pretext to justify a private taking.

2. It violates the due process clause contained in the Bill of Rights of the New York Constitution.
The public process was a sham. The outcome was predetermined in a back room deal between Ratner, Pataki and Bloomberg.

3. It violates the equal protection clause contained in the Bill of Rights of the New York Constitution.
By singling out the petitioners, for unequal, adverse, treatment, and selecting Ratner as the recipient of irrational largess, the ESDC violated the petitioners' right to equal protection under the law.

4. It violates the low-income and current resident requirements of the New York Constitution.
The New York State Constitution provides that no loan or subsidy shall be made to aid any project unless the project contains a plan for the remediation of blight and the "occupancy of any such project shall be restricted to persons of low income as defined by law and preference shall be given to persons who live or shall have lived in such area or areas."
The Atlantic Yards project is not "restricted to persons of low income" and no preference has been given to "persons who live or shall have lived in such area."

5. It violates the "public use, benefit or purpose" requirement contained in New York's Eminent Domain Procedure Law (EDPL).

ESDC's determination that petitioners' homes and businesses will serve a "public use, benefit or purpose" has no basis in fact or law.

The petition to the Court for the case, Goldstein et al. v. Empire State Development Corporation, can be downloaded at: www.dddb.net/eminentdomain
June 16, 2008
An excerpt from story on NY 1:
Brooklyn's Atlantic Yards developer Bruce Ratner downplayed Friday's reports that a proposed Internal Revenue Service rule might stall the vast construction project.

The IRS proposal would tighten the rules governing the use of tax-exempt bonds, a planned centerpiece of the arena's financing plan.

Analysts say the rule could jeopardize financing for the project, including a new Nets arena, before developers are even able to begin.

However, Ratner says the arena will go ahead.

April 4, 2008
About 100 protesters showed up in front of the Brooklyn Museum last night to protest the museum's $1,000 a plate Brooklyn Ball, which was honoring Bruce Ratner. This from Norman at AY Report:
Maybe it was the parade of limousines and SUVs bringing well-dressed guests–at $500 to $1000 and more a plate–to an event that protesters likely arrived at via the 2/3 subway line. Maybe it was a sense that Forest City Ratner, however stalled in its plans for most of Atlantic Yards, is in the driver's seat, with most elected officials yet to challenge the developer. Maybe it's that demolitions promise increased blight around the Atlantic Yards footprint. Maybe it's just the accumulation of grievances.

But the protest organized by Develop Don't Destroy Brooklyn last night outside the museum was notably angry, with some 80 people gathering at one point, many chanting "Ratner is a liar" and "Shame on you" at vehicles coming to drop off their passengers. (More people arrived later, as others left, so total attendance probably topped 100.) Taking off from the museum's function, several people carried signs calling Ratner a "con art
I am awaiting my pictures from my exclusive AY demo photographer. Coming soon.
February 1, 2008
Hot off the press release presses, here's the latest news from Develop Don't Destroy.
New York, NY— The Second Circuit Court today ruled against 14 homeowners, business owners and tenants in their appeal of their lawsuit alleging that New York State's use of eminent domain to take their properties for Forest City Ratner's Atlantic Yards project violates the United States Constitution.

Plaintiffs' attorney Matthew Brinckerhoff said, "Today's decision is disappointing. We disagree with its conclusion. We intend to ask the US Supreme Court to hear our case, and will continue to pursue every avenue available to prevent the unlawful seizure of my clients' homes for Bruce Ratner's enrichment. The court today affirmed that the government is free to take private homes and businesses and give them to influential citizens as long as one can imagine a conceivable benefit to the public, no matter how small or unlikely it may be. Indeed, it does not matter if all evidence points to a secret back room deal. All corrupt politicians need do to insulate themselves from judicial scrutiny is claim a benefit to the public. This is wrong. It should trouble all citizens who, unlike Bruce Ratner, lack the power and money to coopt the governments' power of eminent domain for their private use. We believe that the United States Supreme Court will welcome the opportunity to clarify this area in light of its widely criticized Kelo decision."

Develop Don't Destroy Brooklyn legal director Candace Carponter said, "Our support of the fight of citizens to live safely in their homes, and operate safely in their business, will continue. We maintain that the government's motivation in using eminent domain for Atlantic Yards is not to benefit the public, but rather, to benefit a single, very rich and powerful developer. The seizure of our neighbors' homes and businesses is at the very foundation of the Atlantic Yards project. It is a foundation that must not stand. Now is the time for our elected leaders, who have frequently expressed grave concern about the abuse of eminent domain, to publicly stand in defense of everyday Brooklynites and New Yorkers."

The 2nd Circuit Court's opinion on the case, Goldstein v. Pataki, can be found at:
http://www.dddb.net/php/reading/legal/eminentdomain
January 29, 2008
The Daily News reports that The Civilians, a performance group that combines investigative reporting with stories, song and dance, will prepare a play or musical about the Atlantic Yards Project for their 2009-2010 theater season.
Here's what I want to know? Who's playing Bruce Ratner? Frank Gehry? Daniel Goldstein? Lumi Rolley? Norman Oder?
January 23, 2008
Heath Ledger was a member of the Advisory Board of Develop Don't Destroy Brooklyn. Not only was he a brilliant actor but his heart was in the right place when it came to development issues in Brooklyn. DDDB has nice condolence note up on their website:

We offer our condolences to all of Heath Ledger's loved ones. Our heart goes
out to his young daughter. His passing is very sad news.


Heath was a member of our Advisory Board.
He was not afraid to speak out against the entrenched power and corporate back
room deals that the Atlantic Yards represents. He felt passionately that this
project was wrong for Brooklyn. DDDB thanks him and celebrates his life.


We are grateful that Heath chose to contribute to our efforts, and hope to honor
his memory through our ongoing work.
December 12, 2007
Develop Don't Destroy sent out this press release yesterday. Atlantic Yards Report and No Land Grab have coverage as well.
NEW YORK, NY — In a just-released interview with the New York Observer's Matthew Schuerman, outgoing Deputy Mayor for Economic Development Dan Doctoroff makes a breathtaking admission, saying, "I am a huge believer in the ULURP process. If it happened again, and the state were to ask if I would encourage them to take Atlantic Yards through the ULURP process, I would say yes."


Forest City Ratner's Atlantic Yards project bypassed ULURP with the active consent and support of Doctoroff and Mayor Bloomberg. ULURP, the Uniform Land Use Review Procedure, is the city's public review process for real estate development and rezoning which includes hearings and votes held by community boards, the borough president , the city planning commission, city council subcommittees, and the full city council, ending in a vote by the council. The Atlantic Yards project received a zoning override by the state and bypassed the charter-mandated ULURP in favor of oversight by the unaccountable and unelected Empire State Development Corporation and the three men in a room—Pataki, Silver and Bruno.

"Of course Mr. Doctoroff is right. As we and so many other have been saying for so long now, Atlantic Yards should have gone through the democratic process known as ULURP; nearly all of the project's myriad problems stem from the bypass of ULURP," said Develop Don't Destroy Brookyn (DDDB) spokesman Daniel Goldstein.
November 30, 2007
The Council of Brooklyn Neighborhoods, a coalition of community groups, along with several local pols renewed their demands for an independent security study of the Brooklyn Atlantic Yards project yesterday because it was revealed recently the basketball arena would be situated only 20 feet from both Atlantic and Flatbush Avenues.
This fact, which was revealed in a New York Times interview with a Forest City Ratner official last week, is a bit concern to local groups.
So what does Newark have to do with this?
Apparently, police in Newark recently closed two streets adjacent to the Prudential Center arena during events out of concern that a vehicular terrorist bomb could inflict significant damage upon the arena and its occupants. The streets ordered closed in Newark lie more than 20 feet from the arena's walls.
This is from the CBN press release:
The Newark police department's decision to close streets after the Prudential Center was approved and built, along with the NYPD-mandated redesign of already-approved plans for the World Trade Center 's Freedom Tower , which increased building setbacks from 25 feet to 90 feet, are clear evidence that design and security are closely interconnected. The Prudential Center illustrates how security problems can radically alter the surrounding environment, while the Freedom Tower presents an example of significant changes to building design. Both scenarios appear possible in Brooklyn .

"The public must have the benefit of an independent and transparent inquiry into the design of the Atlantic Yards project and its arena, and the management techniques that will be put in place to ensure security at the site," said Therese Urban, co-Chair of CBN. "Street closures would wreak havoc, and turning the arena into a bunker as a security 'compromise' would cheat Brooklynites of the 'world-class' design we've been promised."
November 29, 2007
This from Develop Don't Destroy Brooklyn:
12:00 Noon
BROOKLYN, ATLANTIC YARDS LAND GRAB
PRESS CONFERENCE CITY HALL STEPS
Elected Officials and the Council of Brooklyn Neighborhoods Renew Call for Independent Security Study of Atlantic Yards
State Senator Velmanette Montgomery, State Assembly Member Joan Millman, a representative of State Assembly Member Jim Brennan, City Council Members Letitia James, David Yassky and Bill de Blasio, and representatives of the Council of Brooklyn Neighborhoods (CBN) will hold a press conference on the steps of City Hall to renew a call for an independent security study of the planned Brooklyn Atlantic Yards project, and especially its basketball arena, in light of this week's revelation that portions of the glass-walled arena and other adjacent glass-walled buildings would lie a mere 20 feet from heavily trafficked Atlantic and Flatbush Avenues. Newark police officials recently mandated the closing of streets adjacent to that city's new Prudential Center during arena events; those streets are approximately 25 feet from that arena's walls.
November 1, 2007
I got this note from my friend Lumi over at No Land Grab about the Brookyn Matters screening at the Old Stone House. I am embarrassed to say that I havn't seen Isabel Hill's documentary yet. Can you believe that? I will go on the 5th. See you there.
I don't know if you have had the chance to check out Brooklyn Matters yet. It is the documentary chronicling the political fight over Bruce Ratner's Atlantic Yards arena and high-rise plan. The next screening of the film produced and directed by Park Slope resident Isabel Hill is next Monday at the Old Stone House.

MONDAY
NOVEMBER 5, 7 pm
THE OLD STONE HOUSE
5th Avenue
btw 3rd and 4th Streets

http://www.brooklynmatters.com

I posted info at: http://www.nolandgrab.org/archives/2007/10/brooklyn_matter_12.html

The running time is about 50 mins and is time well spent because you won't get this information from the NY Times or even PBS.
October 14, 2007
Here's the press release from Develop Don't Destroy:
BROOKLYN, NY — Opponents of the "Atlantic Yards" plan walked in Develop Don't Destroy Brooklyn's (DDDB) third annual Walk Don't Destroy walkathon to raise funds for the ongoing, long haul legal battle against developer Forest City Ratner's unpopular, anti-democratic, and outsized "Atlantic Yards" project and proposed experiment in extreme density, in Prospect Heights, Brooklyn. The walkathon is part of the continuing effort to build the community's legal war chest against the project.

"We are close to marking the 4th anniversary of the struggle against the Atlantic Yards project, a purported 'done deal' whose time will never come," said DDDB spokesman Daniel Goldstein. "Today, once again, we are terribly proud of the community's support in real dollars and in spirit. Along with so many other contributors, today's walkers and donors ensure that DDDB will see the legal cases through to victory, so we can start over and develop the Vanderbilt rail yards in an appropriate, sustainable, and democratic manner."

DDDB relies on the broad community for its support; its legal efforts are funded entirely by the community with over 3,500 individual donors, as well as various fundraisers throughout the year. DDDB's efforts over the past four years, along with so many other organizations, have been a sustained, truly grassroots community movement, thanks to the community's ongoing and continually growing support.
October 9, 2007
In the courts today, the oral argument on the appeal of the "Atlantic
Yards" eminent domain case, Goldstein
et al v. Pataki et al, this Tuesday, October 9th at 10am.
The owner and tenant plaintiffs are asking the 2nd Circuit Court to simply permit them to prove their
Constitutional claims at trial in the Eastern District Court.
Where:
United States 2nd Circuit Court of Appeal at 500 Pearl Street, Manhattan [Map].
Ceremonial courtroom on the 9th floor.
Please enter the building at the Pearl Street entrance.
When:
Develop Don't Destroy suggests arriving by 9:45am in order to get through security in a timely manner.
October 9, 2007
The Third Annual Walk Don't Destroy Walkathon Fundraiser is coming up on October 14th. All funds raised go towards the two eminent domain lawsuits. Walk Don't Destroy Walkathon fundraiser

Walk Don't Destroy Brooklyn 3 on Sunday, October 14th, will be an
opportunity to put your feet in motion to help fund the DDDb legal
campaign against Bruce Ratner's megadevelopment proposal and eminent
domain abuse. DDDb seeks to raise awareness to unite our communities
instead of dividing and destroying them. Keep involved, everyone's
voice is very important during this important struggle.
September 19, 2007
Lumi sent me word of Future Perfect, a video installation about the Atlantic Yards that will be on view at the DUMBO Art Under the Bridge Festival later this month. No Land Grab has a version of the video on her site. Check it out.
Edward Purver, along with co-creators Ariel Efron & Christian
Croft, conceived of Future Perfect as his thesis project for the
Interactive Telecommunications Program (ITP) at NYU's Tisch School of
the Arts. The project is posted on the ITP web site, along with a fascinating description of how the project was developed.

For those of you who are interested in checking it out in person, Future Perfect will be running at the d.u.m.b.o. art under the bridge festival, September 28-30.
July 2, 2007
No Land Grab, the essential Internet portal to all Atlantic Yards information, articles, and press has an assortment of responses to Sunday's New York Times piece. Thanks to Amy over there for putting it all together. Here's a preview:
Over at Atlantic Yards, Norman Oder asks: "What's the bottom line regarding Atlantic Yards, based on today's New York Times article? The issue, to David A. Smith,
an affordable housing analyst in Boston who's previously reviewed
Atlantic Yards documents (but not the new ones), is the future balance
between developer profit and affordable housing, and who gets to decide." Read more at AYR.
Over at Develop Don't Destroy there this: "There are some errors and oddities in the article that strain
credulity. One error is that the huge Frank Gehry ego-trip, aka "Miss
Brooklyn," will open in 2009. That is pure fantasy, considering the
developer is terribly behind schedule due to lawsuits." Read more at Develop Don't Destroy.
June 27, 2007
An Expected Large Crowd of New York City Property Owners, Tenants and
Advocates Unite to Fight Eminent Domain Abuse After Second Anniversary
of the Infamous U.S. Supreme Court Kelo Decision
TIME/DATE: 1PM. Wednesday, June 27.
PLACE: City Hall Steps. Manhattan.
PARTICIPANTS:
Home and business owners, and tenants from:
Prospect Heights, Brooklyn; Duffield St., Brooklyn; West Harlem, Manhattan; Willets Point, Queens;
Councilmembers Tony Avella and Letitia James;
and activists from:
— Develop Don't Destroy Brooklyn
— NoLandGrab.org
— Historic Districts Council
— Fifth Avenue Committee
— New York Community Council
— Society for the Architecture of the City
— Willets Point Business Association
— Harlem Tenants Council
— Coalition to Preserve Community
— West Harlem Coalition
— 550 Riverside, 55/69 Tiemann Pl. Tenants Alliance
— Coalition To Save The East Village
— Lower East Side Residents for Responsible Development
— Coalition for a Livable West Side
— Duffield Street Block Association
— Green Party of Brooklyn
— Park Slope Greens
— United Neighbors for Brooklyn
— Atlantic Avenue Betterment Association
— Brownstone Revival Coalition
— Fans for Fair Play
…and more.
May 19, 2007
Got this email this morning from Develop Don't Destroy:

Before we go any further we'll state it simply: There was no decision today on the federal legal challenge to New York State's and Forest City Ratner's abuse of eminent domain. Any news reports saying so or implying otherwise are misleading.
There was much confusion (read: underinformed mistakes made) this morning regarding some legal news related to "Atlantic Yards." Each news outlet covering the story got a little piece of it wrong, but the Daily Intelligencer blog of New York Magazine got the story lavishly wrong (they have since corrected their errors and NoLandGrab has reported on the Intelligencer's mistakes).
To cut to the chase: There is NO news on the federal eminent domain lawsuit—Goldstein v. Pataki—filed by 13 "Atlantic Yards" footprint property owners and tenants. That lawsuit alleges that New York State's use of eminent domain for the project is a violation of the United States Constitution. If the plaintiffs win that suit, "Atlantic Yards" as proposed cannot be built as their properites are located where the developer wants to build the project, including the arena. On March 30th in front of New York Eastern District Justice Nicholas Garaufis there was a three-hour oral argument on the defendants' motion to dismiss. Today marks seven weeks since that hearing and both sides await Judge Garaufis' decision. For an in-depth report on the substance of the March 30th hearing, go to the coverage from Atlantic Yards Report.
What New York's press corps was trying to report today was that a Manhattan State Supreme Court case—Anderson v. ESDC—was dismissed yesterday by presiding Judge Tolub. That case involved 13 rent-stabilized tenants who reside in the proposed "Atlantic Yards" project site. They argued that the Empire State Development Corporation (ESDC) does not have the legal authority to terminate rent-stabilized leases, that that authority is held by the New York State Division of Housing and Community Renewal (DHCR). Judge Tolub did not dismiss the case on the merits, but instead ruled that the plaintiffs' claims belong in the Appellate Division where they now intend to go.
While we fully support these tenants' defense of their rights, this case has no relationship to or bearing on the federal suit–Goldstein v. Pataki–or the state lawsuit challenging the "Atlantic Yards" Environmental Impact Statement–DDDB et. al. v. ESDC. et. al. Anderson v. ESDC has entirely different litigants and attorneys, is not funded at all by the DDDB Legal Fund and was not organized by DDDB.
April 27, 2007
Pols want Ratner to stop Atlantic Yards demolitions. Brooklyn Paper has the story and a slide show.
Stop Bruce Ratner — now — before he hurts someone!

That's what a coalition of elected officials — some of them
supporters of Ratner's Atlantic Yards mega-development — want Gov.
Spitzer to do, one day after hundreds of pounds of debris crashed onto
Pacific Street during demolition of one of Ratner's buildings within
the project's footprint.

"This was a serious accident and we need a state-appointed
construction supervisor who is responsible and accountable," said
Councilman David Yassky (D–Brooklyn Heights), one of a handful of
elected officials who was scheduled to speak at a Friday afternoon
press conference near the site of the accident.

"There should be no construction or demolition activity at Atlantic Yards until that person is appointed," Yassky added.

.