July 26, 2013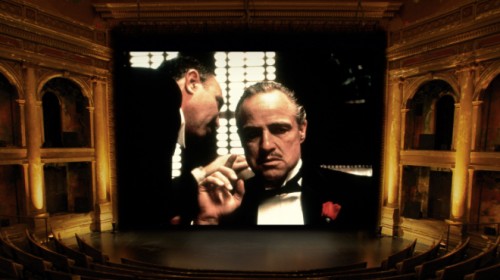 Did you know that the BAM Harvey Theater on Fulton Street is now the largest, grandest movie venue in Brooklyn? Indeed, the Harvey is now a movie palace with a gigantic screen. At a  time when audiences prefer streaming movies in their living room, BAM has created a compelling reason to turn off the TV and go out to see a movie.
This is big news.
BAM's state-of-the-art movie palace has a brand new Steinberg Screen. It is now a great place to see newly restored Hollywood flicks like The Godfather 1 and 2, Dr. Zhivago and Lawrence of Arabia. They will also be showing films like Blue Jasmine, Woody Allen's new movie, starting Friday, July 26th.
Good job BAM. You are really securing your reputation as the best movie theater in Brooklyn and maybe NYC. Yay.
The venue known as the "Harvey" first opened in 1904 as the Majestic Theater presenting dramas, light opera, musicals, and vaudeville. In 1942, the Majestic was turned into an elegant, first run movie house. During the 1960s, the Majestic closed and sat abandoned for nearly two decades.
Back in the 1980′s, BAM's Executive Producer Harvey Lichtenstein wanted to stage Peter Brook's production of The Mahabharata and decided to restore the old, derelict theater just two blocks from BAM. Funds were raised and the theater was renovated.
The theater will, I assume, continue as a multi-arts venue, as it embarks on its renewed life as a movie palace.
July 25, 2013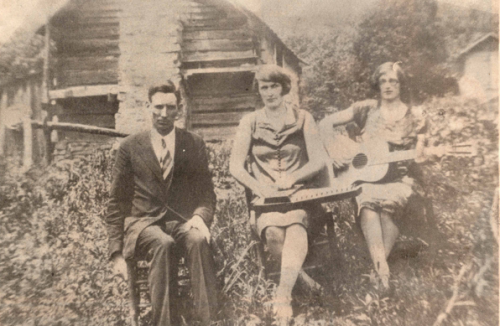 Fran Leadon of the Y'all Stars and Leigh Anderson are recording every single Carter family song, in chronological order. The two performers have been working on this project for more than a year and they're very efficient about it. They do each song in one or two takes, invite guest performers and friends to sing along, and sometimes do it in front of a crowd at a place like Jalopy on Columbia Street. They'll be there this Friday night at 8PM It's free and it sounds fun.
July 25, 2013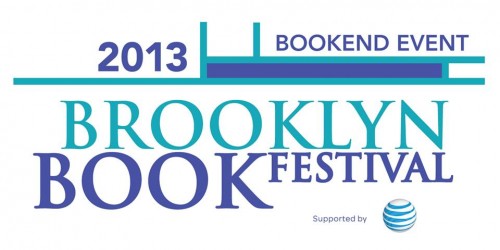 "My short stories are like soft shadows I have set out in the world, faint footprints I have left."
― Haruki Murakami
On September 18, 2013 at 8PM Brooklyn Reading Works at the Old Stone House will present a Brooklyn Book Festival Bookend Event: SOFT SHADOWS: A CELEBRATION OF THE SHORT STORY with Gregory Spatz, Dawn Raffel and Ron Parsons and Ruchama King Feuerman, who will read and discuss their work and their favorite short stories. Louise Crawford will host.
Audience members will be invited open-mic style to share their favorite published stories and read the first paragraph.
A $5 suggested donation will include wine and snacks. Books will be sold and signed.
The Old Stone House: 336 Third Street between 5th and 4th Avenues. R train to Union Street, F train to Fourth Avenue. 718-768-3195. For interviews and inquiries: 718-288-4290
ABOUT THE FEATURED AUTHORS
Gregory Spatz is the author of novels Inukshuk, Fiddler's Dream and No One But Us, as well as short story collections, Half as Happy and Wonderful Tricks. His short stories have appeared in literary journals and magazines such as Glimmer Train Stories, New England Review, Kenyon Review, Epoch, Santa Monica Review, The New Yorker, etc., and he has published numerous book and music reviews for The Oxford American. He's won numerous grants from the Washington State Artist Trust, as well as a Washington State Book Award, and in 2011 he was named Individual Artist of the Year by the Spokane Arts Commission. He is also the recipient of a 2012 National Endowment for the Arts literature fellowship.
Dawn Raffel's illustrated memoir, The Secret Life of Objects, was published in June and was on Oprah's Summer Reading List and Best Memoir List for 2012. She is also the author of two story collections— Further Adventures in the Restless Universe and In the Year of Long Division (soon to be reissued)—and a novel, Carrying the Body. Her stories have appeared in O, The Oprah Magazine, BOMB, Conjunctions, Black Book, Fence, Open City, The Mississippi Review Prize Anthology, The Anchor Book of New American Short Stories, Arts & Letters, The Quarterly, NOON, and numerous other periodicals and anthologies. She was a fiction editor for many years, followed by a seven-year stint as Executive Articles Editor at O, The Oprah Magazine and three years as Editor-at-Large at More magazine; she has also taught in the MFA program at Columbia University and at the Summer Literary Seminars in St. Petersburg, Russia; Montreal; and Vilnius, Lithuania. She is now Editor at Large, Books at Readers Digest, and the editor of The Literarian, the magazine for the Center for Fiction in New York. She lives outside New York City with her husband and sons.
Ron Parsons is the author of the new story collection The Sense of Touch from Aqueous Books. He is writer living in Sioux Falls. Born in Michigan and raised in South Dakota, he was inspired to begin writing fiction in Minneapolis while attending the University of Minnesota. His short stories have appeared in such places as The Gettysburg Review, Indiana Review, The Briar Cliff Review, Flyway, and The Onion. This is his debut collection.
ABOUT THE HOST
Louise Crawford runs Brooklyn Readings Works, which has been called "the best place to chase fiction with a little history" by Conde Nast Traveler. She is the founder of the popular blog Only the Blog Knows Brooklyn and the Brooklyn Blogfest, an annual networking event for bloggers. Her company Brooklyn Social Media creates publicity and social media for authors,  artists and entrepreneurs.
ABOUT THE BROOKLYN BOOK FESTIVAL:
The Brooklyn Book Festival is the largest free literary event in New York City, presenting an array of national and international literary stars and emerging authors. One of America's premier book festivals, this hip, smart diverse gathering attracts thousands of book lovers of all ages to enjoy authors and the festival's lively literary marketplace. This years festival is on September 22, 2013.
The Brooklyn Book Festival Bookend events are literary themed events taking place in clubs, parks, bookstores, theatres and libraries culminating with the festival. The Bookends kick-off a long literary weekend with film screenings, parties, literary games and author appearances.
July 22, 2013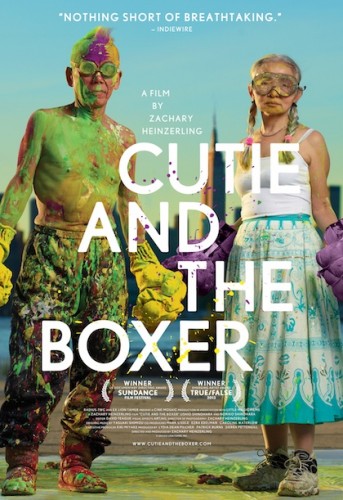 I love the sound of CUTIE AND THE BOXER by Brooklyn filmmaker Zachary Heinzerling. It is described as a "beautiful and intimate look at the 40-year marriage" of Brooklyn-based artists, Ushio & Noriko Shinohara, who live and work in a DUMBO loft.
You can view the trailer by clicking on the link below. The movie opens on August 16th at the Lincoln Plaza Cinema and Sunshine cinemas.
http://trailers.apple.com/trailers/independent/cutieandtheboxer/
July 22, 2013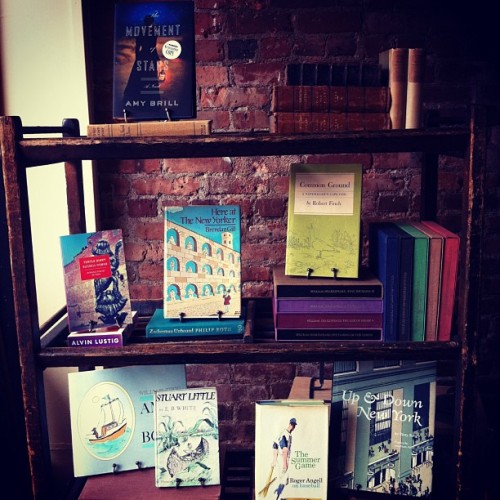 I just got a nice note from the Community Bookstore about Terrace Books, their new venture. They took over Babbos Books, a used bookstore in Windsor Terrace and are located just a mile south of the Community Bookstore at 242 Prospect Park West near Dub Pies, Farrell's, the Double Windsor, the Pavilion and Terrace Bagels.
They've been open a few weeks and things seem to be going well. I went in last week and the shop looked very nice. I especially liked the back wall which is painted with blackboard paint and chalked with the bookstore's elaborate logo. Many books caught my eye including an old paperback of Henderson the Rain King by Saul Bellow and a couple of books by Nelson Algren. Here's the note I received:
It was the softest of soft openings because we were a bit nervous about our novice venture into the used-book business, but things have gone just fine. We have lost count of the number of people who have come in to thank us for keeping a bookstore in Windsor Terrace (we took over the former Babbo's Books), and who have told us they love the look of the new store. Customers seem delighted that they can order new books and pick them up at either of our stores. And we've discovered the particular joys that come with selling used books: covers we remember from our youth; gems that have gone out of print; early incarnations of such staples of our new-book business as the Penguin Classics or New York Review Books.
July 12, 2013
OTBKB was on hand for the second event in a weekly-recurring series of cultural offerings, taking place every Wednesday at Mister Rogers, a new studio space converted from a storefront in Crown Heights (231 Rogers Ave. between Union and President streets).
Billed as 'For Locals, By Locals', the series hosts events featuring talent curated by the Hoover Dam Collective. The mission is to showcase local artists, attractions and acts in and around Crown Heights, at gigs designed specifically for residents as a place to hang out, meet neighbors, drink locally and eat local bites.
The brainchild of the series is local promoter Avi Werde (of Event Connection Source and Franklin Avenue's Cool Pony).
"We're offering a rotating array of cultural formats and mediums," Werde explained. "Everything from photographers, poets, musicians, food from local restaurants, dancers and comedians. You can access it all — and catch new, up-and-coming acts — every Wednesday night."
The venue itself is an inviting if unassuming place, recently gut renovated (a wheelbarrow tucked away in the corner was literally still stockpiled with the last pile of detritus). An art gallery up front transitioned into a generous performance space towards the back.
Crown Heights is quickly emerging as a new neighborhood for young and talented professionals, but the event took strides to incorporate influences of the local Jewish community as well. Ruvi Lieder and Schneur Menaker's photography lined the walls, with striking depictions of local Hasidic residents, and many Crown Heights natives wandered into the space, enjoying the performances with newer residents, even inquiring as to how they could showcase their own various talents at future dates in the series.
"Our goal is to keep this community thriving with events," Werde added. "It's a communal place — to showcase and support local endeavors of any flavor — while being entertained in good neighborly company."
To be notified and keep up-to-date on future "For Locals, By Locals" events, simply follow them on Facebook here: https://www.facebook.com/groups/480744425335304/?directed_target_id=0
July 11, 2013
July 5, 2013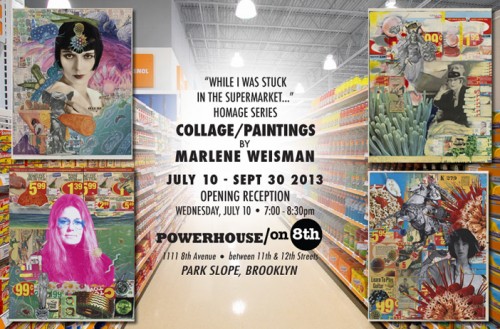 Marlene Weisman's work will be exhibited at Powerhouse on 8th. Her solo show has a great name: "While I Was Stuck in the Supermarket…"
Weisman will be showing a selection of collaged homages to many great women of the 20th century. As you can see she has a great sense of humor and a zany and unapologetically surrealist style. The owners of PowerHouse on 8th, have invited her to exhibit the collages from July 10th – Sept 30th.
I've loved Weisman's work since I first met her in the 1990s at the Fifth Avenue Fair where she was selling  these wonderful black zippered make-up bags that said: "Greetings from Park Slope." No one was putting "Park Slope" on bags and other items back then and I bought one which I still treasure today.
She was a frequent exhibitor at the PS 321 Craft Fair where I admired (and often bought) her beautiful boxes collaged with images from old games, magazines, and postcards.
Her new work is wonderful as it highlights Gloria Steinem, Patti Smith, Louise Brooks and others juxtaposed with the signage and shelves of supermarkets. And who can resist the name of the show? Powerhouse 8th is on 8th Avenue between 11th & 12th Streets, in Park Slope. (Subway: F train to the 7th Avenue stop, use 8th Ave exit). And there's an opening on the evening of July 10th, at 7:00pm – 8:30pm.
"It would mean a lot if you can join me and some of the most celebrated women of the 20th century, writes Weisman. There will be wine & cheese.
June 27, 2013
Ground Floor Gallery, Park Slope's newest art gallery opens, its summer show Small Wonder on Friday, July 12th, 6 – 8:30pm. Small Wonder is  juried exhibition of small works, all under $200.
"Small Wonder" features artists Adams Puryear, Alyssa Piro, Becky Yazdan, Brendan Newel, Corinne Odermatt, Elissa Swanger, Eliza Stamps, Jacobus Capone, Karen Schoellkopf, Lisa Wicka, Sean Gallagher and Thomas Hammer.
Ground Floor Gallery
343 5th Street (off 5th Avenue)
Brooklyn, NY 11215
F or R train to 4th Avenue – 9th Street
For more information: www.groundfloorbk.com
June 27, 2013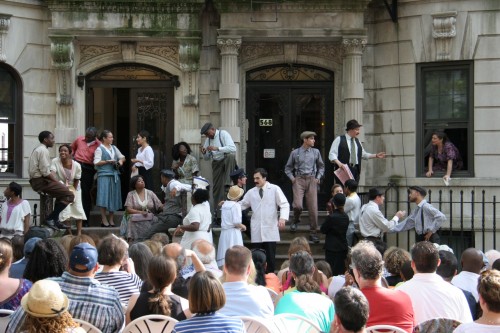 Brave New World Repertory Theatre enjoyed a smashing success with their recent site-specific performance of "Street Scene," a 1929 Elmer Rice play, using real residential buildings as an interactive set (OTBKB previewed the performance in an article last week).
Two performances last Saturday, at 1 and 5 p.m., went off without a hitch. Attendees quickly filled the available seating along Fifth Street in Park Slope (between 8th Avenue and Prospect Park West) while an overflow crowd found comfort in the ornate, lavish Brownstone stoops just across the way.
For Shannon Sindelar, having just been named the Brave New World Repertory Theatre's Producing Artistic Director this past February, nothing could make her happier.
"With a cast of 35 and entire street that needed closing, we were expecting a few hiccups— what we didn't expect was no hiccups at all," Sindelar said. "The community really came together to make this happen."
Indeed, the entire block seemed peacefully enraptured by the performance; any complaints were hard to come by.
Emily Glinick, Secretary of the Repertory Theater's Board of Directors, was also emboldened by the show's success.
"We produce our productions throughout the borough, and try to hit under-served areas especially. Red Hook, Bed-Stuy, and Windsor Terrace are just some of the previous neighborhoods we have performed in."
Though the Brave New World Repertory Theatre's official "office" is in Ditmas Park, "our 'venue' is the outdoors,'" Glinick said.
"We love to do site-specific shows, especially in outdoor locations," she added. "It's a return to the way theater was originally performed."
If you want Brave New World Repertory Theatre to perform "Street Scene" or another performance in your neighborhood, or even use your building, visit them at bravenewworldrep.org, contact them at theatre@bravenewworldrep.org, like them on Facebook or follow them on Twitter.
June 25, 2013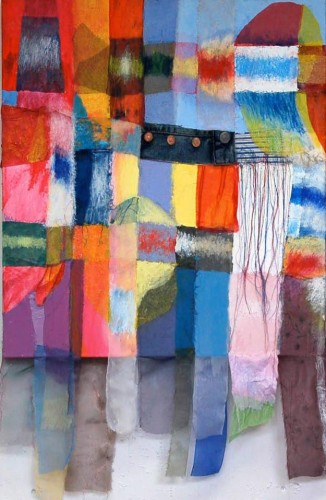 I love when stuff like this happens: an old friend finds my blog and actually CALLS to tell me that she has a great Brooklyn event to share.
Love it. 
I also love to hear the story of how she got here from there to here. From the mid-1980′s to the mid-1990′s, artist Jill Kirschen and I used to work together on videos. She was a master of music for video and I relied on her talents for many years when I was a video producer. It was always a blast to work with her  because she knew her stuff and we always had great conversations in the process.
Now she's a visual artist with a studio in Greenpoint, Brooklyn. Recently she got her BFA from the School of Visual Arts and she's currently in the midst of completing a masters degree in art education. Talk about reinventing yourself.
Love that, too. 
Here she writes about her work on her website: "I'm very interested in visually representing the idea of subtext, layering, lyricism and rhythm.  To best do this I work with a variety of media; paint, fabric, photographs, found objects, and most recently, remnants of clothing worn by people close to me."
Jill  started out by making collages with paper, scissors, and glue. But then she got swept up into a love affair with digital manipulation. "However, I started to miss the pure physicality of making work and really getting my hands dirty, and am now happily once more back to my roots," she writes.
You will have a chance to see Jill's work at a show that's opening at the Yashar Gallery (276 Greenpoint Avenue, Building 8 Ground Floor) on Thursday from 6-9PM. The show will run through July 24th.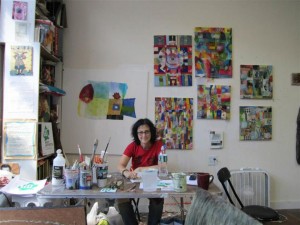 Above is a picture of Jill. She looks exactly the same and I haven't seen her in MANY years.
June 24, 2013
Friday was day 1 of Hillstock, an annual music festival in Clinton Hill founded by members of the Never Break Down music collective.
After earlier gigs at the Putnam Triangle Plaza, the evening's events continued at "Free Candy," an former-warehouse-turned-art-gallery-slash-part-music-venue-part-nightclub
Bands like The Toothaches got things rolling nicely— hovering over keyboards and other instruments with a dilligent sense of purpose, they nonetheless got the crowd pumped.
Next up were Eskalators, a Brooklyn-based steampunk and vegan musical collective, puppeteering ensemble, and experimental street mime troupe. Known for holding elaborate, public performances, fire poi artistry, and subway flash mobs without the formal written consent of the MTA, on this occasion their lead singer added an ability to simulatenously stage-dive while singing to their repertoire, while other members threw down in the mosh pit, unwieldy instruments in hand:
But the night's events were by turns raucous and soothing, with a plethora of space for attendees to find their preferred environment:
Concluding the evening was Riot of Spring, a "rock band" ensemble consisting of two keyboardists, four guitars, two basses, drums and percussion, playing The Rite of Spring (Le Sacre du printemps) by Igor Stravinsky (who says the kids aren't cultured these days?)
The conductor, James Landrum, advised that the ensemble was composed of members primarily from two other bands: Turbosleaze and No One and the Somebodies. Not only did the group only rehearse a couple of times, the performance was pretty much the first time Landrum had conducted. And yet, the result was spectacular.
"Riot of Spring is the brainchild of our third guitarist, creative director, and head arranger Steve Yankou (No One and the Somebodies and TURBOSLEAZE) whose dream this has been for years," write Landrum in a comment to OTBKB. "He put together the ensemble and we collaborated on the arrangement along with help from our second keyboardist Julian Bennett Holmes. He is not only the impetus, but the very spirit of this piece, and I couldn't be more proud to work with him."
Robert Dvorkin, a pianist and teacher in Brooklyn, contributed reporting to this article.
June 20, 2013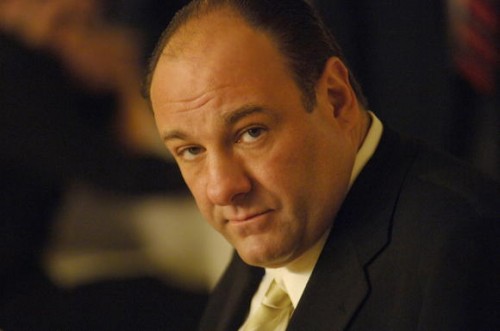 Gina Barreca, columnist for The Courant and author o It's Not That I'm Bitter wrote this about the death yesterday of the great James Gandolfini. Here's an excerpt. You can read the rest here. 
Losing James Gandolfini, star of "The Sopranos," is like losing a favorite cousin. The sense of shock and grief over his unexpected and sudden death Wednesday has people talking, writing and — yes — grieving. This is more than the ordinary reaction to the death of celebrity. This is not an everyday, "Oh, too bad. He was only about 50, right?" shrug-and-switch-topics water-cooler conversation.

Our reaction to Gandolfini's death is more along the lines of emails exchanged at midnight with subject lines like "It can't be true!" and "I can't believe how depressed this makes me …"

Maybe it's because I'm Italian American. Or from the New York area. Or because I was enough of a fan of "The Sopranos" to edit a book on the show. Perhaps it was because the character he played, Tony Soprano, changed American television forever.
June 19, 2013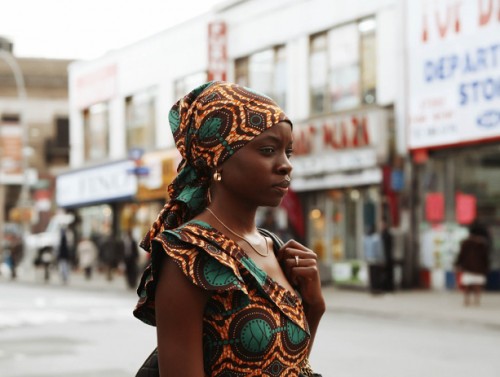 At this week's BAMcinemaFest 2013 there's a fascinating selection of new films you've never heard of by Brooklyn filmmakers. Seems like there's a veritable explosion of filmakers living in Brooklyn and all this creativity, fundraising and production is coming to fruition at BAM, the theater many of the filmmakers say is their favorite movie theater in Brooklyn.
I wholeheartedly agree. See the schedule and film descriptions here. 
The films that people seem to be buzzing about are  narrative features and docs: After Tiller, It Felt Like Love. These Birds Walk, Computer Chess, Drinking Buddies, Northern Lights Mother of George, Crystal Fair, Newlyweeds. Everyone wants to see Ain't Them Bodies Saints with Rooney Mara and Casey Affleck directed by David Lowery.
Go Brooklyn!
June 17, 2013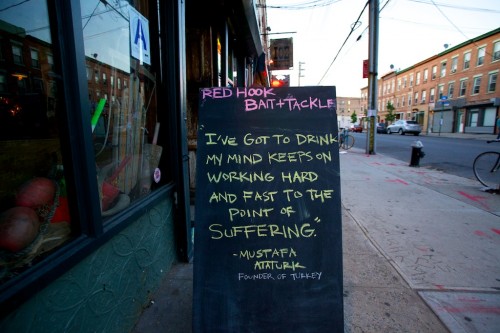 June 16, 2013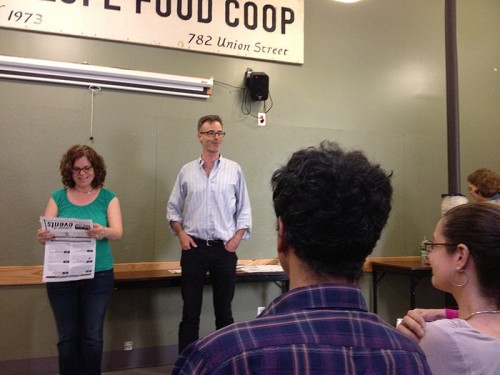 By Matthew A. Taub
On Friday night at Wordsprouts, the literary reading series at the Park Slope Food Coop run by Paula Bernstein (author of Identical Strangers) and John Donohue (author of Man with a Pan), three writers shared work that  touched on  love, romance, and personal responsibility.
First up was Barbara Agosin, who began writing as a means of therapy after her husband was diagnosed with Alzheimer's. An essayist and poet, her work focuses on everyday events as well as life within the circle of love and loss that is Alzheimer's:
"The man continues to eat, seemingly oblivious to the difference between knife, fork and spoon. Soon morsels of chicken, tiny rectangles of rice and damp cake crumbs mix together on table, floor and the cuffs of his robe.

"The man is my husband. If he were not 77 years old I would put him in a high chair and teach him how to use a knife and fork. He is completely concentrated on the business of eating and unworried about the mess around and beneath him, which less than a year ago would have sent him running for the broom and dustpan."
Next was Fran Hawthorne, the award-winning author of the new book, ETHICAL CHIC: an investigation of Starbucks, Apple, Trader Joe's, American Apparel, Timberland, and Tom's of Maine. Ms. Hawthorne has spent more than 25 years covering healthcare, politics, finance, and the nexus of business and social issues:
"Like people we meet, we fall in love with sexy, charismatic companies that ultimately break out hearts…we think we can have it all, but we close our eyes to faults and project [onto these companies] what we want them to be."
Ethical Chic has been named one of the best books of 2012 by Library Journal. Hawthorne writes regularly for The New York Times, Newsday,The Scientist, and other publications.
Finishing up the event was Robin Bady an award-winning storyteller. Ms Bady has been called "gutsy, big hearted, and street smart," and "a force of nature." She draws from world tales, current events, oral histories, literature, ghostly experiences and her own life to create a repertoire shaped by her commitment to justice:
"At my thirty year high school reunion, because of all the pettitness involved in growing up, I realized that I couldn't recognize people who came up to me independently— only when they were standing with the cliques that had defined who they were— way back when— could I put piece them together."
Ms. Bady is the recipient of the 2012 JJ Reneaux Emerging Artist Grant Awary given by the National Story Telling Network.
Like all Wordsprouts readings, a Park Slope Food Co-Op Membership is not required to attend, and admission is free. For more information about upcoming Wordsprouts events, Ms. Bernstein can be contacted at wordsproutspsfc@gmail.com.
Matthew Taub is a writer and lawyer in Brooklyn, NY. He is the author of "Death of the Dying City," a novel.
June 14, 2013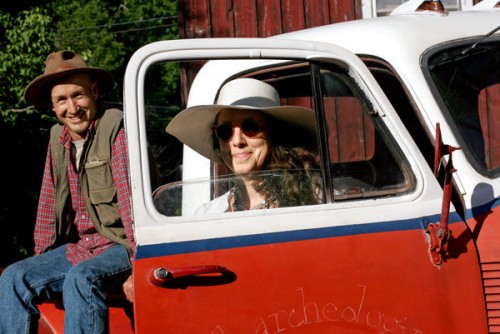 Our friend (and OTBKB advertiser) Sheva Fruitman and her business partner, Joe Zenovic, got themselves a nice mention (and  a great photo) in the New York Times. The two are diggers for hire in the Hudson Valley. Their company is called Rural Archeology.
Here's what they do: they will explore your property in search of coins buttons, jewelry and the detritus that people throw away, or more likely lost, that tell the history of that place. They have worked in Colorado, Connecticut and Massachusetts and in the Hudson Valley.
Sheva, who lives in New York City and the Hudson Valley, preserves and photographs the collection of artifacts and creates beautiful displays. She thinks they make a unique housewarming gift for someone's new-old country home.  Antiques for someone who has everything, but doesn't know it's buried in their garden.
An artist and fine art photographer, Sheva is known for her jewelry-making; product design; set direction for commercials; and her work as a magazine stylist, photographer and art director.
June 10, 2013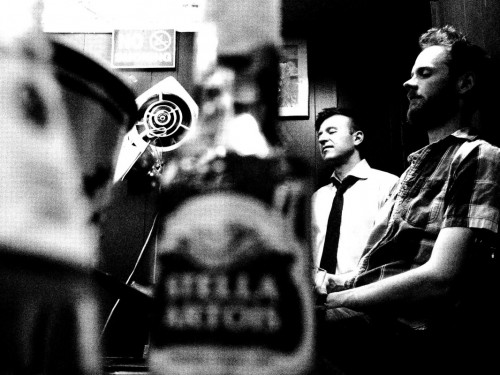 Who knew there were literary readings Jackie's Fifth Amendment. That's the bar, if I'm not mistaken, that tried to secede from Park Slope. Am I right?
On June 20th, a cadre of cool writers will share their literary output with the public. The event falls under the rubric of The Buzzard's Banquet and it sounds like it's a monthly affair. The festivities begin at 8PM. The Fifth Amendment is located on Fifth Avenue and 7th Street.
Performers Include: Jesse Katz, Eric Nelson, Phil Nerges, Matthew Frazier, Scott Cheshire and Ed Kearns w/ music from Vic Ruggiero of The Slackers.
June 10, 2013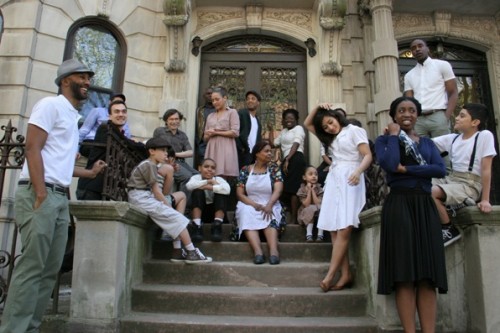 This is a must-see and I for one can't wait. I so enjoyed B rave New World's production of The Crucible at The Old Stone House. Now Brooklyn's acclaimed Brave New World Repertory Theatre is taking Elmer Rice's 1929 Pulitzer Prize-winning play Street Scene to the streets–literally…on the stoop of a Park Slope tenement.
The site-specific production will spill out the front windows and onto the front stoop and sidewalk of a tenement in Park Slope, which will serve as the stage with the audience seated in the street, which will be closed to traffic for the day. Brave New World's multicultural production of this classic masterpiece reflects the full urban melting pot of New York City.
WHERE:
Park Slope, Brooklyn
5th Street between 8th Avenue and Prospect Park
(Directions: F/G to 7th Ave, D/N/R to 9th St, 2/3/4 to Grand Army Plaza, B/Q to 7th Ave.)
WHEN:
Saturday, June 22nd. Two performances: 1pm and 5pm.
(Rain-date: June 23rd)
ABOUT STREET SCENE:
Director Claire Beckman says, "With 20/20 hindsight, Brave New World's site-specific production seeks to capture the restless summer of 1929… and the sense of unease that comes-especially for those at the bottom of the pyramid like the working class people in the play-when everyone is living beyond their means. These are the people, who a year or two later, will be jobless and penniless. Now living together in cramped sweltering apartments, they spend their summer days out on the stoops… Gossiping and fretting about any impending trouble, as titillated by, as they are terrified of the big domestic drama unfolding in their own building… An infidelity…and worse."
Elmer Rice won the 1929 Pulitzer Prize for his Broadway play about a New York City "village" rife with domestic quarrels, racial and ethnic tensions and economic anxiety. Street Scene was made into a movie in 1931, produced by Samuel Goldwyn and directed by King Vidor, and into an opera in 1946 with music by Kurt Weill and lyrics by Langston Hughes.
TICKET INFORMATION:
FREE (no reservation necessary) seating as available; unlimited standing room.
RESERVED FREE seating available in advance for elderly and disabled – limited.
RESERVED seating available: with online donations of $75 or more- limited.
For further info and reservations, visit: http://www.bravenewworldrep.org
June 7, 2013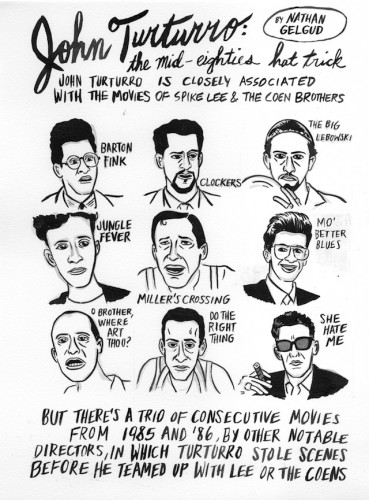 I came across some illustrations by Nelson Gelgud on the BAM website. The project is called "The John Turturro Mid-eighties Hat Trick" and it's about three films Turturro made before he teamed up with Spike Lee and the Coen Brothers.
Gelgud has an illustration blog called Take the Soda Free and Jet and another blog where he writes about movies. Tami Mnoian wrote about him for Print Magazine. 
Nathan Gelgud illustrates tiny collections of things, as if he has released the contents of his pocket and taken pen to paper. While the renderings are small, the subjects are certainly not: Steve Martin, Sal Mineo, and Spuds McKenzie (see above), or Felix Mendelssohn, Frances McDormand and Fred MacMurray—personalities  who share the same initials. This is Gelgud's talent. He miniaturizes and contains so that his figures look like they belong in a curio cabinet, visible and ready for adoration.

Gelgud's work is featured on a wall in Greenpoint's In God We Trust, where he depicts the famous noggins of William Faulkner, John Steinbeck and Philip Roth, to name a few.
June 7, 2013
This video was produced by Brooklyn Social Media; shot and edited by Antonio Rosario and features Tom Martinez. The band featured in the video is Mighty Squirrel. The location is Red Hook Bait and Tackle.
Michael Pietsch is the CEO of Hachette Media Group. As the editor of Infinite Jest by David Foster Wallace, he is a renowned executive in the publishing world. He also edited Pale Fire. which was published after Wallace's death. Less well known is that Pietsch is a music lover. He is also a friend of author Gregory Spatz, who plays in a band called Mighty Squirrel which combines folk, klezmer celtic swing and world music. They really do.
Michael LOVES Mighty Squirrel and wrote the lyrics and music to this song and gave it to Greg to arrange and record out in Spokane, WA. There's a shot of Greg's new book Half as Happy in the video. See if you can find it.
June 6, 2013
By day she teaches Music for Aardvarks at Two Moon Art House and Cafe on Fourth Avenue. By night she is developing a one-woman show that will make you laugh and make you cry. You might even sing along. What fun.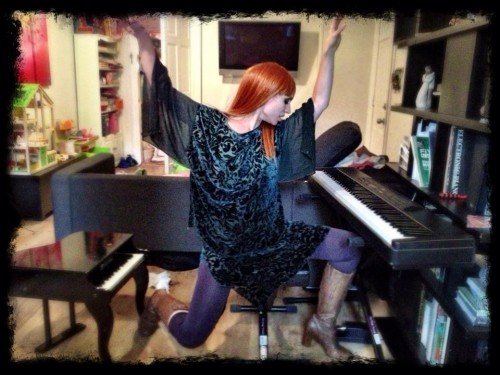 Mary Jo McBride with direction by Jennifer Tuttle will present Born "My" Dentity" her one-woman/all-woman/identity crisis. One part solo performance, one part  cabaret, one part stand-up and "entirely endearing" says the artist's blurb, the show is this Saturday, June 8 at 7:30 PM (doors open at 7PM).
Joyce at Two Moon is really excited about presenting this performer: "She's one of our children's performers but is doing an evening "mom-along".  It's a one woman show – sort of a spoof on Lilith Fair- it's going to be HILARIOUS."
Saturday, June 8 at 7:30 PM (doors open at 7PM). Admission is $10 dollars. Two Moon is located at 315 Fourth Avenue at Third Street in Park Slope. F train to Fourth Avenue, R train to Union Street.
June 2, 2013
June 1, 2013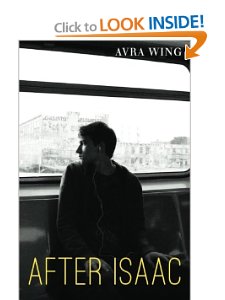 Hey everybody, a new book that takes place in Park Slope! It's a Young Adult book called After Isaac by yet another terrific Park Slope author, Avra Wing. And it's available from Amazon. I'm not sure if the Community Bookstore has copies but you can check.
Here's a quick synopsis: Aaron Saturn, 16, is an emotional zombie–stuck in grief for his little brother, Isaac, who died. Aaron longs for an escape, and thinks he's found one when he meets Kim, a girl living on the streets of New York City's East Village.
But the real upheaval in his life hits closer to home. When his parents reveal a startling plan to change their family, Aaron goes into a tailspin. He needs to learn that running away won't heal him. For that to happen, Aaron must be willing to let love back into his life. Love that may lead him to a real adventure.
In addition to After Isaac, Avra Wing is the author of Angie, I Says, a New York Times notable book, which was made into the feature film Angie starring Geena Davis and James Gandolfini. Avra's online memoir, Doorway on the Mountain: A Rehabilitation Journey, recounts her recovery from a devastating accident. In 2011, her poetry collection, Recurring Dream, won the Pecan Grove Press National Poetry Chapbook competition. She has published poems in a number of magazines, including Hanging Loose, Michigan Quarterly Review, Apple Valley Review and New Madrid. Avra is a workshop leader for the New York Writers Coalition, and was awarded a grant from Poets and Writers for her work.
May 31, 2013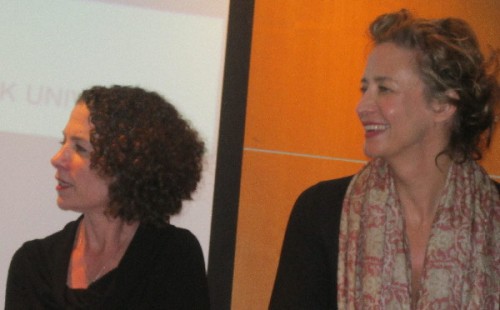 I am happy to post this excerpt from an article by OTBKB fave Anne-Katrin Titze about the new movie, Hannah Arendt directed by the great Margarethe von Trotta. The film has a real Brooklyn connection: co-screenwriter Pamela Katz and the star Barbara Sukowa live in Park Slope and Ditmas Park respectively. In the article, Titze quotes Sukowa: "You know, two German women doing this film about Hannah Arendt and this Jewish topic, and the Holocaust, and all. We thought people might say "how dare you?" Luckily then we found a Jew [she looks at screenwriter Katz, to the great amusement of the audience]."
Don't miss the film, which will be at Film Forum through June 14. Anne-Katrin writes about film for Eye for Film, and also about Prospect Park for various media outlets. In the picture above by Anne-Katrin Titze, Pamela Katz stands next to Janet McTeer who plays Mary McCarthy in the film.
 On the evening prior to the exclusive engagement of director Margarethe von Trotta's Hannah Arendt at New York's Film Forum, she, her stars Barbara Sukowa and Janet McTeer and co-screenwriter Pam Katz, along with Jerome Kohn, director of the Hannah Arendt Center at The New School, and adviser on the movie, gathered before an overflowing crowd at New York University's Deutsches Haus to discuss "the woman behind the film".

In his introduction, NYU Vice Provost for Arts, Humanities, and Multicultural Affairs Ulrich Baer cited Hannah Arendt: "[she] once said, revolutionaries stay revolutionaries until the day the revolution has happened, then they become conservative the next day. That is not something that could be said about Margarethe von Trotta."

Von Trotta's first encounter with Arendt was in Israeli documentary The Specialist, about the Eichmann trial, that impressed her very much. Eichmann In Jerusalem was one of the books she read in preparation for her film Rosenstrasse. As with Rosa Luxemburg, von Trotta said: "I have the feeling they [the subjects] are coming up to me."

She was hesitant making a film about Arendt after a friend suggested the subject to her. "I said, no, please, go away. It was like Satan, you know, was tempting me and I said no. But when an idea is put in your head, it starts to grow like a flower."

Barbara Sukowa: 'Above all, she wanted to start a discussion and a discourse' Photo: Anne-Katrin Titze

Her co-screenwriter on Rosenstrasse, Pam Katz was enthusiastic from the start, although von Trotta warned her that Arendt was a thinker, not the most cinematic of professions. "I think my first response to that was," Katz said "I think I remember that she made a lot of people angry. I think she made a lot of people in my family angry. So there must be something to make a movie about. But I was very naive, you were very correct, and it took us quite a while to figure out how to make this film."
May 31, 2013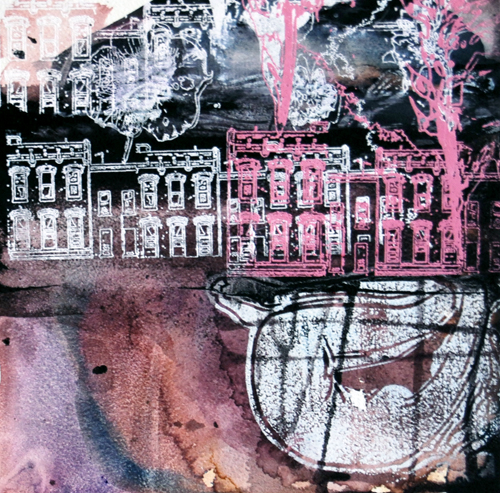 The June exhibition at the Ground Floor Gallery sounds interesting and it is opening next Friday, June 7, from 6 – 8:30pm at Ground Floor Gallery in Park Slope, Brooklyn! They're located at 343 5th Street (off 5th Avenue).
Newark's own, Lisa Conrad, will be showing a series of new prints in her solo exhibition, "Regeneration."She is the founder of the  Print Shop and is the GFG's June artist-in-residence!
They'll also be showing work by artists Jennifer Grimyser, Marcie Paper and Julie Torres in this month's group show.
Both exhibitions will be on view through Sunday, June 30.
Artwork pictured is by Lisa Conrad.
May 31, 2013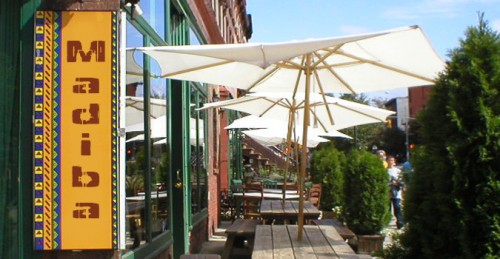 Join me for a very special evening of South African Story, Song and Savory Cuisine at Madiba Restaurant on June 5th at 7PM. Bloodlines at Madiba is FREE but the restaurant is offering a delicious $35 three-course prix fixe meal or Dinner and a Book (a signed copy of Bloodlines) for $50.
There will be free appetizers and wine from 7-8PM. Please email me if you'd like a reservation. We're expecting a big crowd and those with reservations will be let in first. louise_crawford@yahoo.com
Novelist and South African emigré Neville Frankel will read from his newly-published literary thriller of the apartheid era, Bloodlines, called "fierce and thrilling" by Kirkus Indie Review. In this harrowing story of a family fractured by apartheid and a son who struggles to piece everything together, Frankel "explores the bloody truths of apartheid in a sweeping narrative that covers five decades," writes Jan Gardner in The Boston Globe.
Together with South African music performed by Nedelka Prescod and Earth Tones, the evening will provide a moving and deeply personal perspective on a country that has suffered great turmoil in its quest for social justice and equality. Nedelka Prescod and her group are simply AMAZING and you will be wowed and moved by their talent.
Email me if you'd like to reserve a spot or a table: louise_crawford@yahoo.com. Madiba Restaurant is located in Clinton Hill at 195 Dekalb Avenue. The Event is free.
May 30, 2013
On June 9th (yes, another thing to do on June 9th), the gorgeous, land marked Plymouth Church in Brooklyn Heights (Henry Ward Beecher's church at one time), will host a Juneteenth Celebration featuring performances from Daptone recording artist Naomi Shelton and the Gospel Queens alongside Asthmatic Kitty's The Welcome Wagon – who's albums were produced by Sufjan Stevens and released on his critically acclaimed label.
Juneteenth, in its 144th year, is a nationwide celebration of the end of slavery in the United States. Plymouth Church was a leader in the abolitionist movement, home base for Henry Ward Beecher and champion of the Fisk Jubilee Singers – who were credited with the early popularization of the Negro spiritual. With its rich history in music and the emancipation movement, the church is a fitting place for this Juneteenth Celebration.
Both Naomi Shelton and the Gospel Queens and The Welcome Wagon perform gospel music peppered with soul (Naomi) and indie pop (The Welcome Wagon). Having begun her singing career as a child in the South, Naomi Shelton and the Gospel Queens hail from Brooklyn and perform their soulful gospel music all over the world. In addition to her band, Naomi is an emcee and active participant at the Greater Crossroads Baptist Church in Brooklyn every Sunday.
ADVANCE TICKETS ARE AVAILABLE: $20 in advance, $25 day of show; click here to purchase: http://www.ticketfly.com/event/269819
May 30, 2013
Yesterday, I was super excited to meet Largehearted Boy after his panel at Book Expo America (Book  Blogging and the Big Niches). Like a fan, I politely introduced myself and he was very gracious.
If you don't know,  Largehearted Boy is a music blog that has been in existence for eleven years, featuring daily free and legal music downloads, as well as news from the worlds of music, literature, and pop culture.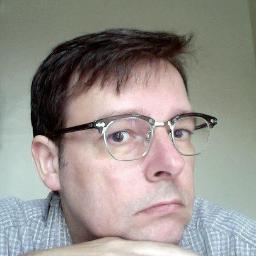 It's a really lovely blog for lovers of literary fiction and music. David Gutowski, who is the founder and publisher of LHB, is a very sincere and intelligent guy. He writes smart reviews of the kind of books he enjoys (lit fiction, short stories, etc.). He also asks the authors for music playlists, truly merging the world of writing and the world of music.
Needless to say, he's also on Twitter where his profile reads: "I read and write and listen to music. A lot." Oh, and he lives in Brooklyn. Nice.
May 30, 2013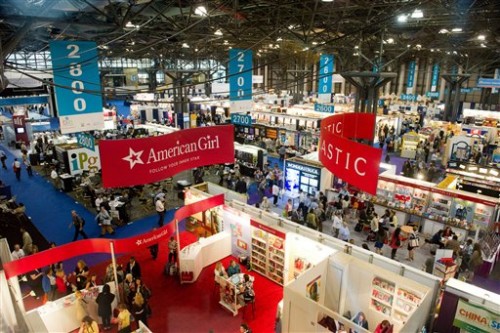 Yesterday I went to the Blogger's Day at Book Expo America. BEA is the largest publishing industry event in the United States, an annual five-day affair at the Jacob Javits Center. Generally, I have a love/hate relationship with conventions but this one is a professional necessity and it's also very informative and interesting. Best of all, you get to find out what's up and coming in the book world AND there are lots of free books.
I went to three, yes two, keynotes yesterday. What stamina I have. Will Schwalbe,creator of Cookstr.com and the author of The End of Life Book Club, spoke very interestingly about what makes people visit, share and engage with content on and off the web. He also shared his thoughts on  the roles that book-bloggers, authors and publishers might play in the future.
I also went to a fascinating keynote called Shaping The Future Of The Book: Insight From Leaders Who Are Transforming How We Read with Steve Bercu of BookPeople in Austin, Michael Pietsch CEO of the Hachette Publishing Group, Jane Friedman, Founder and CEO of Open Road Integrated Media, Barbara Marcus of Random House. So what did they talk about: eBooks, self-publishing, backlists, social media and how people will read books in the future and the legacy of print.
My last keynote was the very bubbly and very appealing Randi Zuckerberg, sister of Facebook founder Mark  Zuckerberg. Formerly the head of marketing at Facebook for six years, she has now gone out on her own as CEO and Founder of Zuckerberg Media, a digital media production company. She also runs a blog called Dot Complicated and is the author of an upcoming children's book called Dot about how much computer time is too much for kids.
I attended a panel called  Adult Book Blogging Pros: Successes, Struggles and Insider Secrets. Moderated by Jim C Hines, it featured three romance book bloggers: Mandi Schreiner of Smexy Books, Sarah Wendell of Smart Bitches Trasy Books and Rebecca Joines Schinsky of The Book Lady's Blog.
I've never read a romance novel but I am inspired to do so now so  that I can read these funny, smart, anti-elitist and feminist bloggers.
I also went to a social media panel called What's Working Now: Search Engine Optimization, Author Platforms and New Social Media with a great group of  smart women: Lori Culwell, Brittan Geragotelis Katherine Sears of Booktrope Publishing and Lisa Hazen. Lots of interesting ideas…