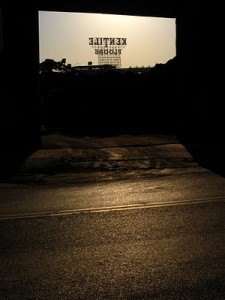 Brooklyn photographer Nate Kensinger, just wrote to say that's he's posted a new photo essay on his blog.
And that is always cause for celebration.
Kensinger's photos are often heart-breakingly beautiful  observations of abandoned urban environments,
Here is an excerpt from the essay he calls simply, The Whole Foods Lot. See more text and many more pictures on his blog. His work is also featured in The Pink Elephant: Gentrification Speaks show currently at MoCADA.
While the pictures speak thousands of words, Kensinger writes eloquently and informatively about this particular urban landscape:
"The story of the Whole Foods lot is one of the best examples of how New York City's recent real estate boom and subsequent collapse unfolded. Located at the intersection of 3rd Avenue and 3rd Street, this empty lot is bordered on two sides by the Gowanus Canal. In 2006, it housed an active scrapyard, but this closed when ground was broken for a planned 68,000 square Whole Foods Market, which promised "Brooklyn residents a wide array of natural and organic foods" alongside a public esplanade and community center. The idea of building this market on the banks of a toxic industrial canal struck some local residents as a far-fetched idea, but this was representative of the ambitious yet ill-conceived development projects that were common during the past decade."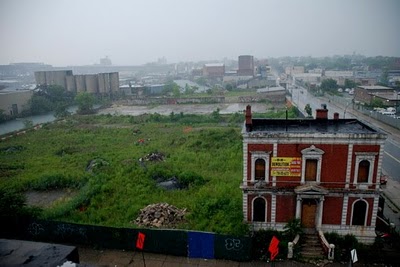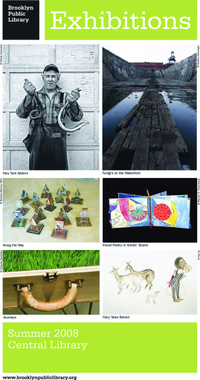 From June 18 through August 30th, the Brooklyn Public Library will feature an exhibition of Nate Kensinger's photographs called "Twilight on the Waterfront: Brooklyn's Vanishing Industrial Heritage."
This exhibit documents off-limits industrial sites along Brooklyn's waterfront, shedding light on what Brooklyn has lost to development over the last five years. The photos in the exhibit are drawn from a long-term project documenting Brooklyn's industrial waterfront. "Twilight on the Waterfront" will be on display at the Central Library at Grand Army Plaza.
Kensinger is also a documentary filmmaker.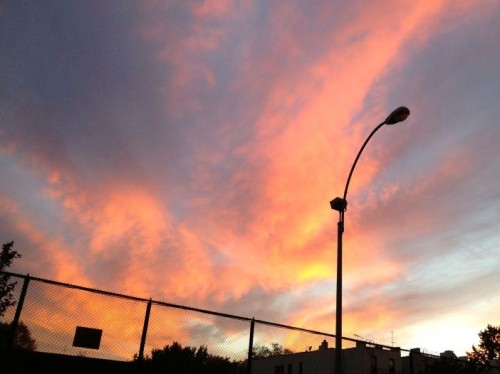 The Park Slope 100 is something I started in 2006. It is now a collaboration with Park Slope Stoop. I want to thank Mary Bakja for helping me continue this great tradition, which tells a nice story about our neighborhood. Kind of an archive of what goes on around here. I had fun coming up with a bunch of these. Great to hear about the people, places and things that Park Slope Stoop brought to the list. Hope this inspires people to seek out the new. It certainly inspires me.
In a neighborhood where you can easily find several inspiring new stories every day of the year, it's hard to choose just a few that represent how Park Slope is such a special place to live.
But annually for the past eight years, Louise Crawford of Only the Blog Knows Brooklynhas managed to do just that with her Park Slope 100, choosing 100 of the most interesting people, places, and things that have made the past year unique.
For the second year in a row, we here at Park Slope Stoop and our sister site South Slope News helped compile the list, and we are proud to be able to share it with our readers and neighbors as well.
If you have any thoughts, corrections, or suggestions for 2015, let us know in the comments, or email us at editor@parkslopestoop.com or Louise at louisecrawford@gmail.com.
Here goes…
Brett and Ashley Affrunti for doing their absolute best for Dottie the dog.
Bishop Ford administrators and current and alumni students for their valiant effort to save the school.
Charles Blow for his consistently intelligent and powerful New York Times op-eds about racial justice and for the publication of his memoir, Fire Shut Up in My Bones.
Blue Lightning for showing us that kids can rock the house, too!
Local bodega cats, in "their own" words.
Josh Breitzer for the glorious music as cantor of Congregation Beth Elohim.
The Brooklyn Cottage, for creating space for a variety of programs — storytelling evenings, cooking classes, meditation gatherings, writing workshops, art exhibitions, and creative "unleashings."
Brooklyn for Peace for presenting Noam Chomsky as the special guest at their 30th anniversary gala in November.
The brown bins! Even if not everyone that can is using them…
Mark Caserta from the Park Slope 5th Avenue Business Improvement District, for advocating for and promoting businesses along the commercial strip — and one of the most familiar cyclists we see zipping along 5th regularly!
Patty Cavallo for being such a tireless advocate for children's cancer research, and for doing a beautiful job honoring her daughter's memory. Ditto for Ellen Hollander-Sande and her son Caleb.
This year's wonderful Photobloggers Tribute was produced/edited/and with music composed by Adrian Kinloch Click on the link and go to Brit in Brooklyn for this montage of photos of Brooklyn from some of the borough's best photobloggers including images of Coney Island, Park Slope, Prospect Heights, Atlantic Yards and the Federation of Black Cowboys and more. The video features the work of Jonathan Barkey, Tracy Collins, Hugh Crawford, Atiba Edwards, Efrain John Gonzalez, Jill Harrison, Fank Jump, Adrian Kinloch, Nathan Kensinger, Heather Letzkus, Tom Martinez, Matthew Nedbalsky, Claude Scales, Eliot Wagner, Lara Wechsler and Barry Yanowitz.
2009 Photobloggers Tribute Part 1
2009 Photobloggers Tribute Part 2
Bina Altera @ Baby Gallery: Art in Brooklyn
Wet and dry: Brooklynometry
Best jazz albums 1973-1990: Do the Math
About Do the Math: The Guardian
Becoming a kidney donor pt 3: The Spiral Staircase
Client 9: The Fall of Eliot Spitzer: Self-Absorbed Boomer
Reading Psalms/118-120: Water Over Rocks
Tithing: Old First Blog

Atonement: I Swing This Bird as a Halo 'Round My Head: Fresh Poetry Daily
Ode to corrugated metal: Big Sky Brooklyn
The Edgemere Landfill: Nathan Kensington Photography
June 4 to June 13: it's the Brooklyn International Film Festival now in its 13th year and run by my friend Nate Kensinger, who is also a wonderful photograher.
BFF is an international, competitive festival for and by independent filmmakers. Their mission is to "discover, expose, and promote independent filmmakers while drawing worldwide attention to Brooklyn." the group writes on their website.
During the festival more than 100 films: dramas, documentaries, animation and short films are shown.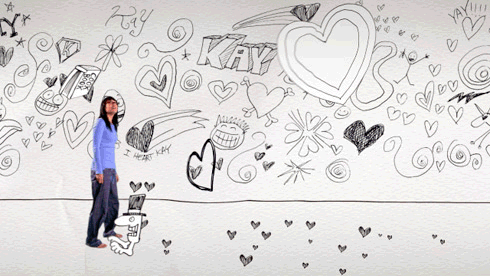 I've already privately screened "Colin Hearts Kay" a really fun live action/animation comedy set in Park Slope about two bloggers who fall in love (see above).
Needless to say: I loved its wacky good humor and animation.
Nathan Kensinger and his team culled through something like  2,400 submissions from throughout the U.S. and abroad. Screening all of them is a Herculean task that ultimately results in an interesting selection of films.
Sixteen of the films shown were made by Brooklyn filmmakers. Quite a few of those were shot right here in Brooklyn.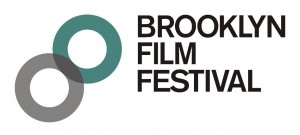 On the heels of last night's Oscars it was fun to hear from Nate Kensinger, who runs the Brooklyn International Film Festival. The final film submission deadline is fast approaching and he wants to hear from you if you want your film in the festival.
If your film fits one of the categories let the BFF know about it: Feature, Documentary, Short, Experimental, Animation. And there are awards at this festival: $50,000 in services, products, and cash.
The final deadline is fast approaching: March 17, 2010 and the entry Fee is $50 (Deadline is "Postmarked by." Packages can be mailed until the day of the
deadline)
The dates of this Film Festival are: June 4-13, 2010
For more info or to submit your film, click here:
http://www.brooklynfilmfestival.org/submit/
Yay. Richard Grayson was at the opening of the new show at the Museum of Contemporary African Diaspora Arts (MoCADA) and filed this report. You can read more on his blog Dumbo Books of Brooklyn.
Although lots of real reporters and professional photographers and video cameras from NY1 and other places were there, and no doubt you can find more intelligent commentary and journalism of this event elsewhere, we were privileged to be on hand for at least a little while at this evening's very crowded opening reception for "The Gentrification of Brooklyn: The Pink Elephant Speaks," a long-awaited exhibition of the work of twenty artists.

Curated by Dexter Wimberly, this is the art show people will be talking about for a long time, and all we can say now is that we are going to return to MoCADA – the wonderful Museum of Contemporary African Diasporan Arts on Hanson Place in Fort Greene – again and probably again to really take it all in when, hopefully, there won't be as many Brooklyn art lovers (and movers and shakers) around. We may have a long wait.

Already there's been coverage at The Daily News, The Brooklyn Paper, The Brooklyn Rail, the visual arts forum Daily Serving, The L Magazine, The Kings Courier, and other mainstream media outlets that we can't duplicate.

As the promotional material notes, "The Gentrification of Brooklyn: The Pink Elephant Speaks"

will examine how urban planning, eminent domain, and real estate development are affecting Brooklyn's communities and how residents throughout the borough are responding.

The exhibition will include the works of several Brooklyn-based artists, as well as those who have been forced to relocate as a result of gentrification. In addition to works of art featured at MoCADA, there will be a schedule of public programs taking place throughout Brooklyn.

In addition, there will be a vignette of work on display from two local high schools (The Brooklyn Community Arts and Media High School and The Secondary School for Research) where students have been documenting the impact of gentrification on their neighborhoods over the past few years through photos and essays.

You don't need us to tell you what the incredibly gifted MoCADA director Laurie Cumbo (always an amazing presence keeping the annual Fort Greene Summer Literary Festival together), can when you see her on NY1.

You can see better representations of the fine work of the artists involved – Josh Bricker, Oasa DuVerney, Irondale Ensemble, Zachary Fabri, Michael Premo / Rachel Falcone, Nathan Kensinger, Jess Levey, Christina Massey, MUSA, Tim Okamura, Kip Omalade, John Perry, Adele Pham, Gabriel Reese, Marie Roberts, Ali Santana, Monique Schubert, Alexandria Smith, Sarah Nelson Wright – elsewhere on the Web, or better yet, close up at MoCADA.
Read more at Dumbo Books of Brooklyn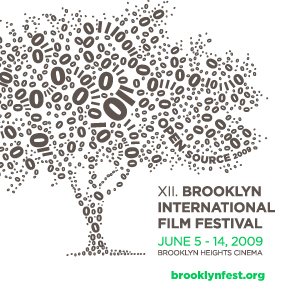 I just heard from Nat Kensinger who is now the Director of Programming for the 13th annual Brooklyn International Film Festival (pictured left is last year's loely poster). Nat writes:
Thursday night the rain stayed away and the crowd didn't. Approximately 300 attended the Brooklyn Blogfest at powerHouse Arena. At 6:30 the bookstore/publicspace was already getting crowded and by 7:30 when the houselights were turned off, the room was packed.
The show began with an Video Opener by Blue Barn Pictures, a fun montage of last year's event. That was followed by a somewhat nervous welcome from me (Louise Crawford). I described the past three blogfests:
I also announced that there would be a cash bar and free food at Galapagos. Then it was time for Adrian Kinloch's Picture Brooklyn: A Tribute to the Borough's Photobloggers, an exquisite montage, edited by Kinloch, who also wrote the electronic score, which featured 20 photobloggers including:
Brenda Becker, ayearinthepark.typepad.com; Tim Becket, cityofstrangers.wordpress.com; Adam E
bigskybrooklyn.blogspot.com; Andrew Gardner, street-level-nyc.blogspot.com; Meg Groome
libertyontenth.blogspot.com; Sharon Kwik, bedstuybanana.com; Amy Melson, brooklynometry.blogspot.com; Lisanne McTernan, foundinbrooklyn.blogspot.com; Janah Terese, eatbrooklynfood.blogspot.com; Lola Zarus, cherrypatter.com; Jonathan Barkey, nolandgrab.org; Tracy Collins, freakinblog.com; Hugh Crawford, onlytheblogknowsbrooklyn.com; Jake Dobkin, bluejake.com; Nathan Kensinger, kensinger.blogspot.com; Lorna Keuning, lornagrl.com; Adrian Kinloch, britinbrooklyn.com; Chris Kreussling, flatbushgardener.blogspot.com; Robin Lester, clintonhillblog.com; Lara Wechsler, larawechsler.com
As a video intro to the Why We Blog panel three short vignettes made by young filmmakers at Blue Barn pictures were shown. The first one directed by Max Kelly, son of Katia Kelly, was about Katia and her neighborhood blog, Pardon Me for Asking. The second portrayed a young woman who has cancer, who writes an inspiring blog called Why Not Me. The third one was about a woman who blogs about life in Brooklyn, in Spanish, for an audience in Barcelona. All three videos were incredibly well done, spunky and very interesting.
The panel was up next. Hip Slope Mama, Bed Stuy Banana, Jake Dobkin of Gothamis, Anne Pope of Sustainable Flatbush and Tracy Collins of Another Friggin Blog. A very pregnant Megan Donis was the moderator.
The panelists introduced themselves and it was really fascinating to hear the different reasons why people blog. Here I will quote from Josh Frank's report on the Blogfest in Time Out:
There was one common thread: None of these bloggers write about
themselves. "It's not about you," Dobkin claimed, adding that
successful blogs are about something that other people are interested
in (e.g., Tracy Collins' photo blog about the Atlantic Yards project, or Bed-Stuy Banana's blog about her neighborhood).
Anne Pope told the crowd that the 2007 Blogfest inspired her to become a blogger and she talked about the way her blog and her environmental activism are linked.
I enjoyed hearing from Bed Stuy Banana about the sometimes contentious relationship between the blogger and the community she lives in. "Some people want to see this neighborhood as a place of beautiful brownstones and trees. So if I write about a bullet hole in the sidewalk people hate me. I just write the truth of what I see."
Jake Dobkin, whose Gothamist blog is enormously successful thanks to Dobkin's business school smarts and Jen Chung's talent as a reporter, told the crowd: "No more new blogs. Not another small neighborhood blog. You guys need to come together, figure out ways to work together," he told the crowd with purposeful provocation. He also announced that he was going to do a guerilla Blogs-of-a-Feather if people wanted to learn more about monetizing their blogs and advertising."
Needless to say that group was well attended.
The second part of Picture Brooklyn followed and then came the Blogfest dedication to Robert Guskind. Brenda Becker, who writes,  A Year in the Park, spoke eloquently about Bob's influence on citizen journalism and shared an interesting thread in Bob's work:
"With his emphasis on
Coney Island and the Gowanus, strange cats and stray pit bulls
something connects all of it," Brenda told the group. "Bob could see
beauty in that which was broken. And he could see what could be in it
again. How a polluted canal could be Venice. A street couch could be
absurdest theater. A broken, miserable Coney Island  could be turned
into something great."
The Robert Guskind video by Blue Barn pictures featured an interview with Bob created for last year's Blogfest. There was also footage by Bob of the Gowanus Canal and audio from an interview Bob did with Brian Lehrer  all edited to Jesus and Mary Chain's "Dirty Water."
Throughout the program I announced the Top Ten stories that captured the attention of Brooklyn blog readers. This list included: Target, Trader Joe's, Park Slope, the Toren Building, the Atlantic Mall…When I find that list I will post it here.
Finally, it was time for the Blogs-of-a-Feather, a new concept that was rolled out this year. It was a chance for attendees to get together in small groups throughout the powerHouse space to come together with others who blog about similar things.
This concept worked even better than I expected. People did gather and talk and talk and talk; it may have been the best part of the show. I'd love to hear from people who participated in one. How did it go? Did you meet interesting people? How could these groups be better, etc.
At 9:30 or so the crowd moved to Galapagos where, I hear, there was an incredible skirt steak hero from Fairway (it wa completely gone by the time I arrived at 10 p.m. There were also hot dogs donated by Wilie Dawgs, 20 pizzas from Pizza Plus, Middle Eastern Specialties from D'Vine Taste, and more from Fairway.
We tried to do the Shout-Out over there but it didn't work out because people wanted to talk and party and the Blogfest tradiition didn't really work in that particular setting. But a few brave Shout-Outers did get up. The raffle winners were announced and the party went on until mid-night.
The rain never came. And Blogfest 2009 was a great night in Brooklyn down under the Brooklyn and Manhattan Bridges.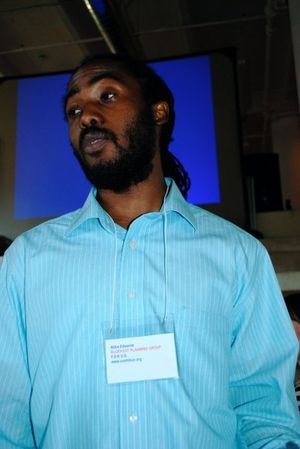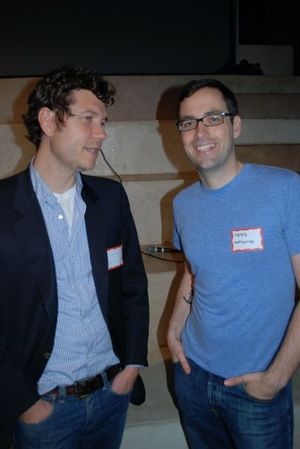 Atiba Edwards, one of the Blogfest Planning Group and with F.O.K.U.S.; Jon Butler, Brownstoner chatting with Jake Dobkin, Gothamist.  Eleanor Traubman of Creative Times with audience members; Katya Kelly of Pardon Me For Asking with Nathan Kensinger. 

Photos by Frank Jump of Fading Ad Blog.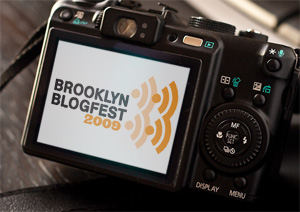 At tomorrow's Blogfest we will show for the first time this year's Tribute to Brooklyn's Photobloggers, a 10-minute montage of photographs by Brooklyn's incredibly talented photoblogging community.
Dedicated to the memory of Robert Guskind (1958-2009), the video was created by Adrian Kinloch who also composed the music. The following photographers are included  in the video:
Brenda Becker
ayearinthepark.typepad.com
Tim Becket
cityofstrangers.wordpress.com
Adam E
bigskybrooklyn.blogspot.com
Andrew Gardner
street-level-nyc.blogspot.com
Meg Groome
libertyontenth.blogspot.com
Sharon Kwik
bedstuybanana.com
Amy Melson
brooklynometry.blogspot.com
Lisanne McTernan
foundinbrooklyn.blogspot.com
Janah Terese
eatbrooklynfood.blogspot.com
Lola Zarus
cherrypatter.com
Jonathan Barkey
nolandgrab.org
Tracy Collins
freakinblog.com
Hugh Crawford
onlytheblogknowsbrooklyn.com
Jake Dobkin
bluejake.com
Nathan Kensinger
kensinger.blogspot.com
Lorna Keuning
lornagrl.com
Adrian Kinloch
britinbrooklyn.com
Chris Kreussling
flatbushgardener.blogspot.com
Robin Lester
clintonhillblog.com
Lara Wechsler
larawechsler.com
Edited and produced by Adrian Kinloch.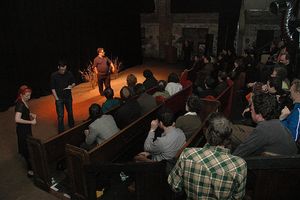 A memorial for Gowanus Lounge founder Robert Guskind was held on Saturday, April 5th, 2009 at the Brooklyn Lyceum. The event opened with a stunning video montage (edited by Blue Barn Pictures) comprised of interviews with Bob, footage of him reporting on the streets of Brooklyn, and videos made by Bob. It was a beautiful and haunting way to begin the event.
The first speaker was State Senator Velmanette. Montgomery. I had the feeling that she didn't know a great deal about Bob or about blogging. At first I wondered why she was there but she did, eventually, pose this thoughtful question to the group:
"How can we bring him and people like him to young people so that they can know about his work and be part of something that passes his legacy on?"
Jake Dobkin, co-founder and publisher of Gothamist, spoke next about the time he invited Bob out for drinks at the SoHo Grand, the kind of place that, according to Jake, "epitomizes everything that Bob hated. He squeezed himself into a tiny table next to two groups of bankers and I showed up late. But he took it in stride and within two minutes I knew he had a gigantic heart and a fierce intellect."
Lockhart Steele, publisher of Curbed, met Bob when he started sending in photographs with captions that showed his hilarious sensibility. "We invited him to office and this big jovial guy comes in." They hired him on  the spot and Bob, who called himself the fastest writer in the world, told him: "I can start right now."
" Bob knew what he wanted to bring to the table and he just started doing it with a complete focus on getting done what he wanted to do…Even looking at a horrifying building, he could bring humor, appreciation and even joy to create a narrative of the neighborhood," Lockhart told the crowd.
Chris Kreussling, who writes Flatbush Gardener, met Bob at the second Blogfest and came to relate to Bob as a fellow traveler on the road to drug and alcohol recovery. "It's something I recognized about Bob empathically, an important part of of him," Chris said. "For me, recovery is not about abstinence, it's about choosing life and there are a lot of ways to do that."
Brenda Becker, who writes,  A Year in the Park, discovered an interesting thread in Bob's work: "With his emphasis on Coney Island and the Gowanus, strange cats and stray pit bulls something connects all of it," Brenda told the group. "Bob could see beauty in that which was broken. And he could see what could be in it again. How a polluted canal could be Venice. A street couch could be absurdest theater. A broken, miserable Coney Island  could be turned into something great and not a greed-driven non-entity."
Nate Kensinger, a photographer and contributor to Gowanus Lounge, called Bob "The Blogfather" for the way he championed people's work and brought them into the Gowanus Lounge fold. "He was the single greatest supporter of my photography and he was enthusiastic about a lot of people."
Bob's coverage of the closing of a Fifth Avenue donut shop meant a lot to Nate. "He covered things the mainstream media would never have covered. The closing of that donut shop was the end of an era of an old school diner."
E.Cherilin Stephens met Bob last  fall after he took a brief hiatus and then reached out for help on his blog. She immediately pitched in and ran the blog on weekends, "So that Bob could have some time off."
Phil DePaolo of the New York Community Council, remembers the time he invited Bob to lead a group of Rutger's students around Coney Island. "Watching him with a group of young minds; they were like sponges. Afterwards we had a wonderful lunch on Mermaid Avenue. Because as much as Bob loved blogging, he loved food."
About Bob's writing style Phil said; "Anyone can write about stuff. But being able to take something hideous and give you a laugh. He could always inject some humor."
Heather Letzkus, a close friend of Bob's, remembered the first time Bob re-posted something from her blog, New York Shitty. He called her "an angry blogger" and she was furious about it: "I am not an angry person. How dare this guy call me an angry person," she ranted to her husband.
But it was anger at injustice that fueled both of their passions for development issues in Brooklyn. "Bob wrote Gowanus Lounge for the underdogs, the downtrodden, those who could not speak for themselves," Heather said.
Mark Farre, a musician and writer, met Bob when they were both students at Georgetown University. Echoing Brenda Becker's words he said, "Bob liked to find what was broken in beauty and what was beautiful in ugliness. This was a tension that followed him all his life. In that way, he was a poet as much as he was a journalist, a mystic, and an artist."
Marc described Bob's upbringing in Passaic County, NJ where he was born in 1958, the son of a truck driver, who left the family when Bob was 5 and a mother, who raised Bob  and his sister alone. He graduated at the top of his class at Georgetown and was immediately hired by his mentor, Neil Pearce, at the National Journal, where he worked for 16 years.".
Marc alluded to Bob's drug problems in the 1990's but emphasized that that was just one part of Bob's story. "An abundant soul, no one had a larger heart, laugh, body, voice, appetite and huge hole which he sought to fill with huge experience."
One of things he loved to experience was spicy food.  "He was always after more spice, more transcendence. Bob had a desire for more. He was a seeker," Marc said.
Finally, Marc was adamant that  Bob died "because he ran out of fuel. He gave everything he had…through the torment and shitstorms and the suffering, he loved his beat, he loved you. Bob did not want to die. But he died the way he lived and was unable to feel how much people loved him through the pain."
Marc was the first speaker to mention Bob's wife, a pre-school teacher named Olivia. "Without Olivia there would never have been a Gowanus Lounge." Bob discovered Brooklyn through Olivia after he moved into the apartment she owns in Park Slope. "Olivia often accompanied Bob on his long walks and drives through the Brooklyn streets…"
Norman Oder, the blogger behind Atlantic Yards Report considered Bob "a colleague, a friend, a peer." Like Bob, Norman worked for the mainstream media but came to blogging "through a zig zag path and found it to be a new place to go to another level."
Norman referred to Bob's workaholic tendencies: "He lived a lot, worked harder than most people, lived a lot of hours. But he still deserved to be here another 20 years. And whatever the technology would be – you'll probably be able to touch your tooth instead of typing – Bob would have been in the middle of it."
After the designated speakers mentioned above, people in the room were invited to join the "shout out."
Aaron Brashear, a self-described local hell raiser in Greenwood Heights, never actually met Bob but emailed him frequently. "Brooklyn is different without him. I keep thinking, 'Oh I want to send this to Bob.' He was one of the most intense people I didn't get to meet."
Deborah Matlack, a photographer and contributor to Gowanus Lounge, who has started her own blog, Brooklyn Rocks, also never met Bob in person. "I'm really sorry about that because he was a mentor."
There were others, too. Ward Dennis of Brooklyn 11211, a blog in Greenpoint, Gary Tilzer from True News, Lola Staar from the Coney Island shop and roller rink, Katia Kelly of Pardon Me for Asking, Kristin of Best View in Brooklyn and Triada Samaris of CORD.
The event ran a full four hours and included time to mingle and eat and drink. Food was provided by Rafael Soler of Bob's beloved Food Vendors of Red Hook
Park, who supplied the pupusas and Juventino Avila, chief/owner of Get
Fresh Table and Market. Chris Kreussling baked a huge number of
chocolate chip and pignoli nut and almond macaroons.
It was a wonderful celebration of a man, whose reputation continues to grow even, sadly, as many mourn his death.
The event was organized by a large, dedicated group which included Aaron Brashear (Concerned Citizens of
Greenwood Heights), Sam Coker, Nicole Davis (Brooklyn Based), Phil
DePaolo (New York Community Council) Jake Dobkin (Gothamist), Susan Fox
(Park Slope Parents),  Ann Kansfield (Greenpoint Reformed Church),
Katia Kelly (Pardon Me for Asking), Chris Kreussling (Flatbush
Gardener), Heather Letzkus (NY Shitty), Norman Oder (Atlantic Yards
Report), and E Cherilin Stephens (Gowanus Lounge).
Photo by Chris Kreussling/Flatbush Gardener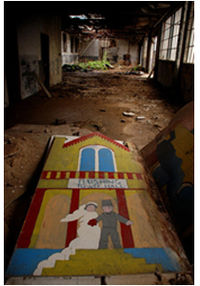 Looking for something to do in the days after the inauguration? Brooklyn Based's Tip Sheet is always a great place to start. In addition to the above, I noticed this:

The 2008 Park Slope 100:
100 stories. 100 ways of looking at the world. 100 inspiring people,
places and things. The list is in alphabetical order. There are no
repeats from last year. There are always serious omissions. I left two slots open for latecomers. The link above is the list's very own blog.
ART OBAMA because you were a creative and organized group with a great idea, energy and spirit. Heck, you raised $48,000 for Barack Obama at
a fun and festive art auction. Yeah!
FLORIAN BALHAUS because you are quietly building an
impressive filmography as Director of Photography forThe Devil Wears Prada, Definitely, Maybe, the upcoming Marley
and Me and The Time Travelers Wife. Whoa.
MARIATERESSA BAZZI because you've got two sets of twins born
one year apart. Enough said right there. They are now 11 and 12 and a
great bunch of talented and well-behaved kids. But you are also a
spirited, fun, involved person who oversees the recess crowd at PS 321.

BRENDA BECKER because in 2008 you decided to visit Prospect
Park every day as an urban adventure (and, not least, as a drug-free
antidepressant!), and to chronicle your discoveries. And you're still
trying to get to the park every day, and posting about it on your blog,
A Year in the Park,
a site the New York Times called "witty and engaging" in a profile last
July. "It was fun getting some Old Media attention for 15 minutes,"
comments Becker, "but the real gift was connecting to so many other
people, from cyclists to dog lovers, who are also passionate about
Prospect Park. The calendar is a way to share that passion."
SALLY BERMANZOHN because you were a labor organizer at the
Duke Hospital cafeteria with your husband Paul, who was critically
wounded in the Greensboro Massacre in 1979. Currently you are professor
and chairperson of the Political Science Department at Brooklyn
College, where you research and teach courses on the international
phenomenon of truth and reconciliation commissions. And that's not all. You're the author of Through Survivors' Eyes: From the Sixties to the Greensboro
Massacre (2003), for which you received the Brooklyn College Award for
Excellence in Creative Achievement. You are also featured in Adam
Zucker's documentary, Greensboro; Closer to the Truth.
ANDREA BERNSTEIN because as political director for WNYC and
The Takeaway, your reporting of Hillary Clinton's primary campaign was always top notch, as were your stories from battleground states. Kudos for
being one of 12 top U.S. journalists to win a Knight Fellowship at
Stanford University in 2006-2007.
BILL DI BLASIO, City Council member and neighborhood advocate. Have you never been on this list?
CHARLES BLOW because as the New York Times' visual Op-Ed columnist and an award-winning art director, you
bring a decidedly graphic style to that page, a great writing style and
a distinctive point of view.
BROOKLYN FOR BARACK because of the phone banks. And everything else you did to bring Barack to the White House.
BROOKLYN GREEN TEAM
because you're a community group in Park Slope devoted to reducing your
environmental impact and you inspire others to do the same through
small changes which make a big difference. Founded in 2007, your major
activities include a blog site with local and national green news,
resources, upcoming events, and tips as well as informative emails
pertaining to a particular environmental issue such as local food or
bottled water. Green Team members include: Jennifer Bartels, Melissa
Browning, Amanda Gentile, Noelle Gentile, Johanna Voutounou, and Robert
Weinstein.
BROOKLYN MERCANTILE because
you've turned your eclectic, fun Fifth Avenue store,which features an unusual mix of home goods and notions into a community
workshop for crafters of all stripes.
BROOKLYNOLOGY because you're a new blog run by the Brooklyn Public Library and you present a treasure trove of interesting stories and images of Brooklyn.
BROOKLYNOMETRY because your take on things is so unusual and interesting and it's never boring to read your words or look at your photographs.
COOL AND UNUSUAL PUNISHMENT / THE MIGHTY HANDFUL because
you're not just rock and roll bands. CUP raised $6,000 for New Orleans and for an orphanage for street children in Manila with annual concerts at the Old Stone House.
And on December 19th The Mighty Handful (with the help of CUP alums and moms) did it again: this time in support of action.org, advocacy to control TB internationally. And let's not forget that CUP was a pioneering member of the
all-ages rock scene in the neighborhood.

PHYLLIS COOPER because you are da bomb as a physical
education teacher and administrator at MS 51, a good citizen of Park
Slope and Third Street neighbor.
HERMINE CHARLES AND GILBERT MIDONNET because you're entrepreneurial and community minded and your shops, Serene Rose and Razor, combine elegance with a sense of fun. We know you comb Park Slope for the best of local artists, artisans and craftspeople.
DOUGLAS J. CUOMO because
you compose music for concert and theatrical
stages, television, and film. Your music, with influences from jazz,
world music, classical, and popular sources, is as personal,
distinctive, and recognizable as it is wide-ranging. Your compositions
range from well-known television themes — for Sex and the City and Now
with Bill Moyers, among others — to evening-length works for theater,
including Arjuna's Dilemma, an opera-oratorio based on the story of the
Bhagavad Gita, which was at BAM this fall.
D'VINE TASTE because you've been providing this community
with delicious cheeses, breads, middle eastern specialties, condiments,
olives, sweets, and more at reasonable prices for many years in a
friendly atmosphere with good service and even better conversation
while WNYC plays on the radio.
CAITLIN DEAN because
you decided to start Girl Guides, a non-profit outdoors program or
sixth through tenth grade girls in Brooklyn. A graduate of Yale
University in 2007, you worked for Sen. Dick Durbin on Capitol Hill in
Washington, D.C., but left your job to get this inspired project off the ground.
EDIBLE BROOKLYN because you're an attractive and well-written magazine that celebrates, defines and honors Brooklyn's diverse cuisine.
JENIFER EPELBAUM because of your efforts help your neighbors, an elderly man and a mentally disabled woman, who are being evicted from their Slope apartment where
the woman has resided for 19 years. You wrote: "She and her partner have been our
neighbors in the Slope for these many years, and as a community, I
believe we have a responsibility to make sure they are treated fairly and
decently." Nicely put.

BARBARA ENSOR because you're the scissor girl, the paper lady, the mad genius author of Cinderella (As If You Didn't Already Know the Story) and Thumbalina, Tiny Runaway Bride and headmaster of the Little School of Moving Pictures.
FAMOUS ACCORDION ORCHESTRA because your quartet spans the traditional and the modern. You perform original material, as well as tunes from many different
traditions, including Stephen Foster, Jacques Offenbach, Paolo Conte, Leonard
Bernstein, Yiddish, Basque, Italian, Balkan, and beyond.
BRADLEY FELDMAN because your geeky weather tower is working
24/7/365 days a year to bring Park Slopers the temperature, the
wind chill, the humidity and a live image detailed weather,
radar/satellite map, 5-day forecaster and pollen levels. Your weather site is quite a service to the community.
SANDI FRANKLIN because since joining the Center for the Urban Environment (CUE) in
2001, you've brought this esteemed 30 year old organization into the
21st century. You've honed the agency's mission, expanded its
programming, and cultivated new partnerships to allow CUE to become the
leading educational guide to a greener New York City. Under your
direction, the Center relocated its headquarters from the bucolic seat
of Prospect Park to its more gritty cousin, the Gowanus Canal, on 7th
Street— in what is on schedule to be the first green building of its
kind in the borough. Under your leadership, you've increased
discussions around sustainability and access to 'green' education by
helping launch the Sustainable Business Network NYC, worked in nearly
every school in Park Slope, established three environmentally-themed
high schools, and spearheaded Brooklyn's first and largest green
conference, Green Brooklyn…Green City. For your efforts you have been
awarded "Citizen of the Year" by the Executive Council in 2008 and
"Brooklyn Woman of Distinction" by Con Edison in 2003—and changed the
lives of thousand of residents from Park Slope to Bushwick by providing
them with the tools for greater involvement in the future of their
communities.
LEON FREILICH because you truly are the-oh-so-prolific verse
responder with your funny and smart observations about national and
local politics, as well as daily life in the Slope. Once a day and
sometimes 3 or 4, you bring wisdom, levity, good sense and poetic craft to
the many readers of OTBKB.
ELLEN FREUDENHEIM because you were the author of the first
guidebook to Brooklyn in something like 50 years, and then updated
twice since. If anyone has done something to help put Brooklyn on the
map we think you have.
ANDREW FRIED because you lost your wife suddenly and
tragically and we feel for you. You have been very eloquent in your
expression of grief on your blog, Fry Guy's Thinkerings. "Our life was going amazingly, like a dream come
true. We spent days together and never argued. We kissed constantly and
couldn't spend enough time with each other. We laughed, loved, and
talked about our future, including our expectant child."
KAREN ROTHMAN FRIED, a beloved teacher at PS
321 known for her commitment to and appreciation of each and every
child in the classroom. Brooklyn Heights born, she received her Master
of Science in Elementary Education and Post
Master of Science in Reading from Bank Street College of Education and
taught 2nd grade at the Special Music School of America as well as 2nd
grade at the Lycee Francais de New York before coming to P.S. 321 in
2007. In memoriam.
PATRICK GASPARD because Barack Obama appointed you national political director of his presidential campaign and the rest is history.
RICHARD GIN
because you are the self-designated photographer of the Brooklyn
all-ages music scene and you get the shots that everyone loves.
Pictured left: Fiasco.
GINO'S COLLISION because you fixed my father's Subaru for a reasonable price and we love the adorable bright orange Fiat 500 that you park right outside. Classy.
CAROLINE GHERTLER because you are the best mom I know and
that's not faint praise. I admire your way with S and think she's a
very lucky girl to be your daughter. You're a great sister, a great wife, a great daughter and a great friend. All this working full
time with crazy hours as a set decorator on cool movies and TV commercials. How do you do it?
FRANK GIORDANO because you are a first class middle school
principal at a first class middle school (New Voices) and you return emails faster than
any educator in New York and that's amazing.
MARTY GOLDIN because you run Goldin Management, which provides customized management plans for Co-ops,
Condos and rental buildings You are a great landlord at Montauk Office,
the coolest office space in Park Slope (in the coolest building).
You're an involved parent, citizen, member of your community, and a fun
guy to have as a landlord.

MINDY GOLDSTEIN because of the many roles you play in your life,
including Joanne in Charlie Libin's indie film, American Combatant, a
recurring muse in Jamie Livingston's Photo of the Day
project, a wonderful mother, a nursery school teacher at the Plymouth
Church School, a specialist in special needs education, a former editor
of Pandamonium, PS 321's poetry magazine and a graceful volunteer
wherever help is needed.
SARAH GONSER not just because you're smart, cool, and
accomplished but the real reason is that you embody what we believe
are the best facets to Brooklyn living. You helped a newcomer to the
Slope when she needed it most. You invited her to the Ladies Night, for
companionship and conversation of some pretty incredible women. but
what she represents. One friend writes, "I'd heard that Park Slope was
a neighborhood of community and warmth and civic pride, but had not
experienced it until I was introduced to it through Sarah. She
captures these incredible attributes in the best, nonsnarky or
judgmental, incredible way."
AMY GRAVES, executive director of Brooklyn Children's Theater,
because, simply put, Brooklyn Children's Theater is a Park Slope
treasure. You have introduced scores of neighborhood kids to the
wonders of musical theater in a setting that brings out the best in our
community.You and your team, including several middle school interns,
have worked this fall with more than 80 kids from elementary and middle
school to create five short yet spirited musicals in a non-competitive,
purely joyous productions. Cash donations at the door enable the school
to offer "scholarships," so children who can't pay for the program
still can find their way onstage.

KATHRYN HARRISON because
you write deeply, bravely and honestly about your own experiences in
your memoir work and you bring beautifully rendered fictional worlds to
life in your novels, including Exposure, Poison, The Seal Wife and The Binding Chair.
JENNIFER HENRY who blogs as The Henrys in New York because
you left a perfectly nice, ordered, well-connected life in arguably the
world's most liveable city, to relocate halfway around the world to
live in arguably the world's most exciting city. We love to read your
take on all the things you are discovering in NYC and Brooklyn. Your
enthusiasm is infectious.
FORBES HILL was the retired Chairman of the Department of
Media Studies at Queens College. He taught Christian education at the
Plymouth Church of the Pilgrims and was involved with the Independent
Neighborhood Democrats, a local political club. A singer, he was also a
member of the Brooklyn
Community Chorus, the Congregational Beth Elohim Singers and the
Plymouth Church Choir. "For my father, music was a chance to
seek truth, experience beauty, relieve suffering, love and be loved and
achieve something of lasting worth," said Steffanie Hill Wilchfort, his
daughter. In memoriam.

JOHN HODGMAN because you play
the PC guy in those funny Apple commercials and we love your hilarious,
and completely fake, trivia books ("The Areas of My Expertise" and the
new "More Information than You Require"), your regular appearances as
the resident expert on "The Daily Show with Jon Stewart" and your description of Park Slope as a "utopian commune ruled by children."
SARA HOROWITZ,
because as executive director of Freelancers Union and CEO of
Freelancers Insurance Company you're trying to bring affordable health
care to us freelancers. A lifelong resident of Brooklyn, NY, you come
from a long line of
labor advocates, including your father, who was a labor lawyer, and
your grandfather, who was vice president of the International Ladies'
Garment Workers Union. You studied at Cornell University's School of
Industrial and
Labor Relations and later
earned a
master's degree from Harvard's John F. Kennedy School of Government.You
are the recipient of a John D. and Catherine T. MacArthur Foundation
Fellowship (also known a genius award).

ALISON HOUTTE because you are the flamboyant and fabulous owner of Hooti Couture,
a vintage store at 321 Flatbush Avenue, Brooklyn, that specializes in
women's and men's clothes and accessories. Before getting into the
vintage business you worked as a model for more than 10 years in Paris
and Manhattan, appearing in everything from Vogue magazine to a Dr
Pepper television commercial—and you still look like one. Your store
has been featured in Women's Wear Daily, The New York Times and many
other publications
JAKE the panhandler who stands in front of ACE Supermarket on Seventh Avenue and Berkeley Place because you've had a tough life, you always ask so nicely and you have such a big, warm smile.
JOYCE JED AND JANE BECKER because of the hard work
and inspiration that led 8th Street between 8th Avenue and the Park to
win 2008's Greenest Block in Brooklyn. This was the first time a block
in Park Slope won the award sponsored by the Brooklyn Botanic Garden
.The two of you were able able to unify a block and inspire dozens
of people to take an interest in street trees and caring for tree beds
and putting up window boxes. You represent the best of Park Slope with your commitment to the neighborhood and the people who live here.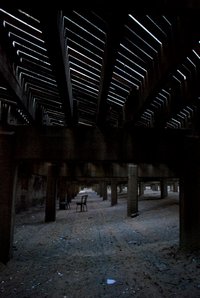 NATE KENSINGER because we know that you're a documentary filmmaker, photographer, film festival programmer and a location scout but it's your pictures of the industrial edges of NYC that grab our hearts. Photo left: under the boardwalk.
DEDE KAVANAUGH because some call you the mayor of Park Slope.
We loved your costumes for Piper Theater's production of Midsummer
Night's Dream in Washington Park right down to the Victorian underwear.
We notice all the decorative things you do at benefits, weddings, and
school events.
PAMELA KATZ because you always have the time to be an amazing
friend despite your multi-tasking life teaching screenwriting, writing screenplays, writing novels, being a superlative mom, an excellent conversationalist, a voracious reader, and a backyard gardener.

JEZRA KAYE because in
your public speaking workshops you teach how to communicate with power
and ease so that people really listen. You're on the board of directors
of Develop Don't Destroy Brooklyn , and are author of Kicking: Love Poems, which is one woman's grapple with the
ever-changing face of love. You're also a jazz singer, a Food Coop member and one heck of a people connector.
ADAM KLEIN AND ISABEL REBOH because we still can't believe
that you moved away from Third Street, your home for 15 years. Each of
you in your own way, was an integral part of life in the Slope. We ask:
How are you surviving in a small town more than an hour from
Toronto? We miss running into you both on Third Street or Seventh
Avenue. Thanks for the emails, the excerpts from the Toronto Globe and the literary musings. But most of all we
envy your new neighbors!

DAVID KONIGSBERG because
you're the original idea man whether it's coming up with an inspired way raise money for Barack Obama's campaign (Art Obama), writing annual
reports or painting gorgeously lush narrative paintings of strange
autos, flying machines and imaginary cities.
THE HANDY LANDLORD OF LINCOLN PLACE because you watch over your properties like a proud papa and you're a whiz with power tools. You do your creative carpentry in front of Stitch Therapy, Paper Love and One of a Find on Lincoln Place creating attractive planters and benches, which you then hand paint. Name to come.
PAUL LAROSA because on your blog, The Murder Book 2008, you
created a record of all the murders in NYC that appeared in the city's
three newspapers. You're also a TV producer for CBS's 48 Hours and a
true crime author of Tacoma Confidential and other page turners.
CHARLES LIBIN because you're usually behind the lens as
director of photography or camera operator on films like Able Danger,
Be Kind Rewind and Neil Young: Heart of Gold. Your film, American Combatant, was selected for numerous film festivals, including the San Paulo
International Film Festival and is now available at Amazon. Most
of all, we love that you were on screen as an extra during the euphoric party
scenes in Rachel Getting Married, a film you also worked on.
RABBI ELLEN LIPPMANN because as founding rabbi of Park Slope's Kolot Chayeinu/Voices of Our Lives
you bring a spirit of serious Judaism, spirituality, social activism
and human rights to your pulpit. A tireless organizer, you played an
instrumental role in the now annual Children of Abraham Faith Walk and
more recently have been an outspoken advocate against torture (bringing
a petition to our local Congresswoman, Yvette Clark). How Rabbi
Lippmann manages to organize and advocate in addition to leading a
thriving faith community is anyone's guess. Rumor has it that she's
getting some help from above.
THE LITTLE ROOM because you're a nationally recognized program for 3- and 4-year-olds with
speech and language delays and one of the things that makes the Brooklyn Heights Montessori School special. Your fate is unclear but a lot of people are fighting for you. Update: I hear they've decided to keep you through the spring of 2010. Your ultimate closing is a loss to the educational landscape of Brooklyn.
LIVING ON SEVENTH because we love your friendly shop and all
the beautiful things you've got in there. Eva, you have impeccable
taste in home design, accessories and clothing.
LUCY because you sell vintage clothing at the PS 321 Flea
Market and anybody can see the woman has style from that long
blond wig against the ebony skin. And you're willing to share it!
Slopers in the know have been fighting over the stash you bring to the
flea market at 321 for years now. And you never forget to ask after our
kith and kin as you get us to wriggle in and out of your swanky stuff.
WIthout you we'd have to walk around naked: Lucy, you are the empress!
COOL AND UNUSUAL PUNISHMENT /
THE MIGHTY HANDFUL because
you're not just another rock and roll band. You raised more than $8,000
over the last four years for New Orleans and for an orphanage for street children in Manila with your annual concerts at the Old Stone House.
And on December 19th you're doing it again: this time in support of TB vaccines. And let's not forget that you are leading members of the
all-ages rock scene in the neighborhood. Nominated by Kim Maier.
KIRSTEN MARINO of Slope Sports because
we love that your shop is always a fun spot for conversation. And when
we're buying running shoes there's no one we'd rather talk to or buy
from. And thanks for organizing the New Year's Eve run in Prospect Park
coming up. Oh yeah, your weekly free running groups are a major
addition to the nabe.
JULIE MARKES because you multi-task as a PTA president, a talented photographer and the author of children's books like Good Thing You're Not an Octopus and the ever-popular, Where's the Poop? and all the others from HarperCollins.
RACHEL MAUER because you are the blood and guts of Park Slope Parents.
You keep PSP running like a well-oiled machine and that includes the
website and two Yahoo! groups! You help local businesses get the word
out about classes, activities, and community events. We know you don't
like being in the spotlight. But you deserve to be here. That's for
sure.
JOSEPH M. McCARTHY because when Jim Niesen and Terry Greiss moved the Irondale Theater Center to
Brooklyn, they teamed up with you to be their director of development
because you are an incredible advocate for any project that you're
involved with. Now you've put Irondale onto the Brooklyn map as a
place for strong education and innovative theater, as well as the
guardian of the beautiful Lafayette Avenue Presbyterian Church.
ERIC McCLURE because you are the quintessential ardent
civic and community activist who can enter all worlds and lend a steady
voice of reason, intellect and comfort. Your civic involvement is
invaluable to Park Slopers for the steady hand, integrity and strategic
thinking you offer. A skilled community organizer, you walk steady in
the worlds of politics, transportation and environmental advocacy, and
community development. Effective both in leadership roles and working
in the background, you have taken leadership positions on the
Executive Committee of the Central Brooklyn Independent Democrats
(CBID), the Executive Committee of the Park Slope Civic Council, both long time fixtures on the Park Slope scene. He also sits on the Steering Committee of the Council of Brooklyn Neighborhoods (CBN),
a newcomer on the block, which has brought together 42 community
organizations to advocate for transparency and environmental oversight
for development at the proposed Atlantic Yards site. you are also an an
active volunteer with Develop Don't Destroy Brooklyn.
When you saw a gap and a need for vigorous activism in the Park Slope
community, you founded what has quickly become a well-known,
established fixture in Park Slope—Park Slope Neighbors (PSN).
PSN advocates for community dialogue, contextual and environmentally
responsible development, pedestrian-friendly neighborhoods, small
businesses and diversity in the community. And let's not forget the
way you utilize your wit and writing skills as part of the team that
churns out copious amounts of coverage of the Atlantic Yards fight on
the inestimable NoLandGrab.org
MOIRA MELTZER-COHEN because you make everyone feel so welcome when they enter Fifth Avenue's Bar Reis and you keep the level of cocktail conversation very high. Your Etsy shop, Good Head, is
a great place to find hats and gloves. Your qualities as an
intellectual, a cultural critic, a knitter and a good bartender are obvious to all.
MATT MITLER because for ten years we've loved the black light
magic of your Halloween puppet shows in the ground floor window of your
apartment on Garfield Place. Your theater troupe, Diezi, sounds pretty
wonderful, too. Not only for its artistry but because the group
performs in hospitals and believes that helping others "generates a
profound healing effect that not only serves the patient but also
strengthens the ensembles work."
THE NEWCOMERS TO THE SLOPE, including Barrio, Playa, Babeland, Eric Shoes, Pure Essentials, Yogo Monster, Five Guys Burgers, Paper Love, One of a Find, the Tibetan Store, Primo Atto, Bussaco…more to come
NANCY NANCY because
you lost the lease on your beloved Fifth Avenue shop that was mecca for those in search of funny chotchkas and cards; we understand that you are
reinventing yourself and moving on. Good luck to you. And keep in touch.
DAVID PECHEFSKY because you used your experience in the New York City Council to help the new parliament of Sierra Leone. And you peddle your mother (and your 4-year-old daughter) around Prospect Park in your bicycle rickshaw.
The PSP PUPPET MAKING TEAM because you gave the Halloween Parade
new life with gradiose puppets that floated down Seventh Avenue this
year. Led by Theresay Linnihan of the Puppeteer's Cooperative, helpers
included, Kiera, Toby, Brent, Ariel, Holly, Susan, Amber, Joan, Jim,
Dalien and Havona. We salute all of you.
NERINA PENZHORN because your well-crafted segments for your
series, A Walk Around the Blog on Brooklyn Independent Television
really made the Brooklyn blogging community visible.
ANN PRESCOTT because as a kindergarten and first grade
teacher extraordinaire you have influenced legions of Brooklyn kids at
The Children's House (now Rivendell) and at Packer Collegiate, where
you continue to leave your mark.
PROSPECT PARK TRACK CLUB because of the Turkey Trot, the Cherry Tree Run and all the other running events you do in and around prospect Park.
MALLORY Y. RUTLEDGE because you opened tiny MYR on Seventh Avenue and we love the custom blended foundation and your natural-looking cosmetics and make overs for weddings, proms, parties, special events and
just for every day. Thanks.
JON SCHAEFER because you've hosted and produced the popular
shows, Soundcheck and New Sounds on WNYC radio for years. Your program
was called "The #1 radio show for the Global Village" by Billboard
magazine. Recently, you went to North Korea with the New York
Philharmonic and wrote a moving blog about the experience.

ANNE SCHWARTZ because
you were the midwife to Olivia, that feisty pig, confidante to
Lincoln, fictional and factual children's editor extraordinaire of
Schwartz & Wade at Random House Children's Books, proving profits
in publishing keep on coming when we honor children's intelligence and
imagination and the deity who is in the details.

JON SCIESZKA because your wacky, zany books, including The True Story of the 3 Little Pigs! have been translated into a bunch of language, won a bunch of awards and have sold over 11 million copies worldwide. Not bad.
CARLY ROSE SILBERMAN, a 2-year-old South Slope toddler who
enjoyed everything her neighborhood had to offer. Going to Wantana for
her sticky rice, attending Music Together taught by Kevin, getting
fresh buttery croissants at Parco, and lets not forget visiting Annette
at Toy Space to get a balloon. A sweetheart who died suddenly with no
warning. A tree has been planted and a bench will be made in her honor,
next to one of her most favorite of all Park Slope destinations, the
9th Street Playground at Prospect Park. (In memoriam).

LENORE SKENAZY because
you did the unthinkable: you let your 8-year-old son ride the subway
home from a department store on the Upper East Side. You didn't expect
to get hit with a tsunami of criticism from readers. But you did and
you handled it well; you even came out to Park Slope to tell the tale.
S'NICE because you decided to give the picturesque corner of
Third Street and Fifth Avenue a go and made it the kind of vegan
cafe/restaurant, where locals can dine daily, take meetings, work on
their blogs and novels, and leave keys for house guests.
ROB SPILLMAN because as editor of Tin House, a bi-coastal (Brooklyn, New York and Portland, Oregon) literary magazine,
you publish special issues devoted to themes like Work and African
Literature in Exile. We like how smart and articulate you are
especially leading panel discussions at the Brooklyn Book Festival especially the one called: Movements
and Visions of Identity in the African Imagination with African
authors Binyavanga Wainaina, Patrice Nganang and Breyten Breytenbach.
DANIELLE SUCHER AND DAVE TURNER because you run Jack, an occasional restaurant at the Brooklyn Lyceum. You blog about food at Habeas Brulee and you run your own law firm. Get down girl.
THE BLOG THAT MUST NOT BE NAMED because, as you wrote, "you were black every day for 33 years; Never a nigger until Wall St. moved to Brooklyn." On your blog, you're funny, you're nasty and you insult just about everyone, including yourself. You say it like you see it and we love you for that.
CHERYL THOMAS because as Event Coordinator at the Old Stone House of
Brooklyn you are ever fair and steadfast in your Ever commitment to
crowd control, you are OSH's secret weapon for event management. And
when bestowed upon you, your brilliant smile and departing blessing of
"be careful, be safe" make the world a better place.
JANE TOMKIEWICZ because you've been teaching the Alexander Technique to
groups at the 92nd Street Y since 1992 and privately in Manhattan since
1990. You served as the Executive Director of the American Center of
the Alexander Technique from 1996-2008 and are now very pleased to begin
teaching group and private lessons in Brooklyn at the Feldenkrais
Center of Park at 375 5th Avenue.
ELEANOR TRAUBMAN because you are a writer educator, culture maven, and community-builder whose
passion is connecting people to each other, and connecting people to
tools and resources for living an inspired and effective life. You write that your mission is to "bring people together through the arts, creativity,
and humor." It is also your work as a professional organizer that is highly worth noting: "I assist busy New York women to
cut down on clutter and to create systems of organization for home and
office." And let's not forget your indispensable leadership of the 2008 Brooklyn Blogfest and your dedication to the The Brooklyn Blogade, a monthly
gathering of Brooklyn bloggers. Go girl Go.
JOHN TUCKER because we love dinner and brunch at Rose Water,
a seasonal American restaurant with a commitment to local,
regional, organic and sustainable food.

SCOUT TUFANKJIANA because of your sweeping, intimate portraits of Barack Obama's historic campaign in "Yes We Can," from PowerHouse Books.

PEG TYRE because
you're a Pulitzer Prize winning journalist, who was, until recently, a
senior editor at Newsweek. But your book, The Trouble with Boys, addresses some important and vexing questions: why do boys lag
behind girls in academic achievement? Why are schools failing boys? You
are a godsend to mothers of boys!

MEDUSA SALON because of your inspired fundraising effort for
Barack Obama, Up-do's for Obama. Photos of your Sarah Palin
look-alike contest made their way around the world. Good work girls!
ED VELANDRIA because
you are the subway sketcher. You use a computer tablet and touch pen
for your sketches and try to capture people on the F Train. It's your
therapy, your meditation, and your only chance to draw during a very busy day. "Everyone
is so different, no matter how much you lump people together," you told
the LA Times, who did a front page article about you last summer. "I guess my
ultimate goal is to really capture the soul of a person."
DARREN VON STEIN because in your shop, Prints Charming,
you steer your customers toward frames that make the Francis Bacon
painting soar—- or the hand print by our second grader sing—and
then lets us imagine we found it ourselves! Like any good frame you
never draw attention to yourself. You don't brag, don't whine, you
don't even charge a lot—although you're a master craftsman who has
been at this for a couple of decades There's something so darn slopian
about this kind of unassuming respect for tradition, not to mention
good old neighborliness.
CYNTHIA WADE because
you won the Academy Award for your short subject documentary
"Freeheld," the story of Detective Lieutenant Laurel Hester, who spent
25 years investigating tough cases in Ocean County, New Jersey,
protecting the rights of victims and putting her life on the line. She
had no reason to expect that in the last year of her life, after she
was diagnosed with terminal cancer, that her final battle for justice
would be for the woman she loved.
REBECCAH WELCH because as Senior Associate Director of Communications at the Center for the Urban Environment you work hard so that everyone knows and understands what's going over there. You are also involved with the Buy in Brooklyn initiative and you personally contributed to the Community Bookstore
in its greatest time of need. You also wrote those wonderful Why Shop
Local? profiles of local entrepreneurs, which delighted the readers of OTBKB. For your community mindedness,
your environmental smarts, your devotion to local issues, It was a no-brainer putting you on this list
WASHINGTON PARK (formerly JJ Byrne Park) because you got a new name and thanks to the Parks Department, Boymelgreen Developers, Kim Maier and a a whole slew of pols, you got game—and a new skate park, two new
basketball courts,
six handball courts, a new dog run, new fencing, gates, pavement and
landscaping. Coming soon: a synthetic turf green, new fencing,
landscaping and the plaza area opening the view of the Old Stone House
to Fourth Avenue.
JOYCE WATSON was the crossing guard at the corner of First
Street and Seventh Avenue, with the angelic voice, she will be
remembered by students and parents for the lovely way she spoke to the
children. Hello beautiful. Good Morning, my sweet angels. Hello lovely
lady. In memoriam.
MO WILLEMS even though you don't live here anymore we still LOVE the Knuffel Bunny: A Cautionary Tale and Knuffel Bunny: A Case of Mistaken Identity. You brought a small dose of fame to the laundromat on Sixth Avenue and 5th Street (which is under new ownership now).

MICHAEL WINKS (with the beard) because
whether you're writing plays or calling for alcohol-based
fuels and a members' only alternative fuel club to supply fuel made
almost entirely from ethanol, an alcohol distilled from grains like
corn, you are a creative guy with a lot to say. We love your play,
Baby Love (performed at Brooklyn Reading Works), an absurdist take on contemporary parenting. Photo courtesy of the Brooklyn Paper.
GILLY YOUNER because you're a talented architect, a great
mom, a board member of the Park Slope Civic Council and Develop Don't
Destroy Brooklyn and you recently appeared in The Civilians' Brooklyn
At Eye Level, a lively performance of theater, music and dance that
took its
inspiration from interviews with the real life players in the story of
Brooklyn. And in March you are curating a retrospective of paintings by your late father, Chaim Herbert Youner, at the Upstream Gallery in Dobbs Ferry.
AARON ZIMMERMAN because you run the New York Writers Coalition, the largest community-based creative writing program in the country. And we love your beliefs:
"Everyone is a writer, regardless of prior writing experience and
formal education;
Through encouragement and support, people grow as writers and
artists;
In the value of the uniqueness of every individual's voice;
Each person's experiences are a source of strength and power as a
writer and an artist;
In creating and maintaining a non-judgmental, open and respectful
community where everyone is encouraged to support and listen to each
other and to take risks and grow as writers;
Each person, through writing, can shape and influence the lives of
others; and
We can achieve social change by providing access and opportunity for
all writers, regardless of race, ethnicity, class, age, gender, sexual
orientation and physical ability."
And that, Dear OTBKB readers, is the fitting end to this year's Park Slope 100.