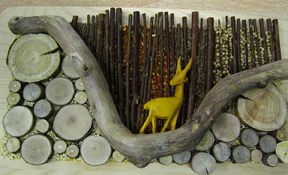 This weekend (October 17-18, noon until 6 p.m.) my neighbor Bernette Rudolph will open her studio for all to see as part of the annual Gowanus Open Studios 2015.
On your visit, you will get to see how this artist transformed her typical Park Slope apartment into a working studio. In addition, you will experience the unique artistic point of view—in sculpture and prints—of this elderly artist of great distinction.
Rudolph's basic medium is wood. Over the past fifty years, she has pursued many themes and subjects for her work, researching and exploring ideas that were meaningful to her at various stages of her life. "Wood has always been part of all my work, used for itself or as a component of the image," she writes
She is expert at both a band saw and a scroll saw and uses fine wood, as well as discarded wood found on beaches. "Wood presents a challenge that continues to test my skills," she writes.
Rudolph is also a master printmaker. In addition to being an exhibiting artist, she teaches art to children in her home. Her studio is located at 457 Third Street betwee Sixth and Seventh Avenues For more information, go to Bernette Rudolph.com or bernette(at)earthlink(dot)net.
To learn more about the Open Studios, which are in Gowanus, Park Slope and Windsor Terrace and all the participating artists, click on this link: http://onlytheblogknowsbrooklyn.com/wp-admin/post.php?post=60246&action=edit