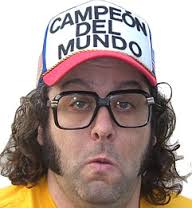 This week on The Katie Halper Show on WBAI, Katie chats with the "terrifically entertaining" (New York Times) Judah Friedlander. The comedian, actor, cartoonist, photographer, and author  (30 Rock,  Wet Hot American Summer, American Splendor., How to Beat Up Anybody) will riff about politics, life, comedy and his new book,  If the Raindrops United (Hachette Books, October 2015), a  collection of hilarious and scathing drawings and cartoons, which Tina Fey calls "in the grand '70s tradition of B. Kliban" and predicts "will probably fix the world." 
THE KATIE HALPER SHOW
Where serous people can be funny and funny people can be serious.
Called "hilarious" (The Nation) and "cute and somewhat brainy" (The National Review, of all places) standup comedian, filmmaker and writer Katie Halper is a mash-up of Jon Stewart and Emma Goldman, using comedy to get into serious issues and news stories.  Her weekly WBAI show (6 pm on Wednesdays) takes a humorous look at the news, politics, pop culture, and history through news segments and conversations with  guests that include Margaret Cho, Nate Silver, Ta-Nehisi Coates, Jelani Cobb and other writers, journalists, activists, artists and political comedians.
Born and raised on the mean streets of New York City's Upper West Side, Katie is a A New York based comedian, writer, filmmaker and history teacher, Katie is a co-founder and member of the comedy ensemble Laughing Liberally, and has performed Town Hall, Symphony Space, The Culture Project, D.C. Comedy Festival, and The Nation Magazine Cruise. Her writing and videos have appeared in Salon, The New York Times, Comedy Central, The Nation, Jezebel, Guernica, Alternet, Raw Story, Feministing and more. Katie appears regularly on HuffPost Live as well as MSNBC, RT, the Alan Colmes Show, and Sirius radio (which hung up on her once).
 Katie attended the Dalton School, where she has taught history, and Wesleyan University, where she learned that "labels are for jars."
Listen to Katie's show here: 
https://itunes.apple.com/us/podcast/the-katie-halper-show/id1020563127?mt=2