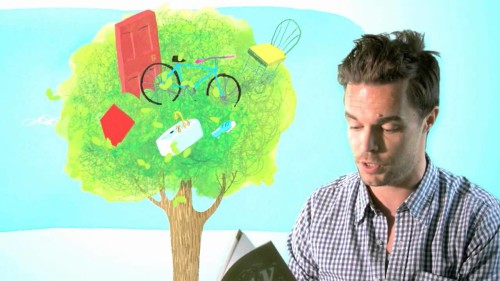 In honor of the 25th Anniversary of the Children's Books Ireland Book of the Year Award, Irish Arts Center introduces its first-ever festival celebrating Irish children's literature!
On October 8th at Irish Arts Center, the very best Irish children's writers recognized at the leading book awards in Ireland, the CBI Book of the Year Awards, are featured at Rí Rá Festival of Children's Literature. Bringing children and families together to creatively engage with literature, the festival encourages readers tall and small to discover new books at readings, talk with those who create them, and share their love for reading. Stay all day, or pop in to play at one of our many free events for kids, teens, and adults.
Rí Rá, Irish Gaelic for "ruckus" or "mayhem," is the perfect word to describe this one-day extravaganza of Irish children's literature.
Authors include Áine Ní Ghlinn, Oliver Jeffers (pictured above), Chris Haughton, Louise O'Neill, Gabriel Rosenstock, and Eoin Colfer (Children's Laureate of Ireland).
Sunday, October 4, 2015
11 am – 4 pm
Irish Arts Center553 West 51 Street, New York, NY 10019
212-757-3318
$5 per person for individual events: Oliver Jeffers (11 am,) Chris Haughton (12 pm,) Gabriel Rosenstock (1 pm,) Aine Ní Ghlinn (2 pm,) and Louise O'Neill (3 pm)
Festival Pass $15 (+ 20% off books)
$50 Festival Family Pass
(2 adults + 2 kids OR 1 adult + 3 kids + 20% off books)
FREE for Junior Joyce & Family Circle Members