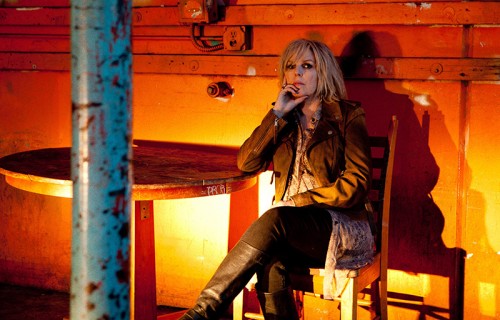 Cherish the experience, folks. Last night at Celebrate Brookyn, we caught more than a wiff of greatness. The sky was dripping tears (someone said it felt like spit) when Lucinda Williams thanked the audience for braving the forecasted rain. But it never turned into a full fledged sqaull. Instead, we got  genius.
For me, it was like seeing Bessie Smith, Billie Holiday, Janis Joplin or Nina Simone in the flesh. This is what a living legend looks like. And alive it was: ninety minutes with one of America's greatest songwriters (it's poetry, really) with a voice like fermented syrup mixed with heartache, disappointment, desire, and a hypervigilent mind.
Cherish the experience, folks.
I saw her in 1998 at Irving Plaza. It was a late show that started an hour late. I had to stand at that famously seatless club. She'd just released her masterpiece Car Wheels on a Gravel Road, an album that took six  years to make and she seemed a testy woman. A famous perfectionist, at one point during the show, she insisted on starting a song over again. She seemed angry with herself and tormented by a quest for transcendence.
That was then, this is now. She's sixty-one with a plume of grey hair wearing tight jeans, a partially buttoned button-down shirt with a long-hanging gold cross. She's bold, confident, poetic and badass. Her virtuosic four-man band perfectly  infused her songs with a rootsy authenticity.
The evening never felt nostalgic like a greatest hits roll-out. Never. A late-bloomer, Lucinda is a living, breathing artist who just put out one of her best albums, Where the Spirit Meets the Bone, written after the death of her beloved father, the poet Miller Williams.
The set touched on songs from a few of her albums but not all of them. She's got a discography that would make the best drool and songs that are true classics of rock poetry.  Older and wiser, she keeps the perfectionism at bay—but make no mistake she strives for excellence while embracing a ragged spontaneity. She's feisty and outgoing when she speaks up for a better world during the song "Foolishness" giving a shout-out to Bernie Sanders, thanking Obama for the Affordable Care Act, and sending condolences to the families of the victims of the Charleston hate crime "because that's what it was," she said.
For me, it's her attention to language and unerring sense of line that is so thrilling. She writes poetic stuff but it doesn't come across as precious or pretentious. I particularly enjoy her use of place names: for for me it's southern geography in action. Here from "Lake Charles":
He had a reason to get back to Lake Charles
He used to talk about it
He'd just go on and on
He always said Louisiana
Was where he felt at home
He was born in Nacogdoches
That's in East Texas
Not far from the border
But he liked to tell everybody
He was from Lake Charles
Did an angel whisper in your ear
And hold you close and take away your fear
She also writes beautifully about sexual longing and desire. Here from "Essence":
Baby, sweet baby, bring me your gift 
What surprise you gonna hit me with 
I am waiting here for more 
I am waiting by your door 
I am waiting on your back steps 
I am waiting in my car 
I am waiting at this bar 
I am waiting for your essence
Her songs can be like daggers. Beware of spurning Lucinda. "One of the great kiss off songs," said the man sitting next to me at the show of this song:
You talk about the junk you did,
Like you talk about climbing trees.
You look like a little kid,
With bruises on your knees.
You will never cop,
To the damage that's been done.
You will never stop,
Cos it's too much fun.
Now you want somebody to be your buttercup,
Good luck finding your buttercup
She opened with two songs I didn't know and her voice sounded off: low octave and slightly off key. We noticed she was drinking from a cup of tea and figured she had a cold or had ravaged her voice from a year of straight touring. But by song number three, "Lake Charles," she was in excellent form. "Drunken Angel" followed and from then on it clear we were in good hands with a performer expert at pacing her set lists.
Surprises? She did fewer ballads than I expected. I would have been up for a night of dark and delirious songs about suicide, sexual longing and people who died too young. Instead, we got an adventurous roster of roots rock, funk, blues, and raucous country. As her father wrote: "The world still doesn't quite know what table Lucinda's work belongs on. She doesn't fit neatly into any of the established categories. She's still a genre to herself, and always will be."
Surprises? She did a slew of inspired covers, including Springsteen's "The Rising," The Clash's "Should I Stay or Should I Go" and Neil Young's "Keep on Rocking in the Free World" (Take that Donald Trump).
At moments during the show I thought of Patti Smith. The two remind me of each other in their dedication to language, authentic feeling and a kind of punk audaciousness. At the end of the evening, Lucinda shouted out: "Power to the people!" and then quickly amended it to "Or as Patti Smith would say, People Have the Power."
Cherish the experience, folks. Last night at Celebrate Brooklyn, we were delivered a deluge of greatness. And it didn't even rain.