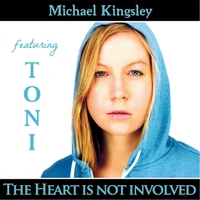 There's something at once ultra contemporary and classic about Toni, who is fast becoming a regular on New York City's alt-cabaret circuit. I was introduced to her work through cabaret singer Karen Kohler, who is very much in the know about the best and the brightest lights musically in New York.
Clearly, it's the haunting, raw quality of her voice, the poetic sensibility of her words, and her magnetic stage presence that astonishes audience. "I feel like her voice reaches me in the deepest places of my soul and pulls me up," raves actress/singer Valentina.
Working with Michael Kingsley, an award-winning composer and producer, Toni will appeal to those who like their love songs edgy and dark. She is equally at home in a cabaret or a Bushwick club. "My songs are about survival and love as the foundation of all that is important," she says.
She approaches her work philosophically. "I believe in the truth and the essence of things," Toni says. "I try to steer clear of the world of created complications, the modern mind dust."
Indeed, listening to her latest work with Michael Kingsley The Heart is Not Involved one feels clear of "mind dust" as the beauty and depth of the singer and her song infiltrate the air. A sweeping orchestral arrangement anchors the song, which is about deep loneliness. The vocal is wrenching and real.
You can listen (and buy) Toni's music at CD Baby.