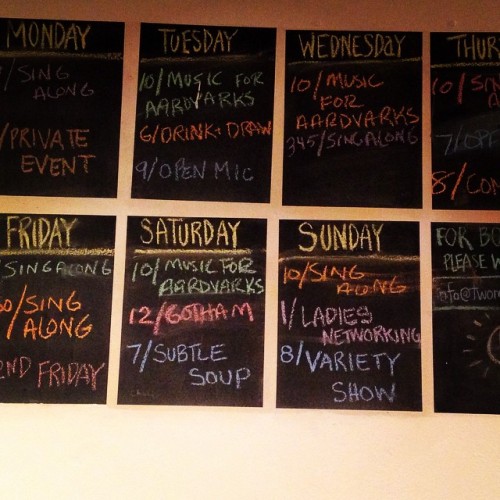 With a name like Two Moon Cafe and Art House, it was easy to think of cafe owners Joyce Pisarello and Danielle Mazzeo as two beautiful moons illuminating a lonely stretch of Fourth Avenue to create a cafe and arts space that would inspire community and connection.
To say that they suceeded would be a vast understatement. Their cafe, which just closed after three years in business served coffee, wine, soups, salads, sandwiches and baked goods. It was busy from early morning to late at night with activities as diverse as children's music classes, Peace Corps meet-ups, life drawing sessions, open-mics for comedians, indie performers, folk singers, poets, writers, and wall space for artists of all stripes. And in recent times, they have become a bakery for their delicious Two Moon Artisanal Shortbreads in various flavors that include coconut and cardamon and, my favorite, rosemary and sea salt.
It was clear the first time I met them that they had just the right amount of humor and energy to sustain this adventure. Sure, the location was dicey but it had potential as developers were madly building co-ops, condos and rental high rises on Fourth Avenue and a Whole Foods was a-coming just a block away. Still, there was not much in the way of pedestrian traffic and another cafe had already occupied that spot and bailed out.
As impossibly young as they were (were they even out of their twenties yet?) Joyce and Danielle had already accomplished quite a bit in their lives and I knew they were up for the wild challenge. There were obstacles a plenty but with humor and resilience they dug in and made something very special in that space.
The two moons met while working in New York City politics  "where they learned they didn't like shaping public policy as much as shaping dough."
Before Two Moon, Joyce served as a Peace Corps volunteer and studied international affairs at Columbia University Danielle earned a degree in Anthropology and Religious Studies at Brown University. She also taught 3rd grade, working for Planned Parenthood, Women's World Banking, the SPCA, and a progressive think tank.
After much soul searching and brainstorming the two decided that hey wanted to open a cafe and provide a space for the arts on the funky west side of Park Slope.
Meeting with them just weeks after opening Two Moon, Daniel and Joyce were all ears about the ins and outs of Park Slope. I gave them a quick Park Slope 101 about the people, places and things that make this neighborhood tick. It was this curiosity and enthusiasm that made their cafe such a popular destination.
I was wistful and sad when I heard that Two Moon was closing. A plumbing disaster and an unhelpful landlord are just two of the reasons that inspired the two to move on (I don't really know the story).  I won't say they called it quits because these two are already plotting their next adventure. Heck, they've got an artisanal shortbread business to run and who knows what else they've got up their collective sleeves.
I want to wish the very best to Joyce and Danielle. Thank you for being our two moons and for illuminating the night and day on a now enlivened stretch of Fourth Avenue (thanks to you). I look forward to whatever lies ahead.