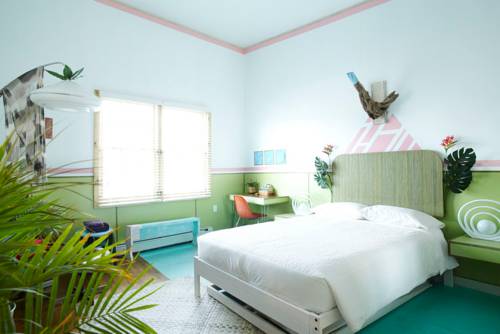 Has anyone stayed at the Playland Motel in The Rockaways? I am sort of intrigued. It sounds like it might be a fun night away from home.
On the website it says: "Playland Motel is ideal for those adults who want to go to the beach and hear good music, eat fresh & tasty food, drink delicious drinks, and most importantly, have a great time. Located right near the beach, and a few steps from the subway line which connects directly to JFK, Brooklyn & Manhattan, it is a very rare opportunity for a fun getaway."
I remember in high school we used to go to Rockaway Playland as a class trip.  That was always a fun day of roller coaster debauchery. The amusement park seemed very down on its luck back in the 1970's but maybe it wasn't. I just didn't know what make of the Rockaways back then.
The rooms look, well, interesting. They were all designed by different artists. The room I like was designed by Design Department (above) and I like it because it has a desk;  I might want to do some writing there. But I am intrigued by the room with the hammock. All but one of the rooms has a shared bathroom. They do say this on the site as a kind of warning. The all caps are their's:
IT IS NOT A RESORT, ALL QUEEN GUEST ROOMS SHARE A BATHROOM, WITH THE SUITE BEING THE ONLY ROOM WITH A PRIVATE ENSUITE, NOR IS IT FOR THOSE LOOKING FOR A RELAXING & LUXURY STAY IN THEIR HOTEL ROOM WATCHING TV (THERE ARE NO TV'S IN GUEST ROOMS..), BUT YOU CAN RELAX DOWNSTAIRS IN THE TAVERN WITH FRIENDS AND OTHER GUESTS, LOUNGE WITH A DRINK, OR STROLL TO THE BEACH FOR A SWIM, SURF OR TAN.
I think they're managing expectations. I think it sounds like fun. Cool location, nice rooms, fun adventure. You?