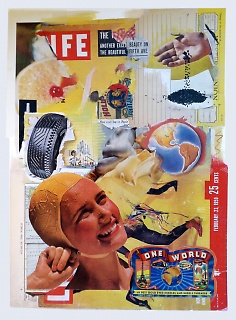 I ran into Marlene Weisman on the bus the other day and she told me about her show of collage, painting and assemblage  at The Brooklyn Public Library on view through September 21, 2014.
I met Marlene years ago at the Fifth Avenue Fair, when she was selling these cool make-up bags that said Greetings from Park Slope. I thought that was so great back then because nobody was using Park Slope or even Brooklyn on t-shirts or other accessories. The type was vintage-y and I think there was a picture of the Brooklyn Bridge—I still have it around here somewhere.
We encountered each other a few years later through my blog. She was also a regular at the PS 321 Holiday Crafts Fair where I'd annually buy a box or jewelry item with her signature surrealist/vintage style of collage.
Her show at the Brooklyn Public Library is beautifully titled: Making the Mundane Marvelous: Transformation in Mixed Media. I  plan to get over there soon to enjoy her unique and humorous way of reconstructing reality from pictures from old magazines, supermarket circulars, and other detritus from popular culture.
In her description of the show on the Brooklyn Public Library website, Marlene writes: "My work explores the roles of modern women today in an increasingly demanding world. My life experience as an artist, career person and mother has provided me with a great deal of subject matter for my art. I find inspiration in the everyday material of the past and present. By incorporating these ephemeral elements into my mixed media pieces, they serve as symbols that communicate what I am expressing."
The show includes pieces from her great While I Was Stuck in the Supermarket: Homage Series. I love the one pictured below featuring author Zadie Smith. "The idea for the series came to me while waiting on line at the 9th Street C-Town supermarket. I wondered how women—or anyone, in fact—are able to achieve the balance between seriously important creative pursuits and the mundane chores of daily life. To honor the achievements of the iconic women I am inspired by, I decided to create the "Homage" series by using supermarket circulars as a base," she writes.
Marlene Weisman began her career designing promotional graphics for the music industry. Her interest in pop culture led her to the NBC art department. From 1988 to 1995, she created on-air graphics, logos, and props for Saturday Night Live (for which her team earned an Emmy in 1993), Late Night with David Letterman, and Late Night with Conan O'Brien. Since 2009, she has worked out of her Brooklyn art studio, creating a variety of mixed media artwork that includes her current explorations in collage.