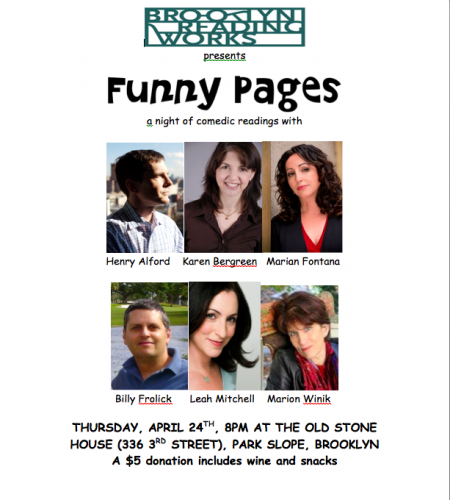 Marian Fontana has once again pulled together an incredible line-up of enormously talented and funny writers from near and far for Funny Pages 2014. You won't want to miss what is sure to be an uproarious evening of humor.
Looking forward to seeing you on April 24th at 8PM at The Old Stone House in Park Slope.
 ABOUT THE FUNNY PEOPLE: 
Henry Alford has written for the New York Times and Vanity Fair for over a decade. He has also written for the  New Yorker. It is entirely possible that you have heard him on National Public Radio. He is the author of a book about manners,Would It Kill You To Stop Doing That?; a book about the wisdom of people over the age of 70, How to Live: A Search for Wisdom from Old People (While They are Still on This Earth; a humor collection,Municipal Bondage; and an account of his attempts to become a working actor, Big Kiss, which won a Thurber Prize.
Karen Bergreen is a stand up comedian, a former lawyer and the author of Perfect is Overrated and Following Polly, a novel. She lives in New York City with her husband and two sons.
Billy Frolick's journalism has appeared in The New Yorker, Movieline, Premiere, and The Los Angeles Times. His screenwriting credits include DreamWorks Animation's MADAGASCAR. Billy's 2003 directing debut, It Is What It Is, screened at many global festivals, including the New York International Film & Video Festival, where it won the Audience Award for Best Picture, as well as prizes for Best Screenplay and Best Directorial Debut. He is preparing to direct the comic heist Low Notes, from his own original screenplay.
Downtrodden Abbey  released in December from St. Martin's Press, is Billy's fifth book-length parody. The first, The Ditches of Edison County (Plume, 1994), was a national bestseller, and was published in several foreign editions.
Marian Fontana's work has appeared in The New Yorker, Vanity Fair, Salon.com, The Guardian and more. Her memoir, A Widows Walk was published by Simon and Schuster and was called a Top Ten Great Reads of 2005 by People magazine and on the New York Times best selling biography list and was nominated for a Books for A Better Life Award. Her essays have appeared in the anthologies Money Changes Everything andThe Time of My Life for Random House and most recently in My Apocalypse for Sock Monkey Press.
Leah Gray Mitchell, a musician,actress and dancer, was one half of the acclaimed duo, Two Chicks and a Casio. After releasing their second album, Back2Bitter, they played Joe's Pub and numerous other venues in New York City and Boston. Jane magazine sponsored a West coast tour to San Francisco, Los Angeles and Seattle. She has performed in numerous film and theater projects and runs her own ballet school on Staten Island.
Marion Winik was Baltimore Magazine's 2013 pick for "Best Humorist," Marion Winik is the author of eight books of creative nonfiction, including the New York Times Notable BookFIRST COMES LOVE and THE GLEN ROCK BOOK OF THE DEAD. Her most recent are HIGHS IN THE LOW FIFTIES and the e-book GUESSWORK. Marion writes a regular column at BaltimoreFishbowl.com, and her work has appeared in The New York Times, The Sun, Salon, and a bunch of other places. She reviews books for Newsday and Kirkus Reviews, and her commentaries for All Things Considered are collected atwww.npr.org. She is a professor in the MFA program at the University of Baltimore.