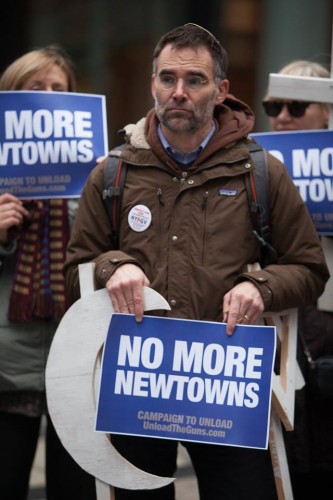 On Wednesday my sister called to say that Rabbi Andy Bachman would be resigning his post at Congregation Beth Elohim in 2015. As a member of the synagogue, she'd received an email from the President of the congregation. I told her to send me the email. Then I realized that in this day and age, the information would be on Facebook.
And there it was. Rabbi Bachman posted his letter to the congregation on Facebook and comments were coming in fast. I also checked Rabbi Bachman's blog Water Over Rocks and saw that his letter was posted there, too.
Which brings me to how I first became aware of Rabbi Bachman: I discovered his blog. I loved the idea that a rabbi had a blog. This was back in 2005 when I was an insanely enthusiastic hyper-local blogger and he was the leader of a group called Brooklyn Jews. Blogging was not the ubiquitous activity it is today so I felt he was a kindred spirit in the art and soul of the blog. In fact, I was so impressed with his thoughtful meditations on religion and community,  I invited him to be one of the speakers at the Second Annual Brooklyn Blogfest in 2006 (along with author Steven Berlin Johnson, the late Robert Guskind of Gowanus Lounge, and Brownstoner's Jonathan Butler).
That night, a huge crowd gathered at the Old Stone House. We had to turn many away. I waited for Rabbi Bachman to show up because he was listed as the first speaker. Unfortunately, he had to attend to a rabbinical emergency, a hospital visit I think. The Reverend Daniel Meeter of Park Slope's Old First Dutch Reformed Church, also an early blogger, graciously spoke to the audience and said a prayer. In Dutch.
A year later, I reported on Reverend Meeter's passionate and soul-baring post on his blog about three homeless men who slept on the steps of his church and his frustration with them. Reverend Meeter had tried help these men, tried to get them jobs, apartments and health services. But they continued to live on the church's steps. When the men urinated on the steps, Meeter lost it. He grappled with what to do about it on his blog:
"Their names are Robert Royster, Will Franklin, and Frank. They cause me a great deal of trouble, and lots of anger from our neighbors, and I do wish they would go away, but, whatever else, they remain human beings, images of God, and they need to be treated with respect."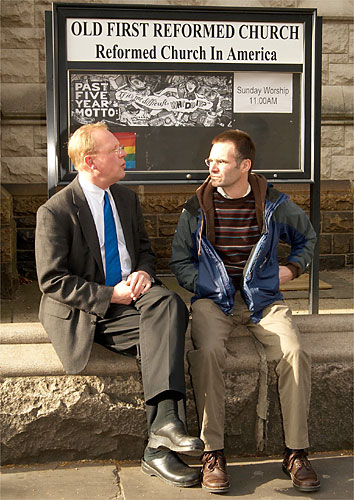 Soon after, the Reverend and the Rabbi united to form the Park Slope Coalition for the Homeless. This group was created after a meeting with the city's Department of Homeless Services. Bachman posted the group's goals on his blog: "Acknowledge with dignity those who are homeless. … Work for their dignity and safety. Connect them to the variety of homeless services in the city. Support the provision of services to these people."
That was not the last time that the Reverend and the Rabbi united to do service for their community. Together they added an ecumenical note to Park Slope, when they borrowed each other's sanctuaries, when building troubles prevented them from using their own. Spending Yom Kippur with Rabbi Bachman in Old First Church is a memory I will forever cherish.
As to his community work, Congregation Beth Elohim seemed the perfect platform from which to address that which is broken in the world. I figured he'd be a rabbi forever.
Apparently, he saw it differently. After turning 50 and after seeing the devastation of Sandy and what it revealed about underserved and impoverished comminities like Red Hook and Coney Island not far from Park Slope, Rabbi Bachman decided to focus on homelessness, hunger, violence and poverty in New York City—not just Jewish service.
 "Last year, the combination of watching our community's response to Hurricane Sandy as well as the fortuitous and inevitable rite of passage of turning 50, I began to explore the idea of moving beyond strictly Jewish service and contemplate seriously the idea of serving disadvantaged communities broadly throughout New York City.  The issues of poverty, hunger, homelessness, education, and violence remain central to my own concerns as a citizen of New York."
I will admit that my initial reaction was sadness.
Sadness for the Jewish ritual that lies ahead that won't involve Rabbi Andy Bachman. He presided over my father's funeral service in 2008. And he did so beautifully. Later he wrote about the service on his blog:
"A beloved man died at age 79 and the structure of mourning and remembrace that was so carefully set in place by his daughters was so perfectly attuned to his wishes and to his abiding influence on them as a parent so that even as they were choosing on their accord how to remember and honor him, his touch and voice could still be heard."
In February, he led the funeral service of Edith Jacobson, my sister's mother-in-law. Again, we witnessed Bachman's special way of meeting death and helping a family through it with Jewish ritual and carefully chosen words and prayers. My sister especially appreciated his presence at the cemetery and how he instructed the mourners to stop seven times on their way to the grave as he recited a Psalm.
It is always bold and inspiring when someone makes a huge change in their lives. It can also be unsettling, not unlike what happens when people decide to divorce. We accept the labels that people adhere to themselves. When changes like this are announced it can feel like a landmark is falling or an institution is crumbling (to paraphrase the song Will You Still Be Mine).  It also forces us to rethink what we are doing. And maybe that is the spiritual "take-a-way." Rabbi Bachman is not only changing his life, but in the process forcing others to rethink their own.
NOTE: The photograph of of Andy Bachman was taken just days before the first anniversary of the Newtown school shooting, when a group of clergy including Rabbi Bachman and Minister Donna Schaper of Judson Memorial Church, took part in a solemn vigil outside Cerberus, an investment firm that profits from the sale of military style assault weapons including the one used in the Newtown shootings. Photo by Tom Martinez.
The photo of Reverend Meeter and Rabbi Bachman is from the Brooklyn Paper.