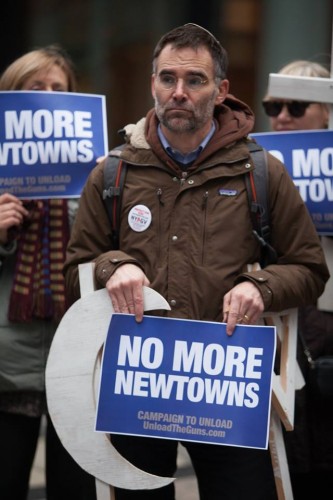 Just days before the first anniversary of the Newtown school shooting on December 14th, a group of clergy including  Rabbi Andy Bachman of Congregation Beth Elohim (pictured above) and Minister Donna Schaper of Judson Memorial Church, took part in a solemn vigil outside Cerberus, an investment firm that profits from the sale of military style assault weapons including the one used in the Newtown shootings.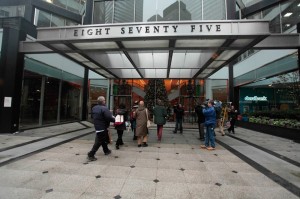 Organized by The Campaign to Unload and New Yorkers Against Gun Violence, the group entered the Lexington Avenue office building where Cerberus is located, and delivered a letter demanding that the CEO live up to an earlier promise he made just after the Newtown shooting, that he would divest from the arms manufacturing companies they were profiting from.
The company, which owns the Freedom Group, the gun manufacturer whose Bushmaster rifle was used by Adam Lanza to kill 20 first graders, six adults and then himself on Dec. 14, 2012, owns $900 million worth of gun manufacturers in the United States.