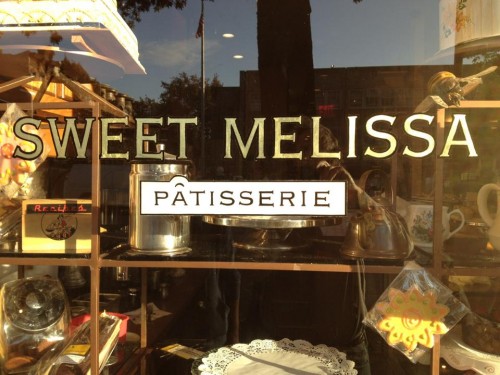 I am so sad about the closing of Sweet Melissa. Where oh where will my sister, her daughter and I meet every Saturday morning at 10AM? That's been our routine for years now. We love it. They let us sit there as long as we want. We order coffees, oatmeal, waffles, toast. And we talk.
And talk.
This is where we catch up on the events of the week and welcome the weekend. The staff is wonderful. They know us and treat us so well.
Yesterday, there was a handwritten note on the door of Sweet Melissa, written by Melissa, who has to be one of the best bakers in New York. She said that shop has been struggling for quite some time, since the economic downturn. All of their shops are now closed and they are rethinking things. They may reopen in New York City or in New Jersey where they live now.
What a loss to Park Slope. What a loss to me. Those Saturday morning with my sister mean a lot. Such special times.
And it's not just the restaurant that we're losing, we are losing a WORLD CLASS PATISSERIE with sublime offerings: bread pudding, glorious cakes, beautifully decorated cakes, cup cakes, cookies, patisserie items, special items for the Jewish holidays. Below is the post I wrote in 2006 about Sweet Melissa when it was brand new:
Sweet Melissa, nice to have you on Seventh Avenue. Everyone is buzzing about you. You're the talk of Seventh Avenue as in "Hey, the New York Times had something about them yesterday" or "It's very pretty." "It's really big."

I've been and I like it. Actually, it's my new hang — no, I'm not abandoning my seat at Conn Muff. Diaper Diva, OSFO and I just like to try new things from time to time.

It's a bit more serious than Conn Muff. You need a little bit more time for the waiter service. It's not your quick let's meet for a latte kind of place. It's a more formal: "We need to talk. Do you want to meet at Sweet Melissa?"

It's a perfect place to have a elegant treat with a good friend on her birthday.

Tea with one's mother, sister, or friend is a must. It's a bit pricey. But we really needed a place for high tea.

I plan on visiting Sweet Melissa with a notebook or writing paper. It looks like the place to go for writing letters or thank you notes. Good for writing poetry, or notes for my Smartmom column.

I predict it will be the cafe of choice for those serious friend-to-friend chats ("You've been acting weird. What's going on?"). The tables are close, though. It's not ideal for telling a friend you're cheating on your husband or something equally confidential.
I can confirm that Sweet Melissa truly was my "go-to" place. There were years when I felt like I was there every day of the week: meeting with friends, meeting for work, meeting for interviews, meeting about the PS 321 Yearbook, meeting with PS 321 moms and later meeting nostalgically to catch up with PS 321 moms...there was no end to the coffees I had at Sweet Melissa. And the conversations.
No wonder I felt maudlin yesterday after seeing the note in the window of Sweet Melissa. It was Halloween, which always makes me feel nostalgic for all the Halloweens with my son, now 22, and my daughter, now 16. And I felt sad about a favorite place closing.
Thank you Sweet Melissa for being our favorite place to sit, to sip, to eat and to talk. And talk we did. End of an era, I guess. Best of luck to you.