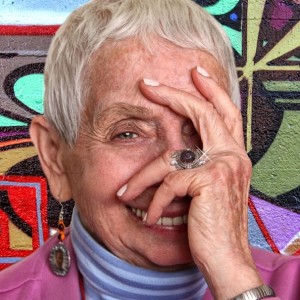 Do you know this woman hiding half her face behind her fingers? That's Bernette Rudolph, my neighbor and a wonderful artist who lives on Third Street in Park Slope. She is also one of the organizers of the Park Slope/Windsor Terrace Artists Open Studio Tour this Columbus Day Weekend (October 12-14, 2013).
At their website,there's a map, studio addresses and information about the exhibiting artists. It's a wonderful group of artists including Tom Keough, who does wonderful and mysterious night paintings of Brooklyn Streets. The other artists are Phillip de Loach, Joy Walker, Bernette Rudolph, Janie Samuels, Lloyd Campbell, Bob Hagan, Robin Epstein, Darcy Lynn, Grace Markman  and David Listokin
At her studio, Bernette will show what she's calling "Master Paintings in Three Dimension." By that she means 3-D treatments of Chagall's wedding couple flying off the surface, Picasso's Guernica, and other master paintings.
I think it sounds fun.
Below is a painting by exhibiting artist Joy Walker: