By MATTHEW TAUB
Chris Roberts — Brooklyn short story writer nominated for the Pushcart Prize and author of Kindle Single "Hazy Shade of Winter" — considers himself the literary world's most ruthless critic and relentless muckraker of a padded, self-protective industry largely impervious to new and emerging writers lacking connections or arbitrary praise. But to others, he's simply a nasty, mean-spirited troll — though he vehemently disputes the title. He recently sat down with fellow aspiring, frustrated, and unpublished writer Matthew Taub, of Only the Blog Knows Brooklyn, for a few questions.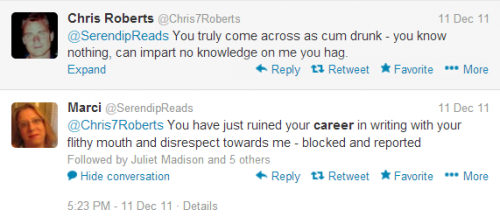 MAT: You've been been described as "the king of the one-star review" (for the long list of books others praised but which you've canned), a "mangler of English" (for your unsolicited, expletive-laden diatribes on social media), and more innocuously (but by no means less sympathetically), as an "aggressive suitor"  when seeking to have your own work accepted or promoted. How do these descriptions sit with you? Are you misunderstood? Should others should view you more kindly?
CR: It would be easy to say I am misunderstood and that is why I am not. I only really seek a reaction from my writings. Even then I make it a point not to respond to one-star reviews, it is bad form, old-fashioned or not. I find most people to be inconsequential and do not care what they think, I am truly my own man. I would rather spend time with a meth head, who is naturally inclined with more insight than ten Faulkners. And yes, I know Mr. American South is dead, it is an illustration.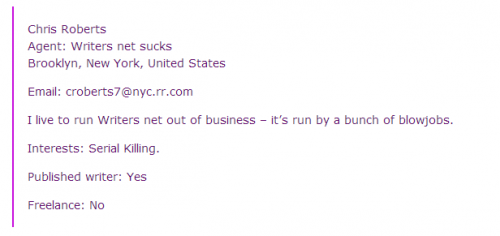 MAT: You have some published articles from several years ago (in 3:AM Magazine, e.g.) that critically lampoon The New Yorker and others as sort of a self-protective, repetitive promotion for those already in the literary stratosphere. This criticism still resonates today. For example, I read a lovely piece by Zadie Smith in the New Yorker in February, but here she is again this week, with yet another work of short fiction, while new or emerging writers essentially don't have a chance (as your 3:AM article describes). But is this really "collusion," as you insist, or simply shortsightedness? And what, if anything, should the literary big wigs do differently to cultivate new talent?
CR: Short-sighted invariably and to the detriment more for "The New Yorker" than its readership. The leadership must groan when they have to run one more story from a Franzen or others who style their work via redundancy. I can easily say that most at the New Yorker are suffering from depression, the sameness clouding their eyes. How can you not laugh at their plight?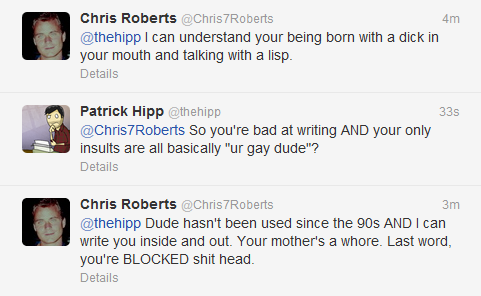 MAT: The myriad world of literary magazines is a similar source of concern for you. You believe these publications should always pay you (and presumably others) for acquiring content. But what if these publications are barely able to make due as it is, their work merely a labor of love?  
CR: Literary magazines are not what they once were. Their circulation is a large part of the equation, you simply reach a larger audience online. "The Paris Review" is a good example of intellectual recidivism and conforming, not confirming literature's vibrancy. Their author interviews, their true pride, are meaningless geometric patterns laid down on the page. Above all, these back and forths are complicit in there nature. I respect you, I respect the Review, but please do throw some softball questions. Yawn on, like forever is all I can say, it's tedious offal. The other big lit mags, due to the times, are reduced to begging for subscriptions on social media and yes, it is a beautiful thing. Soliciting online is not sad, it is grotesque.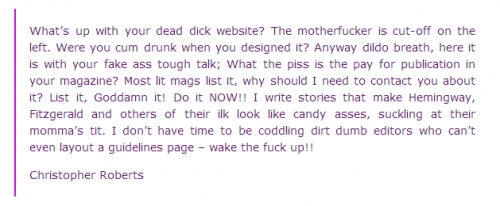 MAT: Intellectual critiques aside, in more recent years, you've taken a different, increasingly acerbic path– providing unsolicited responses to published authors' promotional efforts on social media (or their more blasé commentary / praise for others), and offering a voluminous amount of negative reviews for popular / buzzed-about books on web sites like Amazon, Goodreads, etc. In turn, these efforts have actually provided you a modicum of notoriety in their own right. Are you proud of this attention? Do you hope to now turn the heads that have titled your way towards your writing? Why should they, when others have more politely waited in line?
CR: The Amazon reviews are a reflection of my belief that there are no great writers, only great concepts unrealized. Twitter is a bulletin board, randomly posted, ever changing. Via brevity, it fosters isolationism, a full thought unexpressed. Therefore, Twitter is intellectually bankrupt and best used in that spirit.
I am notorious because I cut through the self-congratulations and posing; that is why authors fear me. If that gets me noticed, so be it, but if that's why you are going to publish me, not for me. God him or herself could never out-write me or turn a better phrase.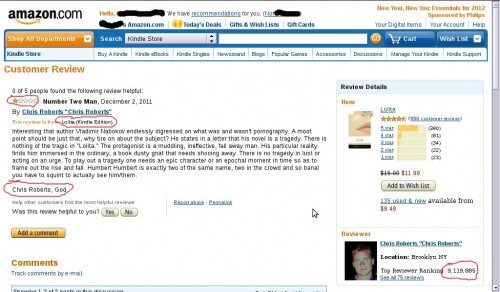 MAT: Elizabeth Wurtzel and Lena Dunham are two writers for whom you've reserved some of your most infamous vitriol. Each of them was the recipient of your invective on separate occasions– slews of insults that flirted with elements of misogyny, as well as a grander, almost generational-based hatred. Do you feel the misogyny charge is unwarranted? And as these two writers are from different generations (Slacker-X and Millennial-Y, respectively), with different content and styles to boot, are they both to be hated (and are both generations to be hated) equally?
CR: There is a misconception out there that I "hate" authors or their books – I don't. I address both subjectively and those that think otherwise flatter themselves.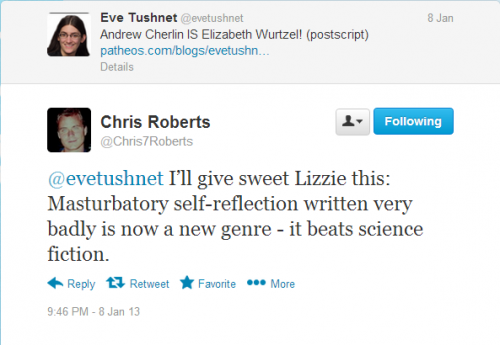 The best way to answer a misogyny fabrication is to do so from a personal reality. I lost my mother when I was eight-years-old (my father at twelve). I emotionally detached myself from my mother in one day, never to think of her again. I treat a woman as I would a man on an intellectual level and happen to believe that women are stronger than men in many ways. As to Lena Dunham, she is not a writer, but a scribbler for a glorified television show.  To get Dunham to recite the alphabet would be a miracle, signed-off by the Pope.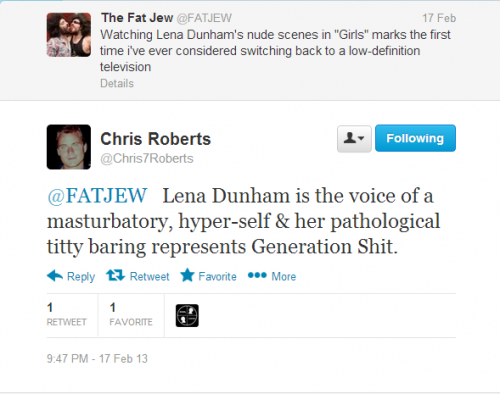 MAT: Perhaps it would be best to jump back with a more human-interest element. Where are you from? Where in Brooklyn do you live? What do you do for a day-job? What generation / identifiers / causes do you assign to yourself? 
CR: I was born and raised in Brooklyn, New York, and currently reside on the extreme northern edge of Park Slope. When young we lived in the Bensonhurst section. I played stick ball and other sundry street games with the sons of Mafia killers. When my father left at twelve, I was shipped upstate and went to five different high schools. I had friends-in-transient and mention such not for sympathy, but am merely relating a fact. I was in the Navy and thereafter worked in the horticulture field. To answer you other question, I identify with the violent radical and have much respect for the causes of Spartacus and the Warsaw Ghetto Uprising.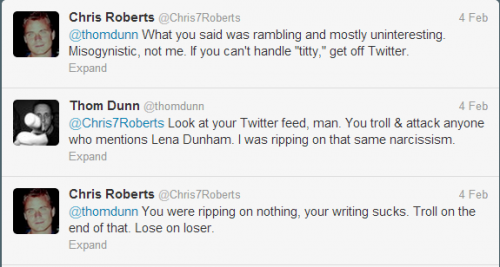 MAT: What drew you to creative writing and how long have you been at it? What do you hope or wish would be different in the industry? What personal aspirations do you have?
CR: I am mostly a short story writer and that is my passion.
I actually started writing non-fiction articles about the American West. I did articles, book reviews and interviews. In regard to the latter, I most enjoyed interviewing Larry McMurtry for a small bio he wrote on Crazy Horse. An interview with Russell Means, American Indian Activist was published in "The Progressive" was entirely enlightening. What drove me to fiction was an odd pairing of the film, "A Beautiful Mind," and a novel best not revealed.
As to your other question, publication, publishers, it is all pantomime and I like my whiskey straight or, at the very least, rotgut.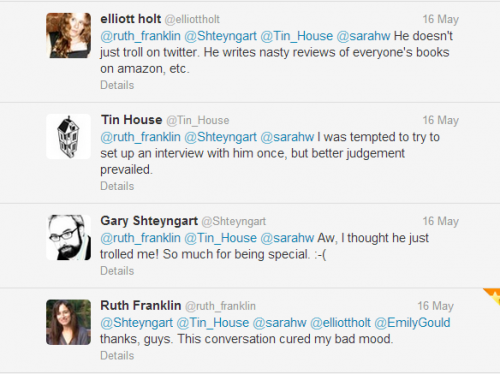 MAT: Some of the writers you've gone to twitter-war with have only a small shred of chops above your own, and are themselves likely struggling to establish a stable career. Is it necessary to universally tear everyone down without any discernment at all? Furthermore, many writers are sensitive souls– have you ever considered that your actions could be emotionally hurtful? Do you have any regrets?
CR: I have no regrets, pass me a cigarette and let loose the firing squad. I really have no fear, thus have a hard time in recognizing it in others. Yes, I could say writing is a tough game and the emotional writer out there needs to deal with it. Famously, I don't care about "the other," his or her feelings, it is all abstract to me. I never said I was a nice person.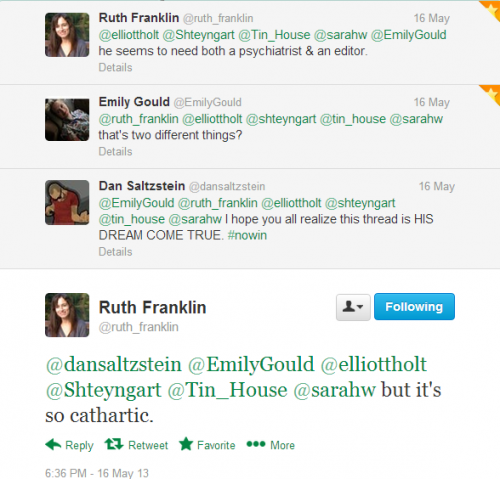 MAT: Is the self-perpetuating talent bubble phenomenon really new? 
Consider this quote: 
"[i]f you wrote the 5,000th essay on Saul Bellow, you had a pretty good chance of getting it published because editors knew who he was and so publishing yet another essay on Bellow was safe. But they didn't know who [the authors I cared about were], nor did they very much care… [s]o, the critical establishment (however you want to define this, from academic journals to the New York Times Book Review) had a lock on what writers would be covered, as well as how they would be covered." 
It's from an interview with John O'Brien, publisher of the irreverent but renown Dalkey Archive Press. In response to his frustration, he started his own literary review, and then his own publishing company. Isn't this the appropriate path to follow– to create, to build something new, rather than to tear others down?
CR: Saul Bellow was dead when he was alive, so why bother the question? Essays, five-thousand or five-million, are inherently subjective in a bad way and lack a uniting verity. Memoirs? Lower than a supermarket circular, it is fiction's ugly, second cousin, ten eyes and mostly lies. That's my shout out to James Frey. Lastly, Matthew, you have me the destroyer. It is rather easy, no? To tear down what they build up. Only I do it in reverse. It is out of the rubble that I cause that I build up a monument to me, in the world of me.
Matthew A. Taub is a lawyer, fiction writer, and occasional journalist living in Brooklyn, New York. He is the author of "Death of the Dying City," a novel.