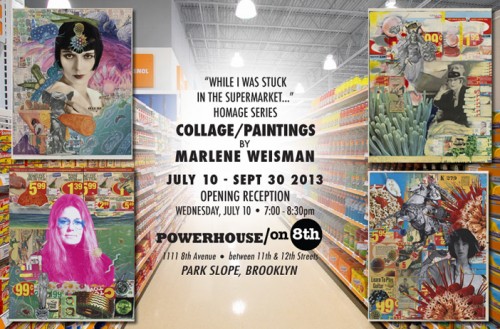 Marlene Weisman's work will be exhibited at Powerhouse on 8th. Her solo show has a great name: "While I Was Stuck in the Supermarket..."
Weisman will be showing a selection of collaged homages to many great women of the 20th century. As you can see she has a great sense of humor and a zany and unapologetically surrealist style. The owners of PowerHouse on 8th, have invited her to exhibit the collages from July 10th - Sept 30th.
I've loved Weisman's work since I first met her in the 1990s at the Fifth Avenue Fair where she was selling  these wonderful black zippered make-up bags that said: "Greetings from Park Slope." No one was putting "Park Slope" on bags and other items back then and I bought one which I still treasure today.
She was a frequent exhibitor at the PS 321 Craft Fair where I admired (and often bought) her beautiful boxes collaged with images from old games, magazines, and postcards.
Her new work is wonderful as it highlights Gloria Steinem, Patti Smith, Louise Brooks and others juxtaposed with the signage and shelves of supermarkets. And who can resist the name of the show? Powerhouse 8th is on 8th Avenue between 11th & 12th Streets, in Park Slope. (Subway: F train to the 7th Avenue stop, use 8th Ave exit). And there's an opening on the evening of July 10th, at 7:00pm - 8:30pm.
"It would mean a lot if you can join me and some of the most celebrated women of the 20th century, writes Weisman. There will be wine & cheese.