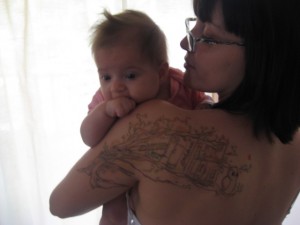 Don't miss the Seventh Annual EDGY MOMS, presenting poignant, hilarious, incisive and powerful writing about mothers and motherhood. Curated by Louise Crawford and Sophia Romero, this uproarious and insightful event takes place, as always, at the  The Old Stone House on May 9th at 8PM (once again sponsored by Babeland). Presented by Brooklyn Reading Works produced by Louise Crawford
Meet the 2013 Edgy Moms: 
A veteran of advertising, KAREN RITTER has squandered decades crafting copy for clients as diverse as Dunkin' Donuts and Weight Watchers. Persuading some people to gain weight and others to lose it created a psychic split, galvanizing Karen to take refuge in fiction. She has completed one novel, Living with Men. A mother of one, Karen is still traumatized by the autobiographical novel her own mother self-published 35 years ago. Now that her mother has left this plane of existence in search of better material, Karen is writing her own autobiographical work, My Mother/Herself.
CHRIS NELSON earned her MFA from NYU's Tisch School of the Arts, where she studied playwriting with Tony Kushner, John Guare and Arthur Miller. She has a BA in both English and Drama and a Film Certificate from Duke University. Her writing has been recognized with an NEA grant, two Benenson Awards in the Arts, the Reynolds Price Award, and residency grants from the Helene Wurlitzer Foundation of New Mexico in Taos, NM, the Jentel Artist Residency Program in Banner, WY, and the Julia and David White Artists' Colony in Ciudad Colón, Costa Rica. Chris lives with her husband and daughter in Brooklyn.
NICOLE CALLIHAN'S poems, stories, and essays have appeared in Cream City Review, L Magazine, and Painted Bride Quarterly. She teaches at New York University and in schools and hospitals throughout the city.
SOPHIA ROMERO is the author of the novel, Always Hiding. She writes the hilarious blog, The Shiksa from Manila and has two children, Amalia and Eli. Her husband, Dan Silver, is a good egg.
CATHY GIGANTE-BROWN has been a freelance writer of fiction, nonfiction and poetry since the ripe young age of fifteen. Her works have appeared in a variety of publications, including Time Out New York, Essence, Seventeen and The Italian Journal of Wine and Food. Along with Robert "The Harrad Experiment" Rimmer, she co-wrote two fringe biographies for Prometheus Books (Mistress Jacqueline's Whips & Kisses and Jerry Butler's Raw Talent). Her short stories appear in several fiction anthologies and her essay, "When I was Young," was included in Penguin Books' Vietnam Voices. A number of her screenplays have been produced by small, independent companies. Her essay "Autumn of 9/11" was awarded first prize in The Brooklyn Public Library's 2004 "My Brooklyn" contest. Her work, Weekender, was included in the Rosendale Theatre Collective's first annual Short Play Festival. Cathy was born and bred in Brooklyn, where she still lives with her husband and son. Her ebook, The El, is her first published novel
After a 15-year career in museum education, and 10 years of full-time mothering, VICKI ADDESSO  began devoting her time to writing memoir and fiction. Addesso works part-time doing research for the Treeture Environmental Education Program and writes for the organization's Web site. Her work has been published by Damselfly Press, and she is currently at work on a collection of short stories.
After graduating from the University of California, Berkeley, LORI TOPPEL worked as a staff writer and editor for different magazines. She received her MFA in fiction writing at Columbia University, where she received a fellowship. Toppel's novel, Three Children (Summit Books, 1992), was nominated for the Hemingway Foundation/PEN Award. Her stories and personal essays have appeared in such journals as the Antioch Review, Del Sol Review, and The Living Room. Her work has been listed in the top 25 of the Glimmer Train Fiction Open. She is currently at work on a novella set in Puerto Rico.
SUSAN HODARA works as a freelance journalist who frequently covers the arts, with articles appearing in publications including the New York Times, Communication Arts, Harvard Magazine, and others. She has been writing memoir for more than 15 years, with her pieces appearing in the anthologies Motif 3: Work (MotesBooks, 2011), Illness & Grace, Terror & Transformation (Wising Up Press, 2007), The Westchester Review (2007, 2008), I Wanna be Sedated (Seal Press, 2005), My Heart's First Steps (Adams Media, 2004), Girl Wars (Fireside, 2003), and Surviving Ophelia (Perseus Publishing, 2001). Her memoirs have also been published in numerous literary journals and other publications including salon.com, The Lindenwood Review, Evening Street Review, Airplane Reading, tak′tīl, Venus Envy, Cesium, and Conversely; one was nominated for a Pushcart Prize. With degrees from Harvard and Columbia universities, she has been teaching memoir writing since 2003, and currently conducts memoir workshops at the Hudson Valley Writers' Center in Sleepy Hollow, NY, and the Pelham Art Center in Pelham, NY.
Photograph borrowed from http://www.mommaroo.com