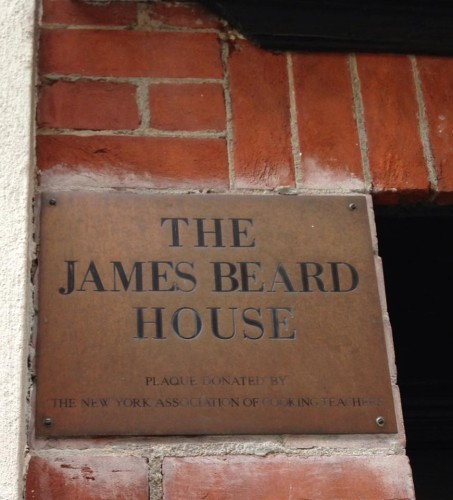 Next year in Jerusalem? Nah. I say next year at the Second Night of Passover at the James Beard House. Really. As soon as tickets go on sale next year make a point of being there.
I went last night and I am still reliving it in my head and my taste buds. Where to begin?
First, you must understand that the James Beard House was at one time James Beard's home on West 12th Street in Greenwich Village (across the street from St. Vincent's Hospital). A cookbook author and teacher, James Beard was a champion of American cuisine who helped educate and mentor generations of professional chefs and food enthusiasts.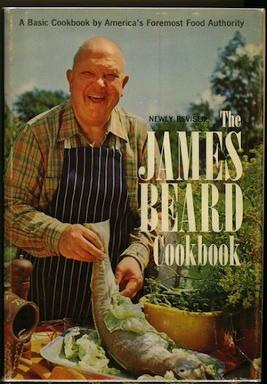 I know the name very well because I grew up with the James Beard Cookbook. It was in regular use in our house. I think I brought it with me to my first college apartment in Binghamton, New York. I remember looking up steamed brocolli.
The Beard Foundation offers a variety of events and programs designed to educate, inspire, entertain, and foster a deeper understanding of our culinary culture. There are cooking events there just about every night of the week. Their programs include educational initiatives, food industry awards, and an annual national food conference. They also maintain the historic James Beard House as a "performance space" for visiting chefs.
The house itself is a narrow, brick 4-story building with a huge kitchen, an indoor/outdoor patio and a parlor floor large enough to feed 85 people. Crowdedly. But that's half the charm as are the green walls and the huge portrait of James Beard over the mantle.
For starters, guests walked through the narrow kitchen, a chance to see all the rock star chefs at work. Yes, through the kitchen to get to the patio where we were treated to "nosherei" from Mile End Deli and The Gefilteria, including an alcoholic drink made of beet kvass tails with sweet ginger and bitter orange (with either gin or rum).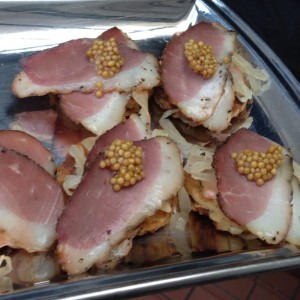 Passed nosherei included Mile End's lamb kreplach, duck patrami Monte-Cristos with spiced cured duck and Jewish-style deviled eggs.
At 6:45, Mitchell Davis, executive vice president of the James Beard Foundation welcomed everyone and Billy Harris, a host/emcee for all kinds of benefits in New York City and Los Angeles, led the seder reading from The Bronfman Haggadah. He read about 30 minutes of the seder, leading the guests through the unison readings. No food was served and the focus was completely on the words and pictures in the book.
And then the dinner began. There were so many courses, I lost count. Fabulous gefilte fish (salmon and whitefish pike),  chicken soup with matzoh balls…
A fish course of seared Skuna Bay Craft Rasied Salmon, pickled salmon belly lox, beets, apples and mustard seed. And then there was Lamb Belly Confit with quinoa and Brisket Bourguignonne with Mushroom and Cippolini Onion and Jerusalem Artichoke Confit with Preserved Lemon.
The dessert was divine: a warm haroset cake by Zucker Bakery. I was so moved seeing all chefs in the kitchen and when they came into the dining room to thundersous applause (Noah Bernamoff, Jeffery Yoskowitz, James Merker, Jake Dickson and David Schuttenberg of Dickson's Farmstand Meats, Zohar Zohar and many more) and the sense of process, creativity, hard work and joy that infused the evening. We were all part of a special evening—performance art for chefs, a Jewish eating fest for the guests.
Next year in Jerusalem? Next year at the James Beard House.