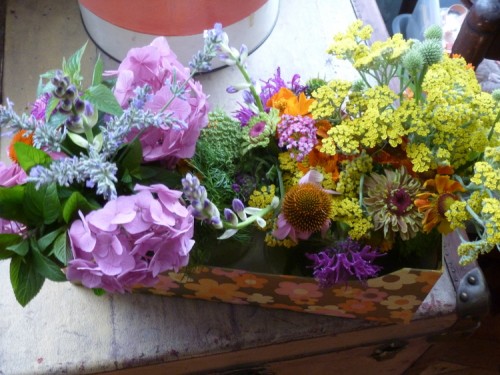 Just when I was feeling really fatigued by  winter, Susan Steinbrock Design sent me an email about her new garden and floral design website. The  photographs on the site of arrangements of colorful wild flowers grown in a Brooklyn lot made my day.
Spring is afoot and I am grateful to Susan for reminding me.
Brooklyn-based gardening business, Susan Steinbrock Design will plant and maintain perennials, annuals and flowering shrubs. SSD will select plants to create a continuously blooming garden, from spring bulbs through fall asters, yielding personally designed bouquets, directly from your garden to table.
"I believe in environmentally sound practices, using compost to enrich soil that is often depleted of nutrients. I choose flowering perennials native to our region as well as other plants that encourage pollinators and benefit the overall health of our Brooklyn neighborhoods," Susan writes on the website.
Whether you are looking for a complete design and renovation of your current garden space, a new window box or container, or just advice in choosing plants that will thrive in your garden's light and shade, Susan can work with you to make something beautiful.
And that is beautiful.