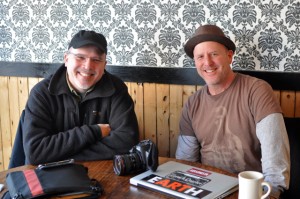 OTBKB's Witness photographer Tom Martinez is adding Photography Workshops and Photo Walks to his resume, which already includes Unitarian minister and social activist.
Martinez and fellow photographer/videographer Antonio Rosario have opened a new business called Switch to Manual to help beginner and intermediate photographers take control of the camera's basic settings, which they believe is the doorway to real creativity.
According to Martinez and Rosario, most people new to photography have a vague sense that it's possible to control the camera's settings, but are intimidated by the myth that to do so requires years of technical study. "And when you're in love with photography all you really want to do is take pictures," says Martinez.
That's where the Switch to Manual photo workshops come in. In a workshop setting, Martinez and Rosario will give you a practical overview of the two manual settings you'll want to master (shutter speed and aperture) and then take you out to shoot pictures.
Instead of a bunch of technical jargon, they will explain these settings in everyday language.  By the end of the workshop you'll understand how these camera controls relate to each other. "You'll be in control of your camera and not the other way around. You'll be adjusting both to get the image you want, no matter  the situation," says Rosario.
In addition to their workshops, Martinez and Rosario offer photo walks in some of the most photogenic locations in Manhattan, Brooklyn and the Bronx.
Imagine spending a morning at the Brooklyn Botanic Gardens or in the trendy industrial Brooklyn neighborhood of Red Hook or walking across the Brooklyn Bridge. How about an afternoon in Coney Island, Green-Wood Cemetery or the Metropolitan Museum of Art. During these photo walks, Martinez and Rosario will offer hands-on advice about how to get the most from your camera equipment. They will advise about composition, lighting, and lenses.
Most walks last between 2-3 hours and are a great way to  get to know these great locations in the city, with camera in hand.
Their workshops and photo walks run year-round. Check out the schedule and sign up. Soon you'll Switching to Manual in just one day!
The lovely photo of Antonio Rosario (left) and Tom Martinez is from Ditmas Park Corner.