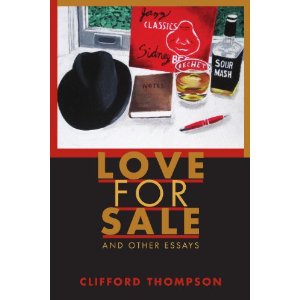 What a nice surpise. And just in time for a snowy weekend at home. Today I received a package from Autumn House Press. Inside: Cliff Thompson's new book Love for Sale, a collection of essays
Cliff Thompson is the author of Signifying Nothing, a novel. He participated in a wonderful and memorable Brooklyn Reading Works evening curated by Martha Southgate called Young Gifted and Black (Men) with Victor Lavalle and James Hanihan. He lives in Park Slope with his family.
I was immediately taken in by the cover of Cliff's new book: a painting of a Sidney Bechet album, a bottle of Sour Mash ,a fedora, a notebook and a pen (a painting, it turns out, by Cliff Thompson).
This book of essays was selected by Philip Lopate as the winer of the 2012 Autumn House Fiction Prize. Lopate writes "The triumph of this deeply satisfying essay collection is its presentation of a whole human being: immensely cultivated, likable because unfailingly honest, reasonable, mature, witty and never less than eloquent."
I surveyed the table of contents and saw essays on Zadie Smith, Miles Davis, movies. These essays have appeared in The Threepenny Review, The Iow Review, Commonwealth, Film Quarterly, Cineaste, Oxford American and more…
I am grateful to receive this book today because I am just about done with my current book (Mr. Penumbra's 24-Hour Bookstore) and am deeply in need of something new for a long, snowy weekend.
Love for Sale. Just in the nick of time. I'm looking forward to reading these essays about books, film, jazz, race, "and the oddities of daily life."