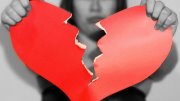 Only the Blog at Two Moon presents: Broken Hearted Valentine's on the night before Valentine's Day. Join us for music from Courtney Lee Adams Jr and her 4-piece band and Peter Silsbee and The Heywood Brothers; poetry from Nicole Hefner Callihan
Feb. 13, 7-9 p.m. at Two Moon Art House and Cafe.
Why should Valentine's Day be so lovey-dovey and ooey-gooey? What about those peeps with broken hearts or love gone stale. Not to mention those who are still waiting for the real thing.
Where would music and poetry be without broken hearts?
Let Peter Silsbee, The Heywood Brothers, Courtney Lee Adams Jr. and poet Nicole Hefner Callihan serenade you on Broken Hearted Valentine's at Two Moon Art House and Cafe.
No need to spend the night ALONE….
When: Wednesday, February 13, 7-9 p.m.
Where: Two Moon Art House and Cafe, 315 Fourth Avenue, Park Slope, Brooklyn