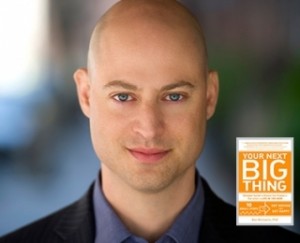 This handsome fellow is Ben Michaelis, a PhD, clinical psychologist , and author of the new book Your Next Big Thing.
His writing has been featured in The Huffington Post, Parents magazine, Entertainment Weekly, the New York Times. He's also a popular weekly blogger on Psychology Today.
When he and his wife lived in Manhattan, they realized that all their friends lived in Brooklyn and they were spending all their time traveling to and from the borough of Kings. In less than  week of that realization they found a place on this side of the river.
That focused energy and get-up-and-go exemplifies his concept of 10 small steps that get you MOVING and HAPPY.
I spoke to him on the phone recently and had the feeling that he might be very good at what he does.  Then I looked at his new book, Your Next Big Thing, and I was pretty sure he has something to offer.
In the book, Ben provides visionary yet practical strategies, quizzes, and exercises to teach you about your true self. In the book, which is bright orange and really nicely designed, he'll pinpoint exactly what you need to realize your purpose and progress toward your goals.
Get this: Whether you're in need of business or personal guidance, this ten-step plan helps you look forward without fear—so you can achieve joy, passion, and the enriched life you never thought possible.