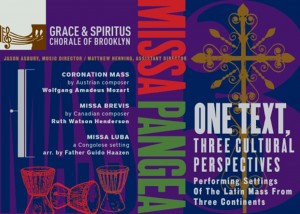 Sunday at 4PM, the Grace and Spiritus Chorale of Brooklyn, a 75-member chorus, will present three settings of the Latin mass from three continents. This program features an eighteenth century Austrian setting, a late twentieth century Canadian setting, and a mid-twentieth century Congolese setting.
Grace & Spiritus Chorale of Brooklyn will perform Mozart's Coronation Mass, Canadian composer Ruth Watson Henderson's Missa Brevis, and Miss Luba, a Congolese adaptation of the Mass, based on Congolese folk songs, which is rarely performed. These cultural expressions of rhythm, harmony, and melody bring the text to life in wildly different ways. African Drummers and Saint Ann's School dancers will accompany this mass. South African singer, Peter Ncanywa will sing the tenor solo in the Missa Luba.
4pm Sunday, Jan. 27, Saint Ann & the Holy Trinity Church,157 Montague Street
Brooklyn, NY 11201-3587
The group is dedicated to promoting and cultivating the art of choral singing in Brooklyn by presenting a wide variety of choral music, including newly commissioned works, to audiences through concerts, partnerships and educational outreach. They offer amateur singers the opportunity to study the art of choral singing under dynamic and professional leadership.