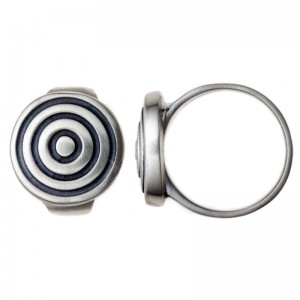 Last night at a special event at The Clay Pot, I met one of my heroes, jewelry designer Lisa Jenks. What a thrill to attend a "trunk show" of recent work by the distinctive designer of contemporary sterling silver jewelry, who's been at it for 25 years. Known for the  matte sterling look of her jewelry, her aesthetic evokes mid-century modern, tribal, Art Deco, American Indian and Nordic patterns.
Memories abound when I think of my Lisa Jenks jewelry: it truly is the jewelry of my life.
I think of the charm bracelet-like necklaces my twin sister and I gave each other on our 40th birthday in 1998.
The jeweled bracelet my cousins chipped in to buy my mother for her 70th birthday.
The simple ring I gave a friend for her milestone birthday years ago.
The pearl and silver bracelet I take out only for very special occasions.
The square ring Hugh bought on sale at The Clay Pot—and he didn't even know it was a Lisa Jenks.
The bulls eye ring (pictured above) that my mother bought for me from Barney's when it was on 17th Street in Chelsea.
When Lisa expanded from jewelry to small leather goods, home accessories and tableware, my sister registered for Lisa Jenks table settings for wedding gifts. My mother has Lisa Jenks candle holders on her dining room table
Recently, I was happy to hear that Lisa has "re-focused" on what inspires her most: jewelry. Judging by the crowd of women gathered last night in the back room of The Clay Pot, Park Slope's go-to jewelry store, she made an excellent choice. We oohed and aaahed about new and old designs. We reminised about the pieces we own. There was wine, delicious cheese, figs and crackers. Some brought old pieces to be signed. Some, like myself, just came to see her, the designer of these objects that mean so much.  Indeed, there's a tangible and special connection between Lisa and her collectors..
Lisa says on her website: "Many of our clients tend to collect pieces that reflect their own personal style; and they often grow attached and say it is their personal amulet or lucky charm. My intent is to create jewelry that is inventive, wearable and treasured."
Meeting Lisa Jenks was festive and fun. And I learned something I didn't know. She resides right here in Brooklyn with her husband Chris, an award winning photographer and their two children.