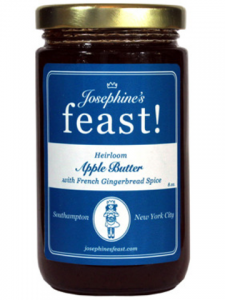 Brooklyn Reading Works at The Old Stone House presents Feast! Eat, Write, Love on Thursday, December 5th at 8PM, an annual evening of writing about food as subject matter, food as metaphor, food as memory, food and sex; food and death; food as trigger for sensorial and delicious writing.
Feast is always a treat AND a benefit for a local food pantry. This year's FEAST is on Thursday, December 6th at 8PM at The Old Stone House in Park Slope (336 Third Street between 4th and 5th Avenues, F to Fourth Avenue, R to Union Street).
Ame Gilbert, a wonderful chef and a luminous writer of poetry and non-fiction, is now taking over as curator.
This year's participants include:
Sara Kate Gillingham-Ryan is a food writer in New York City. She is the founding editor of Apartment Therapy's The Kitchn (www.thekitchn.com) and the author of two cookbooks, The Greyston Bakery Cookbook: More Than 80 Recipes to Inspire the Way You Cook and Live (Rodale, 2007) and Good Food To Share: Recipes for Entertaining with Family and Friends. (Weldon-Owen, 2011)/ Sara Kate has written nationally syndicated food articles for Tribune Media and done writing and recipe development work for Bon Appétit, Food & Wine, House Beautiful, O, the Oprah Magazine, Muscle & Fitness, the Wall Street Journal, the Washington Post, Saveur, and Ladies Home Journal. She has appeared on several television shows including the Martha Stewart Show and Live with Regis & Kelly. Once upon a time she wished to be a poet and now finds that poetry in food.
Zarela Martinez was born in the Sonoran border town of Agua Prieta. She is a renowned cultural interpreter between Mexico and the United States through the medium of food. Since 1987 her eponymous "Zarela" has set standards of authenticity among New York Mexican restaurants. A sought-after speaker and consultant for major corporations, she also wrote the pioneering cookbooks Food from My Heart, The Food and Life of Oaxaca, and Zarela's Veracruz, the last published in conjunction with her public television series ¡Zarela! La Cocina Veracruzana. It was there that Zarela became familiar with Afro- Mexican cooking where peanuts as a major ingredient Her website www.zarela.com is an invaluable resource for lovers of Mexican food and culture and her how-to videos on basic Mexican cooking techniques and flavor principles featured on www.youtube.comare fun and informative.
Molly O'Neill is the author of the memoir Mostly True: Family, Food and Baseball and four cookbooks including The New York Cookbook and One Big Table. A longtime columnist with the New York Times Magazine, she was the host of the PBS series Great Food and edited the Library of America's American Food Writing. O'Neill founded the first web-based multimedia company dedicated to food in 1999 and founded Cook N Scribble, the online classroom, resource and community for food writers last year.
Rossi writes for many publications including The New York Daily News and McSweeneys. Since 1988, she has written the "Eat Me" column for Bust Magazine and hosts her own hit radio show on WOMR and WFMR in Cape Cod called Bite Me. Rossi has been featured on The Food Network and NPR and just completed her first edible memoir "The Devil and Mrs. Goldstein!" She is also the owner and executive chef of "The Raging Skillet" a cutting-edge catering company in New York City known for breaking any and all rules.
Sarah Safford is a teacher, dancer and lyricist who has recently been writing songs for musical theater. For the past two years she was a member of the BMI Musical Theater Workshop and in her spare time she plays ukulele with the Angel Band Jam. She has cheerfully performed thematic songs at many communaltable events.
Ame Gilbert (curator) ping pongs between art and food and every now and then stops to writes about it. She is the author of the unpublished cookbook cake, meat, soup and has had stories published in Gastronomica and in Food, Culture & Society. Ame curates for the Umami Food and Art Festival- a biennial performance festival in NYC. She is co-founder of communaltable, putting together theme based salon-style meals in the city and upstate NY. Ame has taught Food is Art, a studio art class at Parson's School of Design, as well as 'literacy by way of cooking' in an afterschool program in the Bronx. Currently, deeply underemployed, she has been volunteering, cooking for people who lost their homes during hurricane Sandy.
The D'tails:
Feast: Writers on Food @ The Old Stone House
336 Third Street between Fifth and Fourth Avenues in Park Slope, Bklyn 11215
718-768-9135 or 718-288-4290
http://www.brooklynreadingworks.com
$10 donation includes refreshments