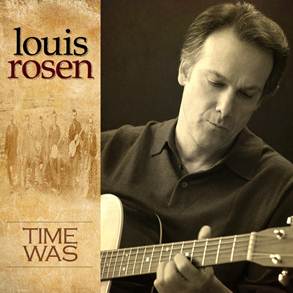 There's a new album out from my good friend and OTBKB fave, Louis Rosen. Time Was takes the listener on a journey across the landscape of American roots music.
On Rosen's new album you'll find songs about love and lust, dreams and pipedreams, fortunes made and squandered, the joy of creation, faith, loss, death, murder and salvation.
The album really is just that  complex and interesting.
Some of the songs were adapted from poems by late 19th and early 20th century poets such as Edwin Arlington Robinson, William Butler Yeats, Sara Teasdale and Langston Hughes among many others.
The lyrics of quite a few of the songs were penned by Rosen himself offering intensely human portraits and stories in ways that feel fresh and yet timeless.  "I think TIME WAS is my most dynamic album yet," writes Rosen in an email.
Right now you can purchase TIME WAS from:  http://cdbaby.com/cd/louisrosen ($15.99 + shipping) or  Louis' Store at www.louisrosen.com ($16.50 including shipping)