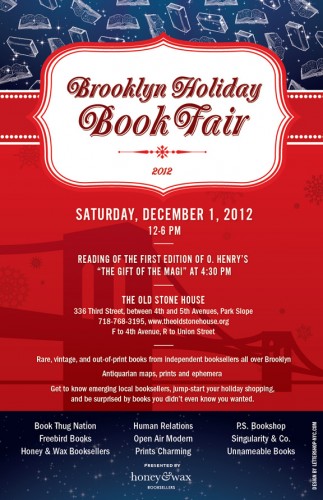 It's been in the works for months and months and now, it's finally here. I am so excited for Honey & Wax and all the Brooklyln indie vintage booksellers who will be under one roof for the very first time.
The Brooklyn Holiday Book Fair on December 1, 2012 from noon until 6PM at The Old Stone House will be a wonderful holiday shopping experience for book lovers and those who love beautiful things.
Great gifts for the interesting people in your life.
Best of all, acclaimed author and Brooklyn legend PETE HAMILL will read from a 1906 edition of "The Gift of the Magi" by O.Henry at 4:30 PM. Pete will also be SIGNING copies of his new book of stories about Brooklyn THE CHRISTMAS KID.
To open the holiday season, a group of independent Brooklyn booksellers with a shared interest in print history will fill the Old Stone House with some of their favorite rare, vintage, and out-of-print books. Get to know your local booksellers, and be surprised and inspired by books you didn't even know you wanted!
Participants include:
Book Thug Nation, Williamsburg, est. 2009
Freebird Books, Cobble Hill, est. 2004
Honey & Wax Booksellers, Park Slope, est. 2012
Human Relations, Bushwick, est. 2012
Open Air Modern, Williamsburg, est. 2009,
P.S. Bookshop, DUMBO, est. 2006
Singularity & Co., DUMBO, est. 2012
Unnameable Books, Prospect Heights, est. 2006
Also for sale: antiquarian maps and prints of Brooklyn, offered by Prints Charming.
The 'tails:
When: Saturday, December 1, 2012 from Noon until 6 p.m.

Where: The Old Stone House in Park Slope, 336 Third Street between 4th and 5th Avenues. Subway: The F train to 4th Avenue, the R train to Union Street.
Admission is free. Drinks and refreshments will be available.