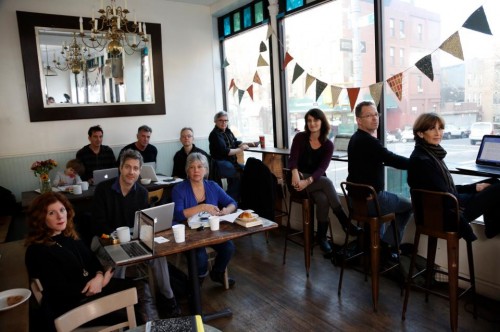 Everybody is making such a big deal about this film shoot at Kos Kaffe on Park Slope's Fifth Avenue.
As I understand it, 43 notable  writers from Brooklyn and elsewhere were used as extras. Pictured here are Elissa Schappell, Nick Flynn, Darin Strauss,Michael Cunningham, Stephen Hubbell, Mary Morris, Jennifer Gilmore, Glenn Kurtz and Roxana Robinson.
The film is called A Short History of Decay, written and directed by Michael Maren, starring Bryan Greenber, Linda Lavin, Harris Yulin, Emmanuelle Chriqui, Kathleen Rose Perkins and Rebecca Dayan.
The photo is by Heidi Gutman.