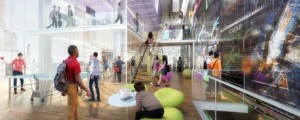 Last spring, Mayor Bloomberg announced the launch of the Center for Urban Science and Progress (CUSP), an applied science research institute that is being created by New York University and NYU-Poly that will include a consortium of universities and tech companies.
Known by the acronym CUSP (good acronym), this program is an effort "to create an applied science institute in New York that will make the city a world capital of science and technology, and lead to new jobs, and the grand technical, intellectual, engineering, academic, and human challenges posed by a rapidly urbanizing world."
And guess where CUSP  is located. You guessed it. Brooklyn. Downtown Brooklyn, that is. Today CUSP announced that it will launch its inaugural programs and host its first class of 50 students at MetroTech in Downtown Brooklyn next fall. Construction is set to begin on 26,000 square feet of space in 1 MetroTech Center.