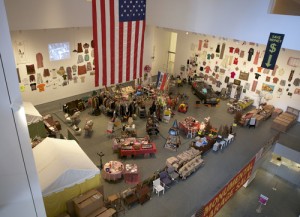 For her first solo exhibition at The Museum of Modern Art, Brooklyn artist Martha Rosler  is having a garage sale. In fact, the piece is called Garage Sale and it is currently showing in the The Donald B. and Catherine C. Marron Atrium at the Museum until November 30, 2012.
Rosler is considered an influential artist of her generation. For more than 40 years, she has made photography, performance, video, and installation about, she says "the commonplace, art that illuminates social life."
Rosler held the first Garage Sale, Monumental Garage Sale, in 1973 in the student gallery of the University of California, San Diego. Like the MOMA exhibit, she sold clothes, books, records, toys, costume jewelry, personal letters, art works, and other mementos, as well as soft-core pornographic magazines.