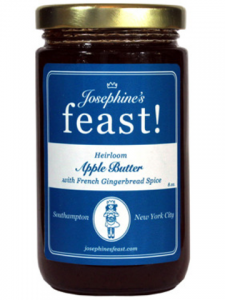 Brooklyn Reading Works at The Old Stone House has quite a few annual events that delight audiences and writers alike. There's Edgy Moms; Writing War; In the Year of the ____: Celebration of Asian-American Writers; New Plays by Brooklyn Playwrights; and Young Writers Night.
And then there's Feast, which is always a treat AND a benefit for a local food pantry. It's usually in early December and this year it will be December 6th at 8PM at the Old Stone House (336 Third Street between 4th and 5th Avenues, F to Fourth Avenue, R to Union Street).
This event, an evening of writing about food, was the brainchild of poet Michele Madigan Somerville. For quite a few years, she gathered poets, fiction writers, bloggers and memoirists to read about food as memory, food as metaphor, food as subject matter, food and sex; food and death, food as trigger for sensorial and juicy writing.
Ame Gilbert, a wonderful chef and a luminous writer of poetry and non-fiction, was included in all of Michelle's FEAST evenings is now taking over. This years participants include:
Molly O'Neill, renowned writer, teacher and founder of the online Cook 'n Scribble community
Sara Kate Gillingham-Ryan, renowned author, blogger and editor of The Kitchn. She is also a poet at heart.
Aarela Martinez, renowned cultural emissary and restauranteur.
Sarah Safford, renowned lyricist and ukulele mama
Ame Gilbert, who is somehow renowned and pleasantly round!
The 'Tails:
Feast: Writers on Food @ The Old Stone House
336 Third Street between Fifth and Fourth Avenues in Park Slope, Bklyn 11215
718-768-9135 or 718-288-4290
http://www.brooklynreadingworks.com
$5 donation includes refreshments
December 6th, 2012 @ 8:00 PM