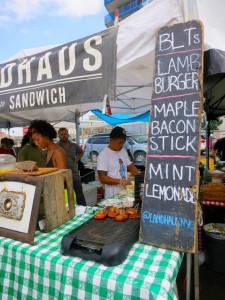 Say hello to Landhaus, the new and groovy sandwich place on Union Street just off of Seventh Avenue. It's the spot that was People's Pops during the summer.
Now it's Landhaus, faves of the Brooklyn Flea and Smorgusburg (see left). Landhaus creates "addictive, tasty food with the best ingredients available in the Northeast." You can find them weekly at both Smorgasburgs (Williamsburg and DUMBO) & Brooklyn Flea and The Woods Bar daily in Williamsburg.
I haven't seen the Union Street menu yet, but they're famous for their Grilled Maple Bacon Sticks, which were voted the best bacon in NYC by the Village Voice Newspaper. On a stick with maple syrup and secret spices.
They also serve a BLT with Landhaus Bacon, Red Leaf Lettuce, Lucky's tomatoes, bacon infused mayo on toasted Napoli Bakery Bread, a Lamburger, a  custom blend of grass fed lamb and pork fat-back, whipped sheeps milk feta, house made harissa, grilled onions and cilantro on Napoli Bakery roll.