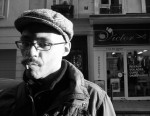 I've been a Victor LaValle fan since he read at Brooklyn Reading Works a couple of years ago in Young, Gifted and Black (Men) curated by Martha Southgate.
Today, there's a nice interview with him in Days of Yore, a site which interviews artists before they had money, fame, or roadmaps to success. It's a great site and you should know about it.
LaValle is a writer and teacher who was raised in Queens, New York and now lives in Washington heights with his wife and young son. He is the author of the short story collectionSlapboxing with Jesus, three novels, The Ecstatic, Big Machine, and The Devil in Silver, and an ebook only novella, Lucretia and the Kroons. On the back cover of Big Machine, Mos Def proclaims that LaValle's writing, "is like nothing I've ever read, incredibly human and alien at the same time."
Here's an excerpt from the Days of Yore interview:
When did you first start thinking that you would write, or when did you first write a story?

I wrote my first story when I was 13 or 14. And then I even sent it in to magazines. I sent my first story into a magazine called Grue Magazine, a horror magazine put out of the lower east side. The woman who was the Editor in Chief is now either the vice president or the chancellor of the Church of Satan. The magazine had closed, but the church of Satan took her in, I guess.

But when I sent my story in, she sent back this great rejection sheet. It had a list of all these craft issue like characterization, plot, language, pacing, and beside each of them this chart: "good, very good, not so good." She went through and checked off all these things and then gave notes like: "characterization: good—and here's why." It was a real labor of love because I'm sure it [the magazine] was not a money-making venture. At the bottom she even wrote a little note —because I must have said in there that I was like 13 or 14— that said, "This is an auspicious start for someone so young." And I saved it.