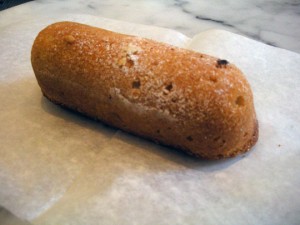 Today the New York Times reported that Hostess is closing its doors. The bankrupt company was in the midst of a strike. But the snack cake business has been declining for a very long time.
You can, however, get a sort of bespoke Twinkie at Trois Pomme, a bakery on Fifth Avenue between  Garfield and Carroll Streets in Park Slope. It'll cost you about $2.50 if I'm not mistaken. They also have a Whoopie Pie and a take on a Hostess Cupcake.
I must tell you, the Trois Pomme Twinkie is yummy. And now that Hostess is turning off its ovens, the Trois Pomme Twinkie is all we've got.
Truth be told, the Twinkie at Trois Pomme looks a lot like the original though the cake doesn't have that weird artificial yellow complexion. The  TP Twinkie is golden brown color, has a torpedo-like shape and a creamy white inside.
They taste similar but I actually haven't tasted a real Twinkie in years. The  bakery uses an almond batter that gives the cake a delicious flavor, I mean it's one awesome Twinkie knock-off but it's just different enough from the original to a be delicious and sophisticated dessert.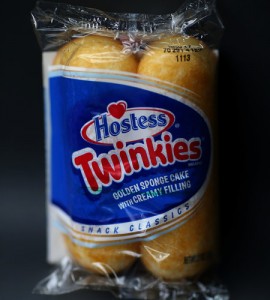 So in that way it's not like a Twinkie at all. The photograph above is from Bklyn Foodie