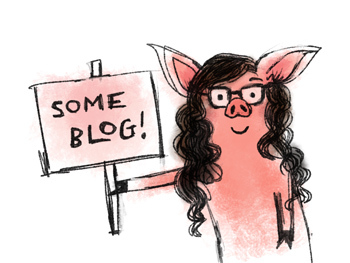 Readers of OTBKB will remember graphic artist Liz Starin, who published a wonderful "comic" series on OTBKB during the summer called What are the Chances?
Soon after her series ran, we had lunch and she told me then about her NEW children's illustration blog with the incredibly great name PEN AND OINK.
Love it.
Here's how it happened (and I borrow from their About page). Liz, who lives in Ditmas Park, has been in an  illustrator's critique group with Robin Rosenthal and Ruthie Lafond (both Park Slopers) since 2006.
The group met in children's book illustrator Sergio Ruzzier's SVA class. There were about ten artists in a class that touched on "picture books about squirrels, hats, and grumpy old men."
But a couple of months just weren't enough. On the last day, Liz and her friends circulated a signup sheet, and the "Post-Sergio" crit group was born.
Over the years, they've haunted the Donnell Library (RIP) children's room, each other's apartments, and lately 'Snice in Park Slope. All that time, they never really had a name. But "team post-Sergio" and sometimes "post-surgery" snuck into our planners and emails. Sergio never knew…until now. Here's what they wrote on the About page of their new blog.
We'd like to thank our stubbled Italian fairy godfather for bringing us together. But we didn't want to burden him with a blog named Post-Sergio, which is why we decided to christen ourselves Pen & Oink.
The blog is a must-read for all who adore illustration, specifically children's book illustration, graphic design AND the creative process.