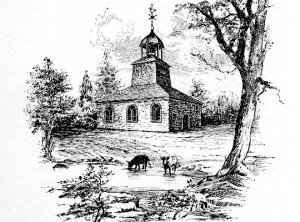 Old First Dutch Reformed Church (pictured left in 1666) posted on Facebook the Dutch Prayer for New York that was prayed in his cousin's church in the Netherlands on Sunday.
Mensen hebben mensen nodig
om elkaar te dragen,
om elkaar tot leven te brengen
Mensen hebben mensen nodig
om voor elkaar op te komen,
om samen te werken aan welzijn en geluk.
Mensen hebben mensen nodig
om te laten zien wie U bent,
God van Liefde, God van gerechtigheid.
Wek dan die kracht in ons.
Doe de liefde in ons ontvlammen,
die ons omkeert naar elkaar,
die ons doet zorgen voor elkaar.
Dat wij U liefhebben.
Dat wij onze naasten beminnen.
Dat wij onszelf kunnen beminnen.
Pastor Meeter writes: "This prayer conveys the essence of being a Christian" and means something close to what is below, which is the auto-translation from Facebook:
People need people to come together, to work together to well-being and happiness.
People need people to show who you are,
God of Love, God of righteousness.
Do the love in our ignite, which reverses us to each other, which makes us concerned for each other.
That we love you.
That we love our neighbors.
That we can love ourselves.