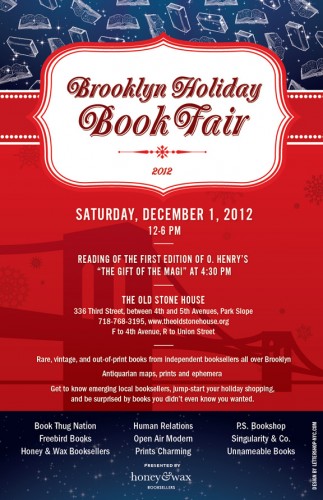 Brooklyn is redefining what it means to be a rare bookseller. In fact, the borough is turning into a haven for indie rare and antiquarian dealers who are reaching out to a different kind of collector, one who understands the value of the book at a time when its future is in doubt.
On December 1, 2012 from noon to 6PM, The Old Stone House and Honey and Wax Booksellers are presenting the VERY FIRST Brooklyn Holiday Book Fair featuring rare and extraordinary books, a feast for collectors and those who just love uncommon, beautiful books.
I think it's going to be a very cool event, the first of its kind with booksellers from Park Slope, Bushwick,Williamsburg, Dumbo, and Cobble Hill.
Heather O'Donnell, who is organizing the fair along with Kim Maier of The Old Stone House, is shaping up to be something of a leader of this indie rare books scene in Brooklyn.
Brooklyn's love affair with the literary continues. A highlight of the event will be a reading of a rare first edition copy of The Gift of the Magi, the classic Christmas tale by O'Henry, read by a surprise Brooklyn lit notable. 
Who will it be? Who will it be?
This group of  independent Brooklyn booksellers with a shared interest in print history will fill the Old Stone House with some of their favorite rare, vintage, and out-of-print books. Get to know your local booksellers, and be surprised and inspired by books you didn't even know you wanted!
Participants include:
Book Thug Nation, Williamsburg, est. 2009
Freebird Books, Cobble Hill, est. 2004
Honey & Wax Booksellers, Park Slope, est. 2012, www.honeyandwaxbooks.com
Human Relations, Bushwick, est. 2012, www.humanrelationsbooks.com
Open Air Modern, Williamsburg, est. 2009, www.openairmodern.com
P.S. Bookshop, DUMBO, est. 2006, www.psbnyc.com
Singularity & Co., DUMBO, est. 2012, www.savethescifi.com
Unnameable Books, Prospect Heights, est. 2006, www.unnameablebooks.net
Also for sale: antiquarian maps and prints of Brooklyn, offered by Prints Charming.
Full disclosure: Honey & Wax is a client of Louise's firm Brooklyn Social Media.