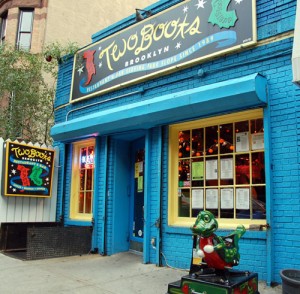 I received this email from Andrew Wandzilak, who works at Two Boots Brooklyn, about the relief efforts the restaurant andOld First Dutch Reformed Church are doing together for victims of Sandy.
Good Morning. Today we expand our operation into the Old First Reformed Church kitchen on Carroll Street and 7th Avenue. We will be making hot food to be delivered throughout Brooklyn, Queens, and Staten Island. Many thanks to Rev. Daniel Meeter and the entire congregation of Old First.

We are working with City Council Member Brad Lander to provide meals to over 300 nursing home evacuees at the Park Slope Armory on 15th Street Saturday night.

Baltimore Radio station 101.9 lite FM and WJZ-TV 13 are collecting supplies for the effort! They will be delivering to Two Boots Sunday. Truckloads of donations are coming from Washington DC, Albany, NY and Rutland, VT. Thanks to all of our friends from out of state.

We need:

Blankets, blankets and more blankets

Batteries of all sorts

Juice boxes

Pet Food

Cleaning supplies

Garbage bags

Bleach

Paper Towels

Breathing Masks

Bulk food donations

We will be collecting supplies this weekend at Two Boots Brooklyn this weekend.

We still need volunteers at Two Boots and Old First to help sort and package supplies and prepare and portion food. If you'd like to volunteer, call @Lina Canney at 718 499 3253.