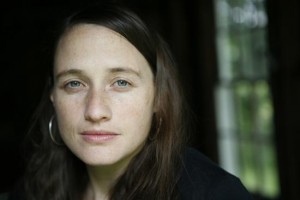 Wednesday November 14 at 7PM is the NEW DATE for Writers Who Sing, Singers Who Write with Mila Drumke and Peter Silsbee and we'll donate whatever you give to the Red Hook Initiative or another appropriate charity helping locals recover from Sandy. There will also be a RAFFLE of photos by Hugh Crawford, CDs by Mila Drumke and a book by Peter Silsbee.
November 14 at 7PM at Two Moon Art House and Cafe in Park Slope (315 Fourth Avenue between 2nd and 3rd Streets)
"Overhead, the two moons worked together to bathe the world in a strange light." ― Haruki Murakami, 1Q84
Writers Who Sing, Singers Who Write celebrates the double-threat talents of artists who cross mediums to tell their stories. In this inspiring musical and literary evening, songwriters/writers Mila Drumke and Peter Silsbee will share how their music influences their non-fiction and fiction and vice versa.
Mila Drumke is currently writing a memoir called All the Time in the World about caring for her sister, who was diagnosed with a brain tumor at age 27. The project has received generous support from the NEA/Mid-Atlantic Arts Foundation, the Millay Colony for the Arts and Hedgebrook. She has also recorded numerous albums, including Radiate, which was named "one of the top 10 album discoveries of 2006" by WFUV. "Radiate is not just an artistic triumph—it's easily Mila Drumke's best work to date and one of the most impressive records of the year by anyone—but a personal one, too. In taking unimaginable sadness and turning it into something both grounded and visionary, she has created a deeply humane song cycle." writes Neil Parkinson inHearsay magazine. For more information: miladrumke.com.
Peter Silsbee is a writer of fiction and non-fiction. He is also a singer/songwriter, who performs with his band, The Haywood Brothers, in top venues in New York City. He has published five young adult novels, including Amanda: Revealed, The Big Way Out, Love Among the Hiccups, and The Temptation of Kate.
For a compelling, entertaining night out, come hear these two talented writers and performers sing and read their work at the lovely Two Moon Art House and Cafe, Park Slope's newest cultural spot with wine, coffee, delicious soups, sandwiches, salads and desserts.