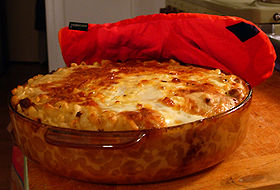 A friend of a friend named Kate Mosher Smith is doing a Call to Kitchens and will be driving hot meals to Red Hook Initiative on Saturday to help the people of Red Hook, who are without power and water.
Kate is urging cooks to get your hot dish on! If you can contribute something hot and bring it to their car by 11AM  she will get it to them by lunchtime. Her car is parked on Sixth Avenue between First and Second Streets in Park Slope.
She writes: "We can take supplies/equipment tonight until 9:30pm as well but food should come in the morning by 11AM to 295 6th Ave, bell 3 (up the stoop)."
They are taking donations as well: flashlights, candles, matches, baby food, diapers, paper plates, utensils, paper towels, non-perishable food, water, batteries, and power strips.
Also: Contractor bags, Rags, Bleach, Paper towels, Water, Mop heads, Industrial mop bucket, Mops, Brooms, Toilet paper and Gloves.