Son of Park Slope Dies in Storm
October 31, 2012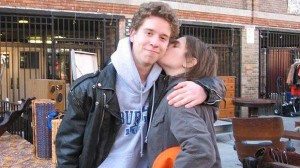 Jacob Vogelman, 24, a son of Park Slope, died in Ditmas Park during the storm.
Jacob was raised on First Street in Park Slope across the street from PS 321.
Renee Dinnerstein, a local educator, knew him. "Jacob grew up on First Street, right across from P.S. 321, the elementary school that he attended. He was a particularly sweet and friendly presence on our street," she writes. He attended Leon Goldstein High School and SUNY Buffalo.
Here he is pictured with his girlfriend, Jessie Streich-Kest, who also died on Monday. Jessie, also 24, grew up in Ditmas Park. The two of them were walking their Pit Bull when they were pinned under a tree. They were not discovered until Tuesday morning.
A graduate of Edward R. Murrow High School, Jessie was a teacher at Bushwick High School for Social Justice. Her family released the following statement: "Just 24 years old, Jessie Streich-Kest left a lasting impression on all who met her, and especially on her students at Bushwick HS for Social Justice, to whom she was deeply committed. Jessie loved life and was deeply devoted to social justice."
Jacob's grandparents also live in Park Slope. OTBKB sends its profound condolences to the family and friends of Jacob and Jesse.
Comments