Sisters Helping Sisters in the Aftermath of Ferocious Storm
October 31, 2012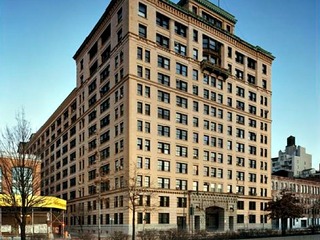 At 8:04 AM this morning, less than two days after Superstorm Sandy made landfall in New York City, Shelley Fidler, a partner at a Washington law firm, received an email from a DC friend checking to see how she was doing.
He also mentioned that his wife has a great-aunt in her late seventies who lives in an "artist's residence" in the West Village. They knew she was prepared for the storm but they were very concerned about how she was faring without electricity, water, heat and elevator service. "We were wondering if you might know someone on that end of Manhattan who might be willing to check in on her," he wrote.
Well, never underestimate the power of two women, a telephone and email.
Shelley immediately called her sister, Meg Fidler, a can-do kind of woman, who lives on the Upper West Side. Meg immediately figured out that Elizabeth Cullinan most probably lived in Westbeth (pictured above) and she immediately looked up and sent an email to three of the resident council members of the building.
In the email she wondered if one of them could check in on Elizabeth, find out how she was doing, and see if she wanted to join her sister, Margaret Cullinan, who lives in Park Slope.
Park Slope post-Sandy has electricity and water. The neighborhood is truly a shelter from the storm.
Meg immediately heard back from George Cominskie, the president of the building council, who said he was in Chicago but he would make sure someone at Westbeth checked the apartment. Moments later, Meg heard back from Deb Travis, Vice President of the Westbeth Resident Artists Council. Thanks to Meg's email, she checked in on Elizabeth and said that she was doing just fine. She wrote: "Yes we talked to her and yes she wants to leave. We'll assist her."
That was music to the ears of Shelley, Meg, Elizabeth's great niece in Washington, DC , and Margaret in Park Slope.
Apparently, Elizabeth and Margaret have a fine tuned system for relying on each other in an emergency. Normally, they'd be in touch. But this time it was impossible. Until this morning when a cabal of concern came together to help by email and cell phone.
Around 11:30 AM, Deb at Westbeth helped Elizabeth leave her apartment, put her in a cab and sent her off to Park Slope, where her sister was waiting.
By 12:28, Meg and Shelley heard from Elizabeth's niece in Washington that Elizabeth had arrived safely in Park Slope. "OMG. Thank you all. What can I do to thank you? My door is open to you all whenever you are in Washington."
As is often said, an emergency can bring out the best and worst in people. In this case, it certainly brought out the ingenuity, resourcefulness and gererosity of a few good individuals. And now two sisters are together again, sheltered from the aftermath of a ferocious storm.
Two sisters worked together, as well.
Comments