NYC Transit Suspended, No Bridges and Tunnels, Schools Closed
October 30, 2012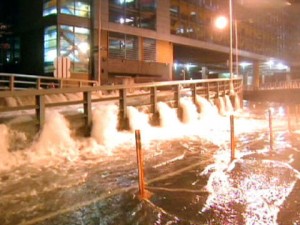 NYC transit is suspended indefinitely, there are no bridges and tunnels and schools are closed. Our lives are now very hyperlocal. We really are quite isolated out here in the borough of Brooklyn
The question is: how long will it be before service returns? Some report that it could take up to a week for transit service to return.
Indeed, the city is at a standstill.
The following bridges and tunnels are closed: Henry Hudson, Throgs Neck, Bronx-Whitestone, Verrazano Narrows, Marine Parkway – Gil Hodges, Cross Bay Veterans Memorial, Brooklyn, Manhattan, Williamsburg, Joseph P. Addabbo Memorial, Ed Koch Queensboro, Manhattan, Outerbridge Crossing, Bayonne, Holland, and the Hugh Carey (formerly Brooklyn-Battery). Additionally, the George Washington Bridge is closed and the FDR Drive is closed from East 155 Street to the Battery.
What a list.
Needless to say, Alternative Side Parking (ASP) regulations and parking meter rules are suspended on Tuesday, 10/30, due to weather conditions. This will likely last for many days.
All MTA subway, commuter rail, and bus service is suspended citywide. Currently, there is no estimated time for service restoration. Staten Island Ferry service is suspended until further notice and East River Ferry Service is suspended for Tuesday, 10/30. All PATH train service and stations have shut down.
Most Amtrak service in the Northeast remains suspended on Tuesday, 10/30.
The kids will be happy to hear that all NYC Public Schools will be closed Tuesday, October 30, 2012. Due to transportation problems, I'm wondering when the DOE will be able to open schools again.
All City University of New York (CUNY) Colleges are officially closed Tuesday, October 30 and all classes are cancelled.
Comments